Fluids and Solids Handling
Valve Design Reduces Contamination in Hygienic Operations
The modular Unique Mixproof 3-Body valve safely provides reliable fluid handling, making it suitable for use as a changeover valve in hygienic industries such as food, dairy, beverage, and personal care. It can replace two or more valves because it is constructed with two independent valve plugs, which enables two different fluids to pass through the same valve without mixing, even in the event of pressure shock. The double-seat design avoids cross-contamination while the double-lip seals ensure spillage-free operation. It is easy to maintain and clean and the top-loaded design has no adjustable components, contains a maintenance-friendly actuator, and has built-in leak-detection on all seals. It is simple to configure and upgrade and the seat-lift and seat-push function meets stringent hygienic standards.
Alfa Laval
Screw Pump Design Lowers Power Consumption
The ULVAC LS dry screw pumps can serve as compact, lightweight replacements for multistage dry Roots pumps and are easy to retrofit into existing vacuum applications. They are compact and have low power consumption at four pumping speeds ranging from 120 m3/hr to 1,000 m3/hr. Each pump in the series features a pair of conical-shaped, variable-pitch steel screws that allow the pump to be one-third the length and one-third lighter than other screw pumps that have similar pumping speeds. This screw design allows faster pumping speeds near atmospheric pressure using less power than a conventional pump. Maximum power consumption is 0.6 kW upon reaching the maximum-rated pressure. A specialized built-in silencer maintains the noise level below 61 dBA.
ULVAC Technologies, Inc.
Valve Trim Reduces Cavitation-Induced Vibration
Vee-Ball rotary control valves (Models V150, V200, and V300) are now available with Cavitrol Hex anti-cavitation trim to reduce or eliminate vibration caused by cavitation. Cavitation is the formation and collapse of vapor bubbles (cavities) in liquid flow streams produced by changes in pressure and velocity. Vibrations can damage a valve such that it loses the ability to control flow properly; when left unchecked, damaged valves can create unsafe working conditions. The anti-cavitation trim option is available on Vee-Ball valves in nominal pipe size (NPS) 4–12 for gas, steam, and liquids. To meet specific application requirements, a variety of metal and soft ball-seal materials are available. The trim can also be easily retrofitted into previously installed Vee-Ball valves after minimal modifications to the valve body. Cavitrol Hex does not affect valve shutoff or valve temperature limits, and does not influence the primary ball/seal interface.
Emerson
Environmental, Health, and Safety
Compact Device Controls Enclosure Purge and Pressurization
The Bebco EPS 7500 Series purge and pressurization system continuously monitors the conditions within its enclosure, allowing conventional electrical equipment to be used in hazardous areas. It can make automatic pressure adjustments and features an output alarm for reliable protection. The compact housing measures 5.8 in. × 3.8 in. × 1.9 in., and its touchscreen display has status LEDs, a pressure bar graph, and multiple program selections for easy operation and visual indications. Users can specify and configure four pressure points in five selectable programs. Each system consists of a control unit, an enclosure protection vent, and a manual or automatic manifold. The system has a working temperature range from –40°C to 70°C. The devices are made of marine-grade chromate aluminum and are rugged enough for applications in Class I or Class II Div. 2 and Zone 2/22, as well as in nonhazardous environments. The design is UL listed and ATEX, National Electrical Code (NEC), Canadian Electrical Code (CEC), and IECEx approved. The system uses universal AC/DC power, is available in both panel-mount and external-mount configurations, and is suitable for use in oil and gas, chemical, maritime, and offshore applications.
Pepperl+Fuchs
Panel Attachment Reduces Explosion Damage
TARGO-VENT is an opening angle limiter for use with REMBE Explosion Panels, which relieve explosions by bursting at a predetermined pressure point at a location in which there is no danger to the adjoining infrastructure. The TARGO-VENT attachment diverts shock waves and flames of an explosion in a controlled manner (at a defined angle of approximately 30–45 deg. upward or to the side), effectively reducing the size of the required safety area in front of the panel or vent opening. The limiter is made in standard explosion panel sizes, and can easily be retrofitted onto existing REMBE explosion panels. It is made of stainless steel and, in combination with REMBE explosion panels, is type-tested in accordance with the ATEX Directive 94/9/EC (ATEX 114). TARGO-VENT is authorized in accordance with FSA 13 ATEX 1637, and adheres to National Fire Protection Association (NFPA) standards.
REMBE
Valves Control Water Temperature in Eyewash Stations
The first moments after exposure to a hazardous substance or chemical are critical. Emergency eyewash stations and showers allow workers to flush away substances that can cause injury. However, flushing water that is too hot or too cold can intensify injuries, rather than mitigating them. Water below 60°F can cause hypothermic shock and water above 100°F can increase chemical reactions and irritations. Tepid water (between 60°F and 100°F) helps personnel keep the chemical burn or exposed area in the water stream for the recommended 15-min flushing period. Safe-T-Zone thermostatic mixing valves (TMVs) regulate water temperature whenever an eyewash or emergency shower is activated, making tepid water easily available. The water temperature can be preset to an adjustable setpoint. Three models are available depending on capacity requirements, allowing for flowrates from 9.7 gpm to 62.5 gpm. All models have a solid brass, lead-free construction. The valves can be installed in available stainless steel flush or surface-mount cabinets. They can be configured in either a top- or bottom-inlet position, depending on the supply water location. These valves are compatible with most existing eyewash systems, including Optimus, Eyesaver, and Speakman Traditional Series 400 and 500. They are certified to meet American National Standards Institute (ANSI), International Safety Equipment Association (ISEA), American Society of Safety Professionals (ASSP), Compliance, Safety, Accountability (CSA), and NSF standards, such as ANSI/ISEA Z358.1, ASSE 1071, CSA B125.3 and NSF/ANSI 372.
Speakman
Insulating Door Regulates Environmental Conditions
Rite-Hite's Barrier Glider cold storage door is a high-speed, bi-parting door that is suitable for refrigerated warehouses, food manufacturing and processing plants, and other facilities that require strict temperature control. The barrier features the patented Thermal-Flex heated perimeter design sealing system. Flexible Iso-Tek panels are 3 in. thick and have an R-10 insulation rating. The panels range in size from 6 ft × 8 ft up to 12 ft × 20 ft. They are available with optional 14-in. × 32-in. vision panels for increased visibility and safety. The trolley assembly is constructed of heavy gauge round tubing and uses hourglass-shaped rollers so the panel can rotate on the track to absorb a strike. As a safety feature, the panels automatically reverse when they encounter an obstruction. Powered by a 1-hp AC motor, the doors move rapidly when opening and closing. The setup is equipped with a 7-in. LCD touchscreen graphic user interface (GUI) door control panel to display real-time door status and allow workers to troubleshoot settings without needing personal protective equipment (PPE).
Rite-Hite
Instrumentation
Flame Detector Communicates with Plant Control Systems
The FL500 optical flame detector is FM-approved for six different fuel sources: butane, ethane, heptane, methane, methanol, and propane. It combines a precision ultraviolet (UV) sensor and an infrared (IR) sensor that monitor flame-emitted radiation. The detector offers a wide field of view — up to 130 deg. — and features three external LED indicators so that technicians can easily verify normal operation, fault conditions, and alarms. Onboard relays communicate with automated plant safety and control systems via HART or Modbus. The flame detector conducts its own optical and electrical self-check every two minutes, and it has a small footprint and wiring that make it easy to install and maintain. Its compact, rugged, Type 316 stainless steel housing has a diameter of 4.5 in. (114 mm) and a length of 5.5 in. (140 mm). The detector has an operating temperature range of –67°F (–55°C) to 185°F (85°C) and a relative humidity range of 0–95%. In addition to FM performance approval, it also conforms with Compliance, Safety, Accountability (CSA), ATEX, IECEx, EN 54-10, and CE requirements.
MSA
Controller Interface Eases Integration with DCS
The EtherNet/IP high-speed digital interface communicates with the SLA5800 Series mass flow controller (MFC) line of products to improve operations via real-time information. The web-based interface is compatible with Rockwell Automation's distributed control system (DCS) and Studio 5000 software, making it easy to integrate MFCs into a programmable logic controller (PLC) and DCS setup. Advanced diagnostic and alarm capabilities enable predictive and preventive maintenance to help improve overall equipment effectiveness, reliability, and flexibility. It is ideal for chemical and petrochemical research, as well as laboratory, analytical, fuel cell, and thin-film applications. Available with advanced, configurable multigas and multirange capabilities, this interface can help MFCs maintain factory calibration and accuracy longer than similar interfaces.
Brooks Instrument
Space-Saving Transmitter Conveys Environmental Data
The Liquiline compact CM82 transmitter accepts pH, oxidation-reduction potential (ORP), pH/ORP, conductivity, oxygen, and chlorine sensor output signals from the Memosens sensor platform. The CM82 reads all sensor and calibration data stored in the head of a Memosens sensor, so the sensor is automatically detected within seconds, and measurements can be taken right after a sensor change. The transmitter can be accessed via the 4–20-mA HART protocol or Bluetooth from any iOS or Android device. Measuring just 11 cm long and 2 cm wide, the transmitter can fit into small assemblies. It has international explosion protection approvals, such as Compliance, Safety, Accountability (CSA), IECEx, and ATEX, so it is suitable for use in hazardous areas.
Endress+Hauser
Valve Check Tests Operations In Situ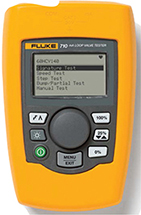 The 710-mA loop valve tester collects critical information about the valve's position, providing in-place quick checks of control valves. It offers full-range current ramping from 4 mA to 20 mA and back to 4 mA (or the applied pressures) while recording the 0% to 100% to 0% position. The measured pressure can be communicated via the HART protocol. Test results are stored in the memory of the valve tester, from where they can be uploaded to the included ValveTrack analysis software. ValveTrack allows users to upload and plot logged valve tests taken in the field, compare previous uploaded tests to recent tests, and view valve test history by HART Tag ID. The tester offers at-a-glance diagnostics to help operators make faster maintenance decisions.
Fluke
Remote Pump Monitoring Is Available for Complex Systems
The IN-1000 pump-monitoring device can have one master and up to ten satellite modules per network, so operators can monitor as many as 11 pumps at once. The device features a warning and alarm system that also logs sensor data. It can alert users of a leak or vibration, and can monitor bearing temperature and suction and discharge pressure. It is suitable for a wide range of condition-monitoring applications, from simple, single-pump installations to complex, multipump systems. The monitor can be added to new pumps or retrofitted on existing pumps. Remote access is enabled with a smartphone application and an integrated web server and router, making it possible to monitor pumps from anywhere with WiFi access. The IN-1000 is accredited for operation in ATEX Zone 2, Class I Div. 2. All components (including measuring devices and cables to the barrier box) are certified for use in EX zones.
Allweiler
1
Copyright Permissions
Would you like to reuse content from CEP Magazine? It's easy to request permission to reuse content. Simply click here to connect instantly to licensing services, where you can choose from a list of options regarding how you would like to reuse the desired content and complete the transaction.