Download & Read This Article
INTERPHEX is an annual event dedicated to showcasing pharmaceutical and biopharmaceutical innovation, technology, and knowledge. It brings together over 11,000 global pharmaceutical and biotechnology professionals for exhibitions, education, workshops, partnering opportunities, and networking events.
April 2–4, 2019 • Jacob Javits Convention Center • New York, NY www.interphex.com
Capsule Polisher Improves Safety with Integrated Metal Detector
The KCP15 vertical capsule polisher efficiently removes excess dust while gently conveying upward. It is easy to handle and now includes a Lock, Ceia, or Safeline metal detector. The stainless steel, dust-tight construction has a tri-clamp inlet and outlet and is fully compliant with U.S. Food and Drug Administration (FDA) current good manufacturing practice (cGMP) regulations. The system has a small footprint and is available in heights of 800 mm, 1,200 mm, 1,600 mm, and 2,000 mm to suit various applications. Conveying speed can be adjusted via a simple dial. An optional empty-capsule sorter and diverter enables discharge into two supplied capsule collection containers. The polisher can be disassembled without the use of tools, so cleaning is easy.
Kraemer U.S., LLC
Booth #3534
Robust Actuator Is Compact and Lightweight
The Saunders P345 pneumatic actuator maintains closure performance on diaphragm valves between pressures of 4.5 bar and 10 bar. The actuator can withstand temperatures between –10°C and 100°C, and is available in sizes from DN8 (0.25 in.) to DN100 (4 in.) in spring-to-close, spring-to-open, and double-acting modes of operation. This highly compact design weighs 30% less than typical stainless steel models. The polyamide housing and stainless steel bonnet are robust and resilient to endure the stress of regular maintenance routines. This actuator is easily retrofitted on existing Saunders valves and is fully compatible with Saunders-VUE sensors. The design eliminates the need to replace actuators when upgrading installations from rubber to polytetrafluoroethylene (PTFE) diaphragms.
Crane ChemPharma & Energy
Booth #3831
Flowmeters Measure Water-Like Materials for Hygienic Operations
The FLOWave series of flowmeters is designed for applications that have the most stringent hygienic requirements. The flowmeters use surface acoustic wave (SAW) technology for measurement, and therefore do not have any parts inside the measuring tube. They are compact, lightweight, and easy to install, and are constructed of stainless steel. Optimal measurements are achieved with homogeneous, air- and solid-free liquids. Integrated viscosity compensation allows for measurement of highly viscous liquids. The devices are suitable for the measurement or monitoring of water-like liquids, as well as low-conductivity or nonconductive water because measurements are independent of conductivity. Gas and steam do not negatively affect the device or its operation. The flowmeters comply with UL and European Hygienic Engineering and Design Group (EHEDG) standards.
Burkert
Booth #3553
Pharmaceutical Label Indicates and Logs Temperature Data
Improper labeling of pharmaceuticals can impact patient safety. Likewise, lack of temperature monitoring during storage and transportation leaves uncertainty in the efficiency and quality of these products. To solve both of these issues, the Faubel-Compact label comes in multiple languages and has an integrated LIBERO indicator tab start (ITS) temperature indicator. The temperature-monitoring label can be applied directly to the product to document transport and storage conditions throughout the entire supply chain. The temperature indicator has a four-year battery life to enable seamless, end-to-end temperature monitoring on the box or kit level. The LIBERO ITS is thinner and smaller than traditional data loggers, measuring just 3 mm × 30 mm × 30 mm. This label can be adapted to various containers, for example, as a wraparound solution for syringes or as a flag-label for vials. The temperature can be viewed at any time by simply pressing a button on the label and all available statistics can be documented and downloaded to a smartphone app. A cloud database allows central and secure data archiving.
ELPRO
Booth #1953
Control Valve for Small Flowrates Reduces Contamination Risk

The 567 BioStar aseptic control valve is now available in nominal sizes up to DN25 for maximum flowrates of 15 m3/hr, with a newly expanded selection of motorized actuators. This valve is designed to control small flowrates in the pharmaceutical, food, and biotech sectors. The moving parts of the actuator are hermetically separated from the product area. This hermetic separation allows the actuator to be replaced under pressure, with no risk of media contamination. The stainless steel electric actuator is suitable for applications without compressed air or that have stringent precision and speed requirements. The polytetrafluoroethylene (PTFE) seal system allows the valve to be used with media containing oil and fats.
GEMÜ Group
Booth #2663
System Provides Automatic Vial Handling in Freeze Dryers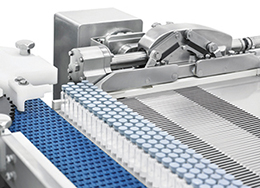 Lyogistics Zero is an automatic vial loading and unloading system that meets the U.S. Food and Drug Administration's (FDA) good manufacturing practice (GMP) regulations for use in pharmaceutical freeze dryers. It integrates a transfer device (i.e., slider) that can be sterilized with steam, has no concealed parts, and moves by a contact-free magnetic mechanism. The slider can be cleaned in place (CIP) and sterilized in place (SIP) inside the freeze dryer chamber. The vial handling system can be integrated with the ionHP biodecontamination system, which dramatically reduces sterilization cycle times. The system is suitable for use in production processes involving hazardous products, and it can be integrated within aseptic isolators to protect the operator, the product, and the environment. Lyogistics Zero can be used in conjunction with Lyonuc, a nucleation induction method that reduces the duration of the primary drying cycle and ensures the uniformity and homogenization of the vials' contents in all batches. The company also offers the Sterimega Plus compact steam-sterilizing autoclave. Sterimega Plus has a GMP design with hinged front-facing access panels that open completely. A standardized modular set of downflow booths (a controlled containment setup with downward airflow) for weighing and sampling are also available.
Telstar
Booth #1833
Alkaline Detergent Acts as Disinfectant and Virucide In Bioprocesses
ProKlenz ONE detergent is formulated to meet cleaning demands in the pharmaceutical, biotechnology, cosmetic, and nutraceutical industries. The proprietary blend of a concentrated alkaline source, an advanced surfactant system, and other performance-enhancing ingredients provides multiple cleaning mechanisms and efficacy as a microbial disinfectant and virucide. This low-foaming cleaner removes process residues, including fermentation byproducts, silicone-based emulsions and lubricants, and biofilms from hard, nonporous surfaces. It is suitable for clean-in-place (CIP) and clean-out-of-place (COP) applications.
STERIS Life Sciences
Booth #3121
1
Copyright Permissions
Would you like to reuse content from CEP Magazine? It's easy to request permission to reuse content. Simply click here to connect instantly to licensing services, where you can choose from a list of options regarding how you would like to reuse the desired content and complete the transaction.