Environmental, Health, and Safety
Adsorbent Makes Use of Glass Waste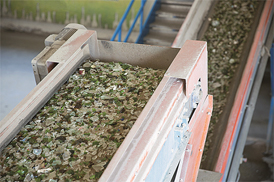 The Green Glass Adsorbent Technology is made of recycled LCD-panel glass. This unique material adsorbs heavy metal ions from industrial wastewater, and then desorbs the ions so they can be concentrated and recycled. Users simply add the adsorbent directly into the wastewater without pretreatment. The adsorbent can be regenerated and reused more than 20 times, and it does not create any secondary pollution during the adsorption process. It is a more ecofriendly and low-cost alternative to ion exchange resins and chemical precipitation and coagulation for removing heavy metal ions, including boron, arsenic, and lead.
Industrial Technology Research Institute
Flame Arrestor Controls Explosions
The Model 6E00 end-of-line deflagration flame arrestor can be fitted directly onto a vessel, tank vent nozzle, or end of a vent line. It allows gases or vapors of flammable liquids to flow through the enclosure, yet prevents flames from propagating outside of it. Elements inside the housing absorb heat from flames, serving as an extinguishing barrier to the ignited vapor mixture. The passive device has no moving parts, and the flame cell can be easily removed for inspection and cleaning. A range of sizes is available with threaded or flanged connections to suit a variety of applications.
Cashco, Inc.
Monitor Can Communicate Atmospheric Threats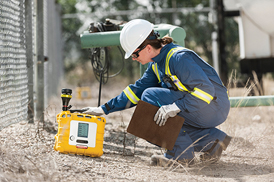 The AreaRAE Plus multithreat monitor now comes with 20 sensor choices, meteorological monitoring, and GPS-enabled location identification of hazards to help users make faster and more-informed environmental and safety decisions. The transportable monitor can communicate wireless signals to a receiver up to two miles away. It can be configured to provide safety information on a visual dashboard or to remote locations, and it accommodates up to seven sensors that can be switched for various applications. The new model is suitable for confined-space clearing before entry, wastewater pipeline rehabilitation, maintenance turnarounds, site remediation, fumigation, excavation, fenceline monitoring, and other applications in which gas is created as part of a process or as a byproduct.
Honeywell
Ventilation Fan Handles Gases and Dusts
The EPF-HPSM-24-480V 24-in. explosionproof ventilation fan can be used in areas that contain flammable gases, vapors, or finely pulverized dusts. This high-pressure fan features three spark-resistant cast-aluminum blades that circulate air at a rate of up to 6,860 ft3/min. It can be wall-mounted using eight predrilled holes, and can be installed in cleanrooms, oil refineries, chemical storage facilities, and other areas where fume, smoke, or dust is an issue. The unit is rated for use in Class 1 Group D and Class II Groups F and G hazardous areas.
Larson Electronics
Gas Chromatograph Monitors Aromatic Hydrocarbon Emissions
The U.S. Environmental Protection Agency (EPA) requires fenceline monitoring of toxic air emissions emitted by petroleum refineries. The Series 9100 online gas chromatograph (GC) provides direct, continuous, real-time measurement of benzene, toluene, ethylbenzene, and xylenes (BTEX), 1,3-butadiene, and other volatile organic compounds (VOCs) and hazardous air pollutants released from industrial sites. Users can choose from two photoionization detector (PID) options that deliver fast, reliable emissions measurements. The standard PID has a minimum detectable quantity (MDQ) for benzene of less than 1 ppb (without preconcentration), and the high-sensitivity PID has an MDQ for benzene of 0.05 ppb (without preconcentration). Key features include interference-free response; automatic calibration for continuous, unattended operation; remote access and control; automatic baseline adjustment and scaling for long-term stability; and user-definable concentration and diagnostic alarm relay options.
Baseline-Mocon, Inc.
Fluids and Solids Handling
Steam Trap Maximizes Plant Efficiency
The IBV high-pressure inverted-bucket steam traps are suitable for power generation, oil and gas, and oil sand applications where equipment must withstand high pressures and temperatures. The 0.5-in.–3-in. traps handle capacities up to 31,000 lb/hr. Fully automatic operation ensures the valve closes immediately, without any steam loss. The standard offering includes a carbon-steel and alloy-steel body and cover that meet American Society of Mechanical Engineers (ASME) 900 specifications. Threaded connections and National Association of Corrosion Engineers (NACE) versions are available for corrosive environments.
Spirax Sarco
Stainless Steel Conduit and Fittings Resist Corrosion
This line of stainless steel conduit and fittings has been expanded to include more corrosion-resistant models. The 45-deg. and 90-deg. elbows and 12-in. nipples are offered in a variety of sizes and in both Type 304 and Type 316 stainless steel. All of the manufacturer's stainless steel couplings are now offered in Type 316 and Type 304 stainless steel. In addition to being corrosion-resistant, these components are strong, durable, easy to install, and low-maintenance. Type 304 stainless steel conduit has a considerably longer service life than standard galvanized steel conduit in corrosive environments, while Type 316 stainless steel conduit lasts even longer.
Thomas & Betts
Feeder Includes an Integrated Scale
The Model VMF-28 auger-style feeder can dispense powdered or pelletized chemicals into water, wastewater, and chemical treatment processes. It features a fully integrated scale that automatically determines precise dosages without the need for operator intervention. Data are displayed at a central monitoring station where operators can quickly make adjustments from the control panel. In addition to saving time, the feeder also improves accuracy. The integrated scale continually monitors weight loss or gain, which helps operators detect the influence of heat, moisture, and other environmental variables on an additive's weight. The rugged and durable steel construction is finished with a corrosion-resistant coating.
Scaletron Industries
Software
Software Speeds Automation System Design and Configuration
Engineers may face pressure to deliver automation systems quickly. The Rockwell Software Studio 5000 integrated development environment helps alleviate that pressure by streamlining the design and configuration process. The software now includes expanded integration with engineering tools, predevelopment application content to replace custom code, and new features to enhance security. The Architect application enables collaborative exchange of data with popular engineering tools, such as EPLAN and AutoCAD. Bidirectional data transfer improves startup time by reducing the need for engineers to manually re-enter control data from engineering tools into the Studio 5000 environment. The Code Manager application offers predeveloped content that saves time and creates a more standardized system. The Logix Designer application is a license-based service that protects the design and execution of Logix content by limiting who can view or edit object source code.
Rockwell Automation, Inc.
Manager Can Monitor Inventory Across Multiple Facilities
BINVENTORY is an inventory management system that helps monitor the levels of solids and liquids stored in bins, tanks, and silos. Users can configure complex vessels of different shapes and sizes, such as horizontal tanks, split silos, and nonlinear tanks. For better volume accuracy, users can enter bulk densities and strapping tables for solids and specific gravities for liquids. Automated alerts, inventory levels, and historical reports can be delivered to a PC or tablet. The software is compatible with many of the manufacturer's sensors, as well as with any sensor that has a Modbus remote terminal unit (RTU) output. It can be deployed at one location or across an entire company at multiple facilities.
BinMaster
Software Makes Graphing and Analysis Simpler
OriginPro 2017 includes over 100 new features, apps, and improvements that enhance its ease-of-use, graphing, analysis, and programming capabilities. The software is easier to use thanks to a revamped plot menu with large icons that help users quickly find the graph type they need; simpler column/cell notation for defining column formulas; and the Origin Central Startup dialog, which provides numerous graph and analysis samples, easy access to existing templates and projects, resources to explore and install apps, and videos and tutorials. Fourteen new apps extend graphing and analysis features. Two-way ANOVA support also enhances analysis as well as communication with other software environments and dialogs created with HTML and JavaScript. A free trial is available on the manufacturer's website.
OriginLab
Bioprocessing
Filter Handles Low-Viscosity, Water-Based Protein Solutions
The Slice 50 ECO expands the Sartocon Slice 50 line of crossflow filters. The filter is suitable for water-based protein solutions with viscosities less than 3 cP. The crossflow cassette can be used in biotech applications, such as filtration of immunoglobulin G (IgG), blood factors, and peptides, especially those that involve membrane screening and small-volume process development. Proteins will not bind to the extremely hydrophilic polyethersulfone (PESU) membrane, making the filter virtually nonfouling. The small flow channel reduces demands on recirculation pumps by as much as 50% compared to other filters. Lower energy demands considerably reduce the sheer stress on protein solutions being processed. The new ECO model uses the same materials of construction as the other filters in the Sartocon Slice 50 line, simplifying process development and scaleup.
Sartorius Stedim
1
Copyright Permissions
Would you like to reuse content from CEP Magazine? It's easy to request permission to reuse content. Simply click here to connect instantly to licensing services, where you can choose from a list of options regarding how you would like to reuse the desired content and complete the transaction.