INTERPHEX is an annual event dedicated to showcasing pharmaceutical and biopharmaceutical innovation, technology, and knowledge. It brings together over 12,000 global pharmaceutical and biotechnology professionals for exhibitions, education, workshops, partnering opportunities, and networking events.
Dual-Seat Sampling Valve Protects Against Operator Error
The SESAME valve is a dual-seat aseptic sampling valve that differs from traditional valves in that the steam seat and sample seat cannot be open at the same time. In traditional valves, when the steam inlet is open during sampling, sample can spray through the steam inlet if an operator forgets to mount the cap or the cap disconnects. When the SESAME's steam inlet is closed during sampling, it is impossible to unintentionally send steam or clean-in-place (CIP) fluid into the process line. The valve maintains the integrity of aseptic sampling, preventing airborne contamination from entering through the steam inlet. The valve can be installed in various configurations, even upside down.
KeoFitt
Booth #3929
Regulators Maintain Backpressure over a Range of Flowrates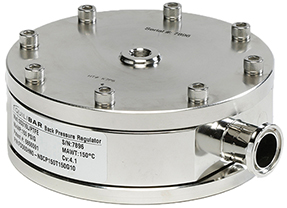 FD Series backpressure regulators use an innovative dome-loaded technology to meet demanding pressure-control challenges in the biopharmaceutical industry. The dome-loaded design with multiple orifices is capable of holding pressure stable across a wide range of flowrates. The compact and versatile regulators have only one moving part, making them simple yet robust. The series offers advantages in sanitary applications that include: easy automation with manual or electronic control; fast response (in milliseconds) to accurately maintain pressure; U.S Pharmacopeia (USP) Class VI wetted materials; a crevice-free, drainable design; and compact actuation. The valve seats are constructed of electropolished Type 316L stainless steel, and are also available in Hastelloy C276. The units are rated up to 150 psig (10 bar) and can withstand steam-in-place (SIP) temperatures of up to 135°C.
Equilibar
Booth #3473
Dust-Containment System Maintains Safe Conditions During Manufacturing and Maintenance
This mobile dust-containment system manages hazardous dust generated during solid-dose pharmaceutical manufacturing processes. It has a dust-containment grade up to occupational exposure banding five (OEB5), which corresponds to an occupational exposure limit (OEL) of < 1 μg/m3, during manufacturing. A unique bag-in, bag-out high-efficiency particulate air (HEPA) filter replacement system maintains a dust-containment grade of OEB4 (OEL < 10 μg/m3) during maintenance. The system protects personnel from contact with collected materials, avoids environmental contamination, and minimizes risk during manufacturing and maintenance. To ensure a totally clean system, the inside of the unit can be washed using sprayballs to deactivate dust on the inside surfaces. The equipment can be easily maneuvered and relocated for flexible operation.
Nilfisk
Booth #2537
Environmental Monitor Can Be Reconfigured to Meet Future Needs
The FacilityPro 5010 provides a central hub for a complete cleanroom environmental monitoring system. The modular design can be configured based on current sampling requirements and expanded to meet future needs. A single module can sample both particles and microbial sampling points. Analog and digital inputs and outputs for sensors, including temperature and differential pressure, and light towers are integrated into the central processor module, reducing the number of sampling modules while simplifying installation. A backup vacuum pump can be installed for continued operation during pump failure or maintenance. The new FacilityPro SCADA updates the graphical operator interface with an intuitive map-based design, system configuration, audit trails, and data and trend reports. To ensure regulatory compliance, the software requires electronic signatures for all actions and changes.
Particle Measuring Systems
Booth #2240
Filter Housings Are Configurable to Suit Diverse Applications
The Universal Series single-round filter housings boast precision fabrication and quality. They are constructed of Type 316L stainless steel, making them suitable for applications in the chemical, pharmaceutical, food, dairy, beverage, and electronic industries. Users can select from T-style and inline options, as well as various lengths and drain and vent types. The housings are pressure-tested before delivery, and are compatible with all of the major manufactures' Code 7 filter elements.
Allegheny Bradford Corp.
Booth #2445
Pressure Calibrators Are Handheld
The ADT760 automatic pressure calibrator combines pressure generation and control into one handheld unit that weighs less than 4 lb (1.86 kg). The series includes three models to suit various applications: low-pressure differential (ADT760-LLP), mid-pressure differential and gauge (ADT760-D), and high-pressure absolute and gauge (ADT760-MA). Each model is equipped with a calibrated pressure module that covers the unit's full range of pressure and ensures an accuracy of 0.02% full scale (FS). Users can select from the line of pressure modules that covers a range from 0.25 inH2O (±0.62 mbar) to 300 psi (20 bar). The calibrators can be configured to log pressure readings, set up calibration tasks, and communicate with highway-addressable remote transducer (HART)-smart devices. Adapter sets, external power supplies, rechargeable battery packs, test leads, and National Institute of Standards and Technology (NIST)-traceable certificates of calibration are supplied as standard.
Additel
Booth #1960
Ultrafine Filters Ensure Clean, Enzyme-Free Air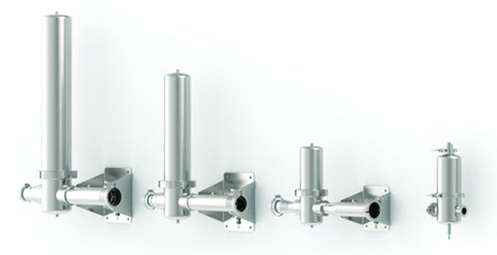 This ultrafine secondary air filter is suitable for use with the manufacturer's vacuum conveying equipment, and is now offered as a standard accessory. The ultralow penetration air (ULPA) sterile filters are ultrafine filtration class U15-17, capable of filtration efficiencies as high as 99.9999%. This performance is a marked improvement over the high-efficiency particulate air (HEPA) filters often used in similar applications. The filters meet the demands of harsh manufacturing environments, as well as cleaning cycles that employ detergents. Exhaust air exits the filters completely clean, eliminating any health risks associated with the inhalation of enzymes or other harmful ingredients.
Piab, Inc.
Booth #3661
1
Copyright Permissions
Would you like to reuse content from CEP Magazine? It's easy to request permission to reuse content. Simply click here to connect instantly to licensing services, where you can choose from a list of options regarding how you would like to reuse the desired content and complete the transaction.