Map & Directions of Shangri-La Hotel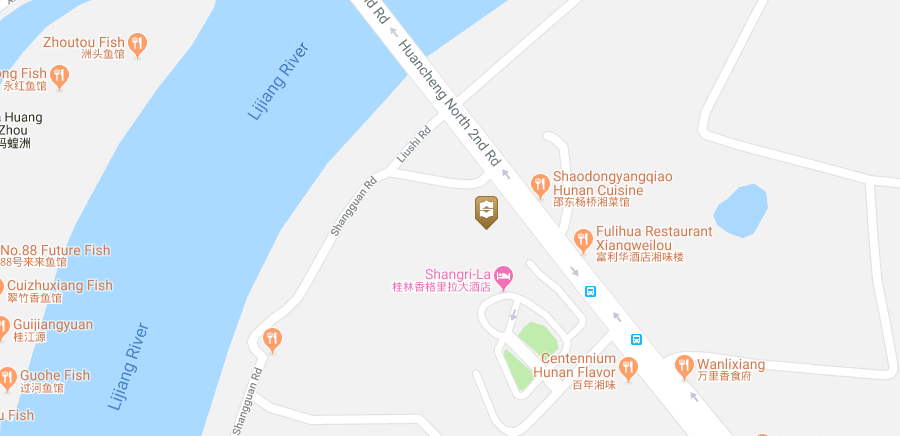 Useful Information
Location

111 Huan Cheng Bei Er Lu, Guilin, Guangxi, 541004, China
Phone

(86 773) 269 8888
Fax

(86 773) 269 8887
Email

slgl@shangri-la.com, reservations.slgl@shangri-la.com
Shangri-La Hotel, Guilin, is approximately 45 minutes from Guilin Liangjiang International Airport.
Airport Connections
The Fluidization XVI conference committee has ordered shuttle buses (47-seater) to run at 1.5-hour interval from 12:00 PM to 9:00 PM on 26 May 2019 for transporting conference delegates from Guilin Liangjiang International Airport to the conference hotel, Shangri-La Hotel. Upon arrival in the airport, there will be conference supporting staff members/students with a sign of the conference shuttle bus to take delegates to the conference hotel. If your arrival time fits with the conference shuttle bus, we strongly encourage you to take the complimentary conference shuttle bus.
If arriving outside of the shuttle service hours, there are several options to reach Shangri-La Hotel, Guilin. Guests can choose between hotel limousine pick-up, taxis and city shuttle buses. Taxis and city shuttle buses can be found on the ground floor of the domestic and international arrival halls.
Hotel Limousine
You can book a limousine pick-up by providing your flight details and estimated time of arrival when booking online.
Alternatively, you can contact us directly by calling (86 773) 269 8888 or emailing reservations.slgl@shangri-la.com.
Please make your booking at least two days in advance at reservations.slgl@shangri-la.com
Hotel Limousines Charges
| | |
| --- | --- |
| Car Type | Charges |
| Benz E300A | RMB 694 |
| Buick GL8 | RMB 446 |
| Toyota Coaster | RMB 892 |
| Nissan 250 | RMB 377 |
Complimentary Wi-Fi access is available in the limousine.
Taxis
The taxi fare from the airport to the hotel costs approximately RMB 150. This includes toll fees.
Airport Bus
Airport buses stop at the city centre and each journey costs about RMB 25.
Plan Your Trip
Have some down time?
See things to do, tours and other travel information at Visit Guilin.
Invitation Letters
Invitation letters can be provided upon request to Lu Xing at xinglu@ipe.ac.cn. To help expedite the request, please research the particular requirements of your country of citizenship and provide all relevant information in your request.
Information provided here is subject to change - please take care to check before traveling.