Third Friday Process Networking Forum – May 2018
Friday, May 18, 2018, 11:30am-1:00pm CDT
Speaker: Cody D. Rosier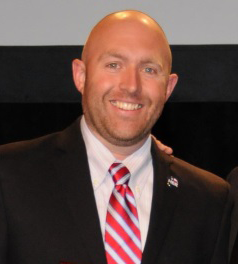 Cody Rosier, an HS&E Corporate Director at Zalemo, oversees Health, Safety and Environmental programs, Health, Safety and Environmental compliance, safety managers, safety technicians and corporate initiatives across the United States and abroad. Cody has worked in a management capacity for companies such as Stork, Ohmstede, Austin Industrial, and currently Midwest Steel Company, Inc. on a global scale, and has years of experience in the oil and gas industry (on & off shore) from exploration and drilling to refining as well as chemical manufacturing.
Cody has been responsible for HS&E compliance on several large projects during his career as well as reorganization and restructuring of safety departments at an executive level.Cody holds numerous certifications in HS&E and regularly delivers lectures at regional colleges and companies regarding the building of a true safety culture as well as bridging the gap between safety and production.
Topic: Guarding Against Plant Security Breaches
• The business of Zalemo is to help industrial plants Identify potential vulnerabilities to the security of their employees, data, and physical facilities.

• Zalemo does this by developing tactics to infiltrate and bypass or overcome existing security measures that may be in place, and recommending counter-measures to defend against adversaries who might seek to destroy, disrupt or outwit our clients.

• Cody will explain why it has never been more important to maintain sound security control, given that threats are growing exponentially with every passing day.
Costs: There is no registration fee. The lunch menu ranges from $8 to $12, and the South Texas Section will subsidize lunches by $3 per attendee.STS members as well as non-members are welcome to attend. We only request that you pre-register at the STS-AIChE.org website so we can get an accurate head count for the restaurant.
Have suggestions, ideas, comments or want to recommend a speaker for future 3FPNF events? Please contact David Alexander at davidalexanderlaw1249@gmail.com or call 832-372-2926