Texas Industrial Water Management Forum & November 2017 Monthly Dinner Meeting
Thursday, November 2, 2017, 3:30pm-9:00pm CDT
"Maintaining Integrity and Controlling Composition of Industrial Water Systems for Improved Performance, Reliability and Value"
Exhibitors


Schedule:
3:30PM - 4:00PM Forum Registration and Visit with Exhibitors
4:00PM - 6:00PM Water Management Forum
6:00PM - 7:00PM Networking and Exhibition
7:00PM - 8:00PM Dinner
8:00PM - 9:30PM Dinner Presentation/Speaker
Registration Details: Registration for the forum and dinner are separate. To register for the forum please visit https://texasiof.ceer.utexas.edu/forms/TIOFevent_registration.cfm. To register for the dinner please see below.
Texas Industrial Water Management Forum
Water management will always be an important issue whether it is identifying cost effective process cooling technologies, reducing waste water, addressing issues with cooling water distribution networks, or mitigating the risk for the lack of availability of fresh water. Whether it is for compliance or cost reduction, one must constantly be familiar with the range of and advancements in technologies.
Attend this water management forum and learn from the experts in how to diagnose and pinpoint issues in degraded cooling water distribution systems, a novel approach for monitoring boiler feed water can minimize total operating cost, and a high performance innovative separation technology can increase the value of process and waste-water streams.
Panelists will provide a 15 - 20 minute presentation related to the forum topic followed by a panel discussion and Q&A session with the audience.
Forum Moderator
Pramod Bengani, Ascend Performance Materials
Member, Texas IOF Chemicals and Refining Advisory Committee
Panelists
Intelligently Addressing Issues in Cooling Water Distribution Networks
Clayton Harris, Engineering Manager, EPI Engineering
Discussion of an approach used to diagnose and pin-point issues in a degraded cooling water distribution system for large industrial systems. Discussion will include field data collection and testing strategy, hydraulic modeling, improvement evaluations, as well as other observations and findings.
Boiler Feed Water Corrosion Monitoring Using At Temperature ORP Measurements
David G. Puchan, Downstream Global Industrial Technical Consultant, ECOLAB
Steam system owners strive to minimize their Total Cost of Operation (TCO) by implementing various solutions to optimize boiler cycles of operation, thus reducing Energy and Make-Up Water Costs. Real-Time understanding of the boiler feed water's corrosivity through the use of Oxidation-Reduction Potential can aid to optimize system reliability and efficiency, improve safety conditions and manage through mechanical upset conditions.
Treating Produced Water While Increasing Value and Reducing Water Outfall
Jimmy Vaeth, Texas Regional Account Manager, Pentair
Various waste-water streams at refineries and chemical plants must be treated prior to discharge. These liquid streams can now be treated using two-stage, high performance particle separation with advanced coalescing technology to remove free and emulsified hydrocarbons as well as suspended solids. Suspended solids as small as 0.5 microns are removed with a 99.98% efficiency in the first stage and free and emulsified hydrocarbons are reduced to less than 5 parts per million in the second stage resulting in operational, environmental, and economic benefits.
Question & Answer Session
Logistics and Registration
There is no cost for attending the Texas IOF Industrial Water Management Forum; however, pre-registration is requested so that we can provide adequate facilities. Registration is open at https://texasiof.ceer.utexas.edu/forms/TIOFevent_registration.cfm .
The State Energy Conservation Office of the Texas Comptroller of Public Accounts provides funding for the Industrial Energy Management Forum.
Exhibitors
If you are interested in exhibiting at the event, please contact Kelly Richardson with STS-AIChE at kelly_s_richardson@hotmail.com or 832.954.6055.
Networking and Exhibition, 6 – 7 pm
A number of companies who bring value to energy management in the process industries will have tabletop exhibits set up as a focal point for the networking session. A cash bar will also be available.
November 2017 Monthly Dinner Meeting: The Subsidence Story in the Houston Region
Abstract
Subsidence has been a primary concern in the Houston area for many years. Since 1906, over 10 feet of subsidence has occurred, with a broad area of 6 feet of subsidence existing today throughout most of the Houston Area. In 1975, as a result of area residents and local governments becoming increasingly alarmed by the continued impact of subsidence on economic growth and quality of life in the region, the Harris-Galveston Subsidence District was created by the 64th Texas Legislature as an underground water conservation district with the mission to provide for the regulation of the withdrawal of groundwater to control subsidence. Over more than forty years of existence, the District has developed substantial data sets providing the foundation for its regulatory plan. The District's regulatory plan allows groundwater users an amount of annual groundwater based on a percentage of an individual permitee's total water demand. The management of the groundwater resources within the District has involved significant coordination with regional ground and surface water suppliers; ongoing interaction with other state and local regulatory bodies; analysis of accurate and up to date predictions on water usage; the enforcement of disincentives to those who rely too heavily on groundwater and a commitment to practicing and promoting water conservation. Areas nearest the Gulf of Mexico coast have completed the conversion to alternative (other than groundwater) water sources, consequently the effective stress on the aquifer has decreased and subsidence rates have been reduced. Areas within the District further inland are currently proceeding through the conversion process, and subsidence has continued in those areas as development of the groundwater resources has continued.
About the Speaker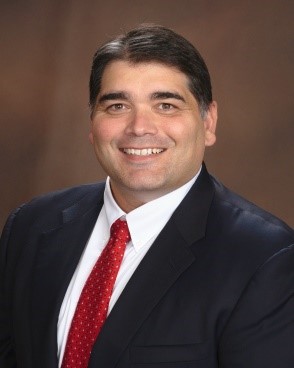 Mr. Turco serves as the General Manager of the Harris-Galveston Subsidence District as well as the Fort Bend Subsidence District (which is administered by the HGSD staff through an inter-local agreement). As General Manager, he is the Chief Administrative Officer responsible for the management of District operations, and for developing goals, strategies and policies necessary to implement the District's legislated mandate. Mr. Turco leads a customer focused team supporting the District's mission of reasonable groundwater regulation to protect lives and property in Harris, Galveston, and Fort Bend Counties from the hazards associated with land subsidence.
Mr. Turco holds a Bachelor of Science degree in Geology from the University of Nebraska at Omaha and a Master of Science in Geology (Hydrogeology Focus) from the University of Nebraska at Lincoln. Mr. Turco participates in the Region H planning group, Groundwater Management Area 14, the Texas Water Conservation Association, the Texas Association of Groundwater Districts, and International Symposia on Land Subsidence
Presentation Pricing and Advanced Registering
| | | | | |
| --- | --- | --- | --- | --- |
| | Pre-Registration | Pre-Registration | At the door | At the door |
| | Members | Non-Members | Members | Non-Members |
| Regular/Retired | $25 | $35 | $35 | $40 |
| Student / Unemployed | $15 | $20 | $25 | $30 |


NOTE 1: Those who are bringing guests, please list the quantity in your paypal cart to represent you and your guest(s). For example, if you are inviting a guest, please indicate with a quantity of 2, select "update" and then proceed to checkout.
NOTE 2: Those that register after 48 hours prior to the meeting should bring their receipt to the meeting and will not receive a pre-printed name badge