Texas Industrial Energy Management Forum & April 2017 Monthly Dinner Meeting
Thursday, April 6, 2017, 3:00pm-9:30pm CDT
"Onboarding & Training Millennials: Trends, Challenges & Rewards"
SILVER SPONSORS

Location:
Brady's Landing (8505 Cypress Street Houston, TX 77012)
Schedule:
3:30PM - 4:00PM Forum Registration and Visit with Exhibitors
4:00PM - 6:00PM Energy Management Forum
6:00PM - 7:00PM Networking and Exhibition
7:00PM - 8:00PM Dinner
8:00PM - 9:30PM Dinner Presentation/Speaker
Registration Details: Registration for the forum and dinner are separate. To register for the forum please visit http://texasiof.ceer.utexas.edu/tiof/aprilforum2017.asp. To register for the dinner please see below.
Texas Industrial Energy Management Forum
Has your company hired or is it planning to hire young professionals as it prepares for the retirement of its Baby Boomers (individuals born between 1946 and 1964)? If so, effective transfer of institutional knowledge and training of these young professionals in the energy management best practices your company employs is probably high on your priorities. More and more, managers and senior personnel within companies are discovering different challenges in onboarding and training the Millennial generation – individuals born between 1980 and 2000 – than previous generations.
In 2015, Millennials comprised more than one-third of the workforce. So understanding these challenges and identifying onboarding and training methods/approaches that have proved successful with the millennial generation will be critical to the continued success of your energy management program, the future of your company and minimization of this expense. In this forum, you will hear from representatives from companies who will share their experiences, lessons learned and solutions as they have worked their way through this critical business issue.
Panelists will provide a 20 minute presentation on the forum topic followed by a panel discussion and Q&A from the audience.
Full Program at: http://texasiof.ceer.utexas.edu/
Panelists
Stephen Garrett
Manager, Texas Territory
TLV Corporation

Kelley Hicks
HR Talent Manager - Chemical Plants
The Goodyear Tire & Rubber Company
Ed Kubis
Process Engineer, Heat Transfer & Energy Section
Exxon Mobil Research and Engineering

Susan McDonald
Functional Development Manager
Chevron Phillips Chemical Company
 
Registration:
There is no cost for attending the Energy Forum; however, pre-registration is requested so that we can provide adequate facilities.
To register, go to http://texasiof.ceer.utexas.edu/tiof/aprilforum2017.asp
Exhibiting:
If you are interested in exhibiting at the event, contact David Rosenthal (sts-chair@aiche.org).
Funding:
Support for the Texas Industrial Energy Management Forum is provided by the State Energy Conservation Office of the Texas Comptroller of Public Accounts.
Networking and Exhibition Session, 6 – 7 pm
A number of companies who bring value to energy efficiency in the process industries will have tabletop exhibits set up as a focal point for a networking session. A cash bar will also be available.
April 2017 Monthly Dinner Meeting: Engineers in Government
Abstract
Representative Paul is the only Engineer in the House of Representatives or State Senate.  Why we need more engineers in government?   He will discuss engineering issues going forward this session and other important issues before the 85th Legislature.  He will also take Q&A if time allows.
About the Speaker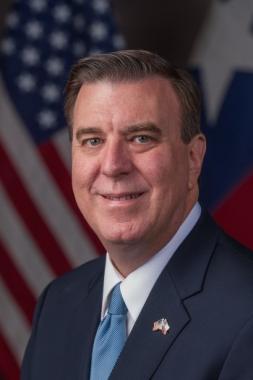 Dennis Paul is a Republican member of the Texas House of Representatives representing House District 129.
First elected in 2014, Representative Paul is in the middle of his second legislative session where he serves as the Vice Chair of the Texas Ports, Innovation & Infrastructure Select Committee.  He is also a member the House Rules and Resolutions committee and the Insurance and Pensions Committees. Additionally, during his first session, he started the Aerospace Legislative Caucus and became House Chairman of that caucus.  The Aerospace Caucus was formed to promote initiatives that will secure Texas' ranking as a world leader—advancing space exploration, science and security.  Representative Paul worked on issues like supporting the Ellington field Space Port, Coastal barrier system, Africa command moving to Ellington, property and business tax cuts and pension reform.
Representative Paul had a very successful first session and received the following awards and ratings: • 94% rating, and recognized as a "Faith and Family Champion" from Texas Values Action • 94% rating, and recognized as a "Champion of Free Enterprise" from the Texas Association of Business • Recognition as a "Courageous Conservative" from Texas Conservative Coalition • 84% rating from the Texas Eagle Forum, which was the top score for legislators from the Houston area, and number 18 overall • Houston Military Offices Association of America (MOAA) has recognized him as an official Honorary Member • Conservative Roundtable of Texas has recognized him as a 2015 "Effective Conservative Law Maker" • "A" rating from the National Rifle Association
He is committed to serving house district 129 and leading by example with the conservative principles he values. In this session, he will continue the fight to defend the constitution, reduce our property tax burden, support education and advocate for less government regulation.
Representative Paul is a native Houstonian, a small business owner and structural Engineer, founding Paul Engineering Inc. in January of 2002.  He and his family attend St. Bernadette Catholic Church.  He and his family are proud to call District 129 their home.
Presentation Pricing and Advanced Registering
| | | | | |
| --- | --- | --- | --- | --- |
| |  Pre-Registration | Pre-Registration | At the door | At the door |
| |  Members | Non-Members | Members | Non-Members |
| Regular/Retired | $25 | $35 | $35 | $40 |
| Student / Unemployed | $15 | $20 | $25 | $30 |

NOTE 1: Those who are bringing guests, please list the quantity in your paypal cart to represent you and your guest(s). For example, if you are inviting a guest, please indicate with a quantity of 2, select "update" and then proceed to checkout.
NOTE 2: Those that register after 48 hours prior to the meeting should bring their receipt to the meeting and will not receive a pre-printed name badge