STS AIChE May 2017 Monthly Dinner Meeting
Thursday, May 4, 2017, 5:30am-9:30pm CDT
May 04, 2017 Dinner Presentation: 
Good Engineering Practice for Emergency Relief System Design
Schedule
5:30PM - 6:30PM Workshops
6:00PM - 7:00PM Social/Networking Time
7:00PM - 8:00PM Dinner
8:00PM - 9:30PM Dinner Presentation/Speaker
Abstract
Pressure Relief Systems are designed to protect catastrophic disassembly of a pressure vessel from a pressure excursion. Evergreen Relief System documentation and the design basis play a crucial role in maintaining the safety and integrity of the process. They are designed for the worst case scenario and indeed the last line of defense.

This presentation will focus on the important key regulatory framework that governs Emergency Relief System Design and Design basis. Highlight audit requirements per OSHA compliance directive: Horizontal integration between the PHA Team and ERS Designers, Guidelines for design, installation, and maintenance of Pressure Relief Devices. Discuss successful strategies to address management of change. Finally, the presentation will focus on emerging trends in Pressure Relief Systems and the outlook for addressing future challenges.
Bio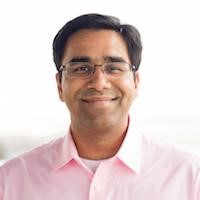 Rahul Raman is a PSM consultant for Provenance Consulting where he helps client in achieving cost-effective PSM compliance. He provides PSM consulting services to the oil and gas industry, provides technical stewardship, and a subject matter expert for pressure relief system. He has extensive experience in PSI audit, changes to relief system due to management of change, revalidation of process units, and two-phase flow analysis. In addition, he is an instructor for AIChE Basic Emergency Relief System Design Course. He has actively participated and contributed in Design Institute for Emergency Relief System (DiERS) and API Sub-Committee for Pressure Relieving Systems. He completed his Master of Chemical Engineering degree from Carnegie Mellon University and obtained a Bachelor of Technology in Chemical Engineering from Anna University.
Presentation Pricing and Advanced Registering
| | | | | |
| --- | --- | --- | --- | --- |
| |  Pre-Registration | Pre-Registration | At the door | At the door |
| |  Members | Non-Members | Members | Non-Members |
| Regular/Retired | $25 | $35 | $35 | $40 |
| Student / Unemployed | $15 | $20 | $25 | $30 |

NOTE 1: Those who are bringing guests, please list the quantity in your paypal cart to represent you and your guest(s). For example, if you are inviting a guest, please indicate with a quantity of 2, select "update" and then proceed to checkout.
NOTE 2: Those that register after 48 hours prior to the meeting should bring their receipt to the meeting and will not receive a pre-printed name badge