2018 Annual STS-AIChE Houston Ship Channel Trip
Saturday, June 2, 2018, 6:00pm-7:30pm CDT
REGISTRATION CLOSED
--------------------------------------------------------------------------------------------------
SECURITY NOTICE
Because of the increased security requirements at Port Houston, the annual STS-AIChE Houston Ship Channel Trip is subject to cancellation at the last minute by Port Houston. If this happens, we will notify all people with reservations and put a notice on our website:
http://www.aiche.org/community/sites/local-sections/sts
Your understanding about this situation is appreciated.
--------------------------------------------------------------------------------------------------
Once again, the South Texas Section will journey down the Houston Ship Channel in the fully air-conditioned M/V Sam Houston on the evening of Saturday, June 2. The M/V Sam Houston will leave the dock at 6:00 PM sharp and return to the dock at approximately 7:30 PM.
The Houston Ship Channel is the largest concentration of chemical industry in the United States with more than 50 chemical processing facilities located along either side providing their products to commerce around the world. The list of companies that are located along the Houston Ship Channel reads like a who's who of the chemical process and refining industries. The ship channel has more than 50% of the nation's basic petrochemical manufacturing capacity and nearly 50% of the capacity of first stage derivatives - almost three times larger than its closest competitor.
We will enjoy barbecue and beverages graciously provided by Port Houston on the trip, so please bring your spouse or significant other. The barbecue dinner will include beef, chicken and link sausage barbecue dinners with all the fixings including beans, potato salad, cole slaw, pickles, and lots of jalapenos plus dessert for those who are still hungry.
Since this trip is intended for a technical organization, no children under the age of 16 are allowed.
Because of security requirements, reservations are required for the trip in order to provide a passenger list to Port Houston. Reservations will be accepted online until 2:00 PM, Tuesday, May 29. When the reservations list is full, a wait-list will be started. Reservations can be canceled online at any time up to 2:00 PM, Tuesday, May 29, on the STS-AIChE website, which will allow time to notify people on the wait-list and include their names on the passenger list.
Because of the popularity of our annual Houston Ship Channel trip, reservations are limited to members of the STS-AIChE and one guest per member for a total of two people for each reservation. Please include the names and the email addresses or telephone numbers for yourself and your guest with your reservation so we can contact everybody to confirm all of the reservations and notify everybody in case the trip is cancelled (see the security notice above). Reservations are on a first come, first serve basis; however, we will maintain a wait list in case there are cancellations.
All people going on the Houston Ship Channel Trip must have a picture ID to show to the guard at Gate 8 and to the crew member before boarding the M/V Sam Houston. Names will be compared to the passenger list by the guard.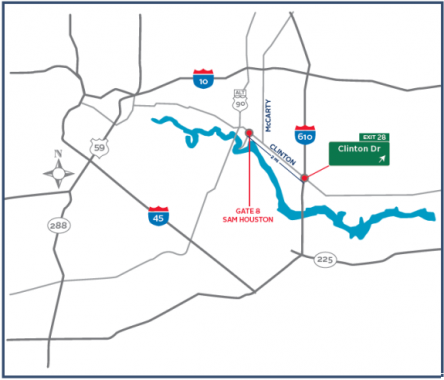 We hope to see you on board the M/V Sam Houston when we weigh anchor.
Directions
Please refer to the map above.
The parking lot access is through Gate 8 of Port Houston, 7300 Clinton Drive. Exit I-10 (Baytown East Freeway) at McCarty and proceed south on McCarty to Clinton Drive. Turn right on Clinton and proceed west to Gate 8, which has a signal light and is just before Wayside. Turn left and enter Gate 8, then proceed to the pavilion at the Turning Basin, staying to the right. Once there, park in the parking lot and join us on board the M/V Sam Houston.
DO NOT EXIT AND GO DOWN WAYSIDE; THERE IS NO STREET CONNECTION FROM SOUTHBOUND WAYSIDE TO CLINTON DRIVE.
For additional information, please e-mail Dennis Griffith at dennisgriff@sbcglobal.net or call him at 713-753-5331 (work), 713-857-6428 (cell), or 713-465-9347 (home).
Remember, a picture ID is required for all attendees.
NOTE 1: Those who are bringing guests, please list the quantity in your paypal cart to represent you and your guest(s). For example, if you are inviting a guest, please indicate with a quantity of 2, select "update" and then proceed to checkout.
NOTE 2: After selecting "Add to Cart" button, you will have two options for payment. Option 1 will be the TOP BUTTON labeled "Paypal Checkout" for those who have a Paypal account and wish to pay via PayPal. Option 2 is for those who don't have a PayPal account and wish to pay by credit card. To do so select the BOTTOM BUTTON labeled "Check Out" with the text "Pay without a Paypal account" text underneat it.
REGISTRATION CLOSED