Fluids and Solids Handling
Turbomolecular Pumps Withstand High Radiation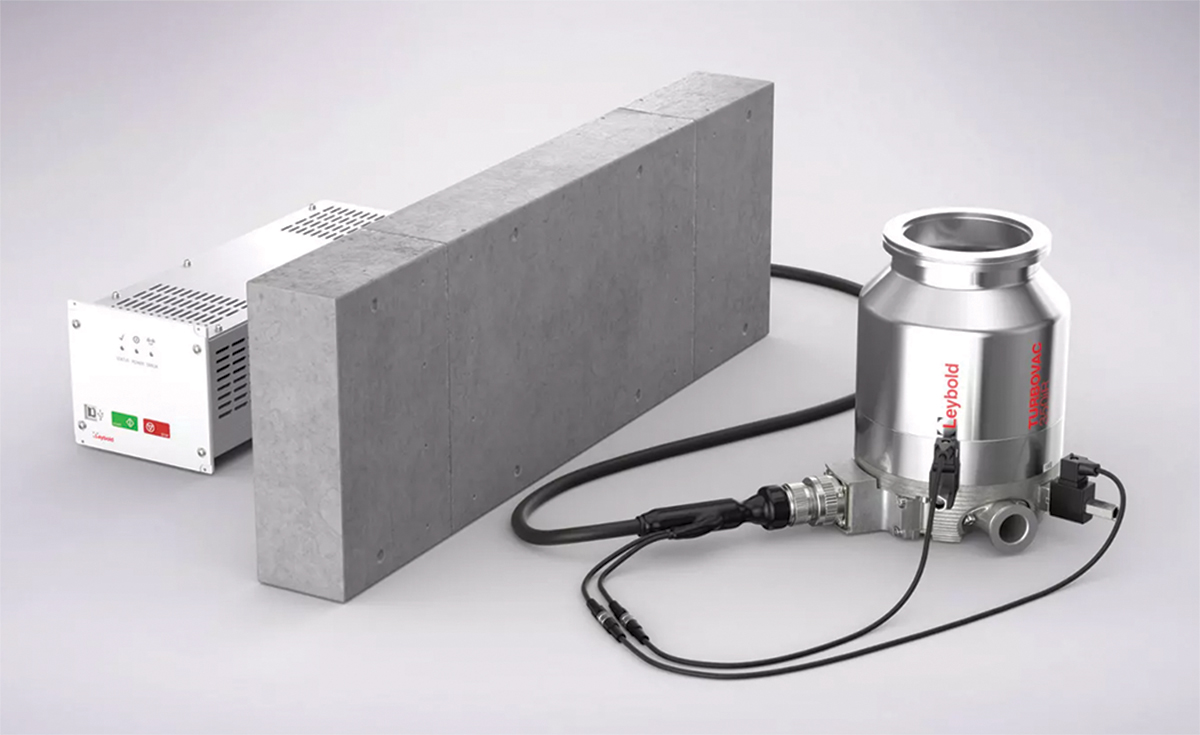 The TURBOVAC iR turbomolecular pumps are suitable for advanced research applications with high ionizing radiation, withstanding radiation levels up to 1 million grays (Gy). They offer pumping speeds from 90 L/sec to 950 L/sec and support flexible remote operation from 3 m to 1 km. In addition, the pumps are available with accessory options to accommodate various controllers and cables based on customer needs.
Leybold
Bulk Bag Unloader Seals Dust During Material Transfer
The Big Bag Unloader is available in an explosive atmosphere (ATEX)-compliant design to allow safe operation in hazardous storage and process environments. The discharge station enables operators to safely transfer powders, pellets, and other bulk materials from bulk bags without allowing dust to escape. The discharge station ensures complete emptying and prevents material spillage to avoid the risk of an explosive event or combustible dust incident. The motor, hoist, controls, and all electrical components meet ATEX requirements as explosionproof. In addition, the discharge station is available with an automated hoist, pneumatically operated bag closing system, empty bag disposal system, and other optional accessories.
Gericke USA
Software
Platform Streamlines Equipment and Facility Maintenance
FastMaint CMMS Version 12 is a computerized maintenance management software program for equipment and facility maintenance. The platform allows maintenance managers to schedule preventive and corrective maintenance work, send work orders on mobile phones, receive feedback from maintenance workers, and track the progress of all outstanding and completed jobs. It can be used for on-site maintenance or field service management. The platform has enterprise asset management features to track equipment and facilities, inventory management, and supplier records for ordering spares and equipment. It automatically schedules maintenance activities based on dates, process data, emergency conditions, or any criteria that the maintenance planner specifies.
SMGlobal
Engineering Modeling Software Improves Design
The MapleSim 2022 software release is now available. MapleSim is an advanced modeling and simulation tool that helps design engineers reduce development time, costs, and performance issues. It offers a flexible modeling environment, built-in analysis tools, and connectivity to automation systems. The software release offers additional applications and settings to expand the modeling capabilities. It allows engineers to manage an entire system-level model in a single platform, making it suitable for a wide range of industrial applications.
Maplesoft, Inc.
Laboratory Equipment
High-Speed Microvolume Spectrophotometer Streamlines Purity Assessment of Assays
The NanoSNAP is a high-speed microvolume spectrophotometer that provides high-performance measurements of nucleic acids and proteins. It assesses the purity of DNA, RNA, proteins, and other types of assays within seconds, using as little as 1 μL of sample with no dilution required. It offers full wavelength coverage from 190 nm to 1,000 nm. The spectrophotometer has a hydrophobic coated sample window, LED viewing light, and cushioned detection arm, all of which simplify operation. In addition, it features an intuitive 7-in. color touchscreen that streamlines navigation between different measurement modes.
SPEX SamplePrep
Sample Preparation Platform Improves Productivity in Proteomics Research
The AccelerOme automated sample preparation platform eliminates the need for labor-intensive, manual sample preparation for liquid chromatography-mass spectrometry (LC-MS) analyses. Automated sample preparation overcomes the challenge of maintaining reproducibility with manual methodologies to provide consistent, high-quality peptide samples. The platform uses pre-built validated methods and kit format reagents to further reduce human error. In addition, the platform offers built-in ultraviolet (UV) measurement of final peptide concentration before analysis so that users can standardize sample peptide input and monitor system performance.
Thermo Fisher Scientific
Environmental, Health, and Safety
Safety Glasses Offer Versatile Protection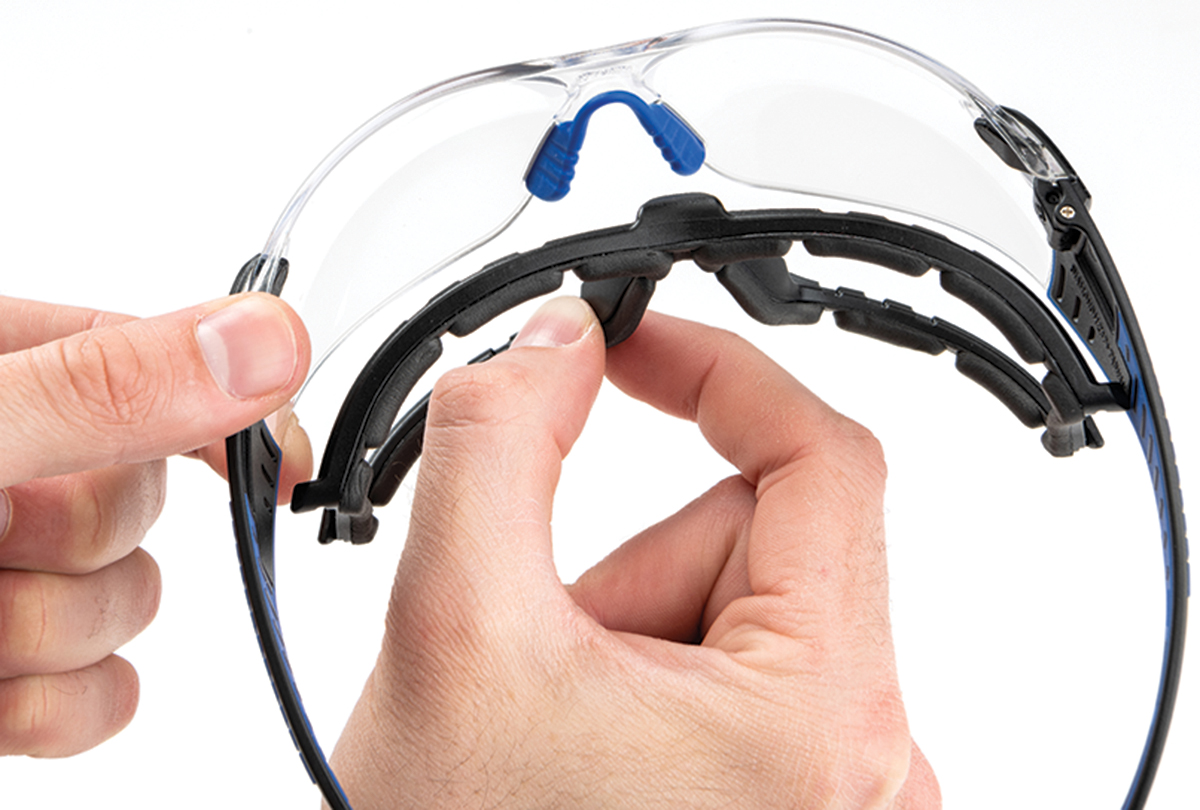 The Midnight safety glasses offer dust, fog, abrasion, chemical, and ultraviolet (UV) protection. The safety glasses have a removable gasket made of soft ethylene-vinyl acetate (EVA) foam that comfortably seals the glasses to the face and keeps dust out. In addition, the safety glasses are lightweight and have flexible earpieces to provide all-day comfort and encourage wearability.
Brass Knuckle Safety Products
www.brassknuckleprotection.com
Light Curtains Safeguard Points of Operation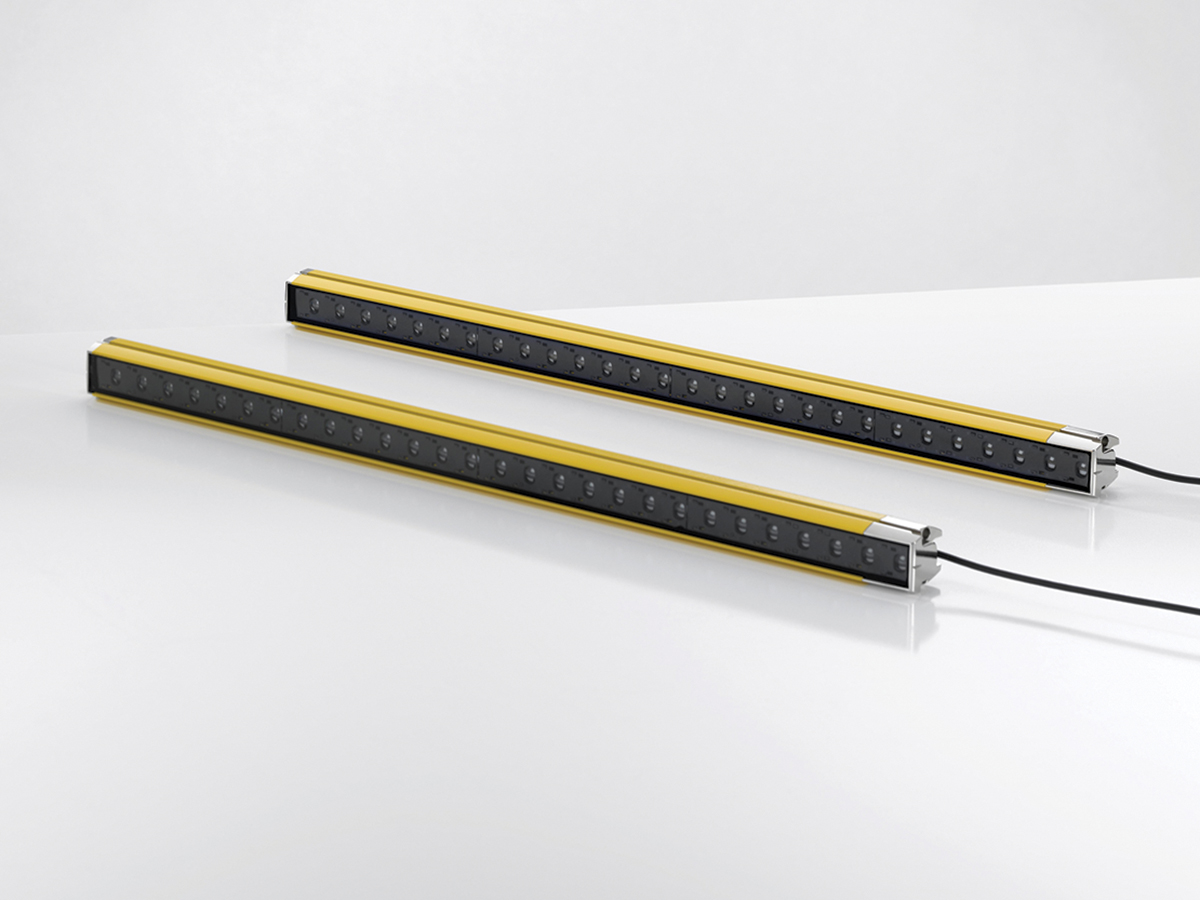 The ELC 100 safety light curtains project a protective light barrier to safeguard points of operation. The safety curtains have high resolutions of 17 mm and 30 mm to reliably detect fingers and hands. The protective fields are up to 1.5 m in length and extend to the edge of the housing so that the devices can be mounted flush at the boundaries without any dead zones occurring. The safety curtains are suitable for applications with operating ranges of up to six meters.
Leuze
Instrumentation
Remote Monitoring and Alert System Provides Plant-Wide Coverage
The SENSERT remote monitoring and alert system uses a plant's existing sensors to monitor a wide range of conditions, such as level, temperature, pressure, flow, and electrical currents. Sensors can be hardwired directly to the unit or wirelessly connected. The system monitors sensor data in real time and triggers alerts based on customizable thresholds that are input through the mobile app or web portal. Each channel can be configured for high- and low-threshold values and custom alerts. The system is compatible with sensors that use 0–20 mA, 4–20 mA, 0–5 V, or 0–10 V.
ATC Diversified Electronics
Emergency Shutdown Discrete Valve Controller Improves Safety
The TopWorx DX Partial Stroke Test with HART 7 provides valuable valve data and diagnostic information, enabling predictive maintenance and reliable operation. It integrates seamlessly with existing valves and control systems to provide access to critical valve data, trends, and diagnostics. The valve controller performs a partial stroke test to ensure reliable function without shutting down the process. The partial stroke test safety feature confirms that the valve will fully close and performs an emergency shutdown if an emergency is detected. The HART protocol ensures data, trends, and diagnostics are monitored and integrated into the industrial internet of things.
Emerson
Operations and Maintenance
System Applies Tamper-Evident Bands to Bottles
The NB1 neck bander applies shrink bands over the neck of pharmaceutical containers. The machine offers adjustable parameters to accommodate a wide range of applications. Users can customize settings for the top diameter, angle, bottle height, and other physical dimensions. The neck bander is suitable for caps with diameters from 14 mm to 76 mm and widths from 25 mm to 123 mm. The unit can shrink-band up to 100 bottles/min with a consistent seal that does not crinkle.
Deitz Company
Thermoplastic Auxiliary Injection Platform Handles Large Capacity
The E-Multi 5 auxiliary injection unit offers an injection shot range of 550 g to 1,237 g (18 oz to 42 oz). This large capacity is well-suited to the production of large individual components and high-cavitation molds in multi-material applications. The unit enables multi-shot, multi-material, or co-injection capabilities with existing injection molding machines for low capital investment and fast lead times. The unit is available in the standard horizontal installation package or optional vertical installation package.
Mold-Masters
Sealed Treatment Protects Surface of Aluminum Drive Equipment
The nsd tupH surface treatment protects aluminum drive units from harsh cleaning processes and normal production wear-and-tear. It is a lightweight, cost-effective alternative to stainless steel that resists wastewater, precipitation, cleaning agents, alkalis, acids, dust, and dirt. The treatment uses a chromate-free chemical process that permanently penetrates the aluminum housing and improves the metal's physical properties. The treatment is then coated with a clear, non-flaking sealant that is easy to clean and maintain.
NORD DRIVESYSTEMS
Thermoplastic Preform Platform Uses Recycled Polyethylene Terephthalate
The HyPET HPP5e recycled melt-to-preform (RMTP) system enables production of packaging made of 100% recycled polyethylene terephthalate (rPET) material. The system eliminates the drying and melting steps associated with traditional rPET preform manufacturing, providing up to 30% energy savings to reduce production costs. In addition, the system uses Advantage+Elite real-time monitoring to reduce the variability risk associated with using high levels of recycled plastic.
Husky Technologies
Copyright Permissions
Would you like to reuse content from CEP Magazine? It's easy to request permission to reuse content. Simply click here to connect instantly to licensing services, where you can choose from a list of options regarding how you would like to reuse the desired content and complete the transaction.