Laboratory Equipment
Chromatography and Mass Spectrometry Consumables Improve Sample Security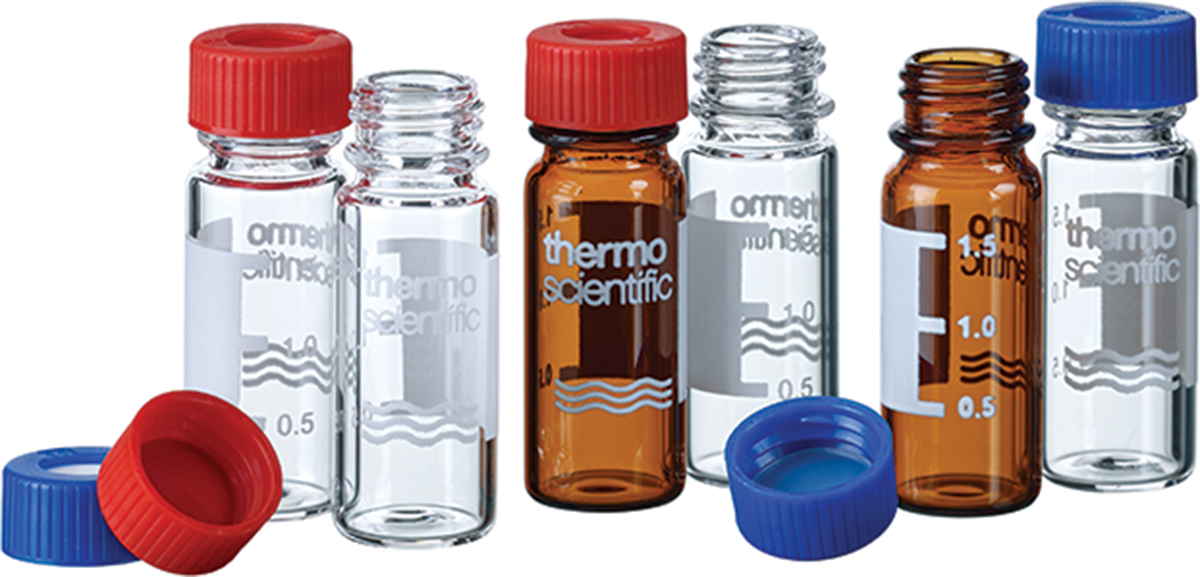 The SureSTART consumables portfolio is a collection of caps, vials, inserts, kits, well plates, and mats for chromatography and mass spectrometry samples. The portfolio is compatible with all add-on and chromatography auto-samplers, regardless of the instrument vendor. The portfolio provides sample security and low compound adsorption to improve analytical performance. It is available in three performance levels to accommodate different analytical needs: Performance Level 1 for everyday applications, Performance Level 2 for high-throughput applications, and Performance Level 3 for high-performance applications.
Thermo Fisher Scientific
Spectrometer Streamlines Elemental Analysis
The ARCOS inductively coupled plasma optical emission spectrometer (ICP-OES) precisely analyzes the elemental composition of metals, chemicals, petrochemicals, and other materials. The device offers excellent optical performance, wavelength coverage, sensitivity, and resolution. The dual side-on interface (DSOI) offers two optical interfaces that improve sensitivity and eliminate contamination issues. The device features the MultiView plasma viewing option, which enables users to select either high-sensitivity axial plasma or high-precision radial plasma observation. The device's line-array detectors eliminate blooming and read low signals over a high dynamic range. In addition, the device features Optimized Rowland Circle Alignment (ORCA) polychromator optical technology that captures the 130–770 nm wavelength range with up to five times more sensitivity than Echelle-based systems. The ICP-OES is available in six versions with different plasma viewing options and elemental wavelength ranges.
SPECTRO
Live Cell Analyzer Offers Precise Metabolic Analysis
The Seahorse XF Pro analyzer measures the oxygen consumption rate (OCR) and extracellular acidification rate (ECAR) of live cells in a 96-well format. OCR and ECAR are key indicators of mitochondrial respiration, glycolysis, and adenosine triphosphate (ATP) production rate. These measurements provide a systems-level view of cellular metabolic function in cultured cells and ex vivo samples. The analyzer incorporates multiple hardware and software features that improve measurement performance and data interpretation, including tools for quick plate setup, plate layout importation, heat map view, and dose-response curve view. A data quality view automatically flags erroneous data and makes it easier to reject outlier datapoints. These features help users accurately identify novel drug targets, validate target effect on cellular function, optimize disease models, and determine drug safety and antitumor potential of T-cell therapies.
Agilent Technologies, Inc.
Fluids and Solids Handling
Conveying System Prevents Material Exposure to Plant Environment
The VS pneumatic conveying system automatically transfers powders, pellets, and other bulk materials in a sealed, dust-tight design to protect against contamination. The enclosed conveyor system eliminates material exposure to the plant environment and contamination from humidity, pests, lubricants, and other risk factors. It replaces bucket elevators, belt conveyors, and other open-air conveying systems. The conveyor system is explosionproof and explosive atmosphere (ATEX)-certified for use in hazardous and non-regulated environments.
Volkmann USA
Eccentric Disc Pumps Provide Efficient Pumping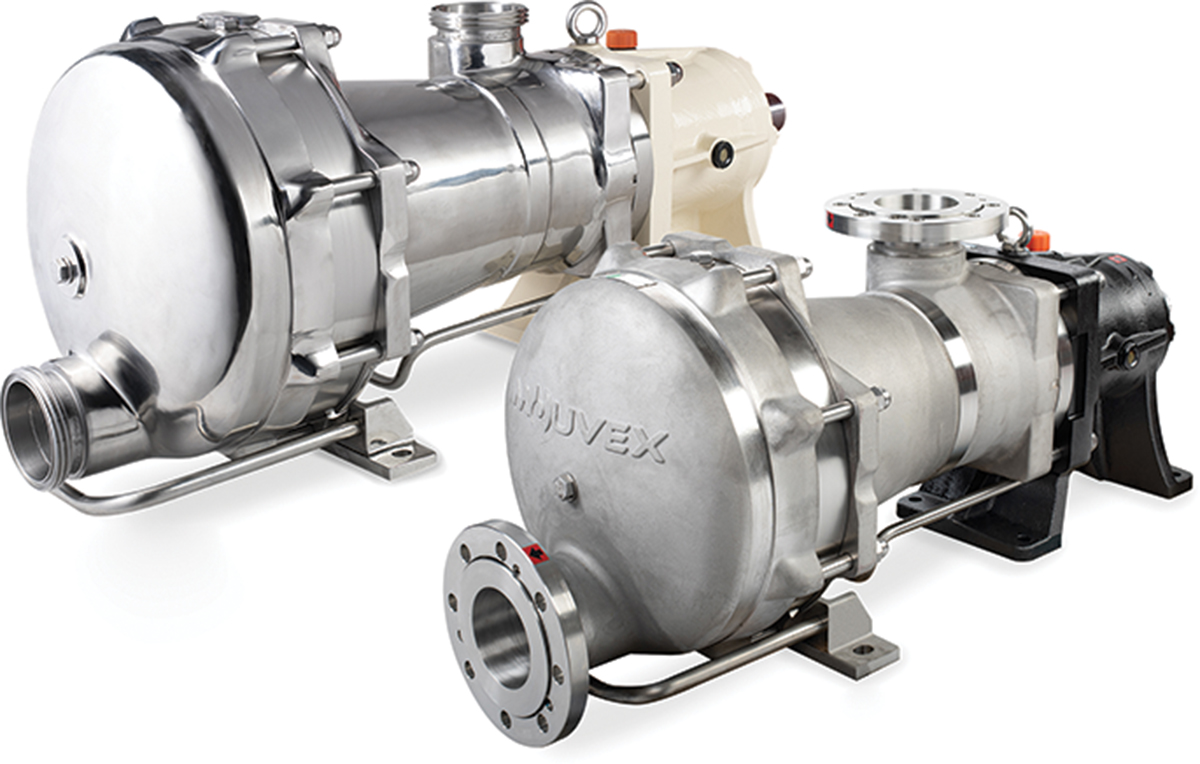 The H-FLO and G-FLO Series eccentric disc pumps can handle highly viscous fluids up to 10,000 cP and soft particles up to 20 mm. The H-FLO pump delivers gentle, pulse-free flow that protects shear-sensitive products, making it suitable for a wide variety of pumping applications in the food, cosmetic, and pharmaceutical industries. It provides high vacuum on suction and strong air compression on discharge, which allows it to self-prime lines. The G-FLO pump provides safe transfer of high-value fluids. Both pumps offer flowrates up to 70 m3/hr (300 gpm) with a maximum output pressure of 10 bar (145 psi). In addition, the pumps feature the Easy Clean System (ECS) for quick cleaning, adjustable inlet port positions, tangential inlet ports and internal shapes for cleaning-in-place (CIP), and a new piston-locking design that does not require specific tools.
Mouvex
Ultra-High-Shear Mixer Handles High Throughputs
The X-Series inline ultra-high-shear mixer delivers high-throughput emulsification, dispersion, and homogenization. It is suitable for most industries, including the food, pharmaceutical, and chemical industries. The mixer head is a patented design with concentric rows of intermeshing teeth. The product enters at the middle of the stator and travels outward through the radial channels where it is exposed to ultra-high shear during each pass. The mixer offers smaller droplet or agglomerate sizes than traditional colloid mills. It is available in both sanitary and industrial configurations.
Charles Ross & Sons Co.
Engineering Services
Testing Center Adds Hygienic Bulk Material Feeder
Gericke has added a Feedos standard-hygienic (SH) bulk material feeding system to its New Jersey test laboratory. The testing system enables product formulation and performance testing on full-size powder handling equipment. The Feedos SH automatically feeds and doses free-flowing and flow-resistant granular and powdered materials at rates up to 500 L/hr in volumetric or gravimetric modes. The feeder features a proprietary rectangular helix feeding tool and feeding chamber configuration that promote accurate, constant product flow and complete discharge. The hygienic Feedos SH test lab is suitable for testing food ingredients, nutraceuticals, and other bulk materials. The testing device includes various dosing tools, connectors, hoppers, and other accessories to accommodate a wide range of materials and closely simulate most processes. The Feedos SH joins several other pieces of equipment in the test laboratory, including a Nibbler lump breaker, GMS Multiflux batch mixer, GS Centrifugal Sifter, bulk bag unloading station, and other auxiliary equipment.
Gericke USA
Heat Transfer
Plate Heat Exchanger Delivers High Thermal Efficiency
The TS45 gasket plate heat exchanger offers high thermal efficiency. It features the noncircular inlet and outlet OmegaPort with a large thermal surface area to improve heat transfer across the entire plate pack. The OmegaPort feature can also reduce the number of plates that are required per pack. The heat exchanger features the FlexFlow design, which incorporates asymmetric channels that increase thermal efficiency by 30% and reduce fouling. In addition, the heat exchanger uses the CurveFlow plate pattern, which improves media flow and distribution.
Alfa Laval
Copyright Permissions
Would you like to reuse content from CEP Magazine? It's easy to request permission to reuse content. Simply click here to connect instantly to licensing services, where you can choose from a list of options regarding how you would like to reuse the desired content and complete the transaction.