The 2022 Offshore Technology Conference
The 2022 Offshore Technology Conference (OTC) is the premier event for advancing scientific and technical knowledge in the offshore energy sector. The conference and exhibition will take place May 2–5 at the NRG Park in Houston, TX.
The technical program features a wide variety of sessions, covering topics from offshore wind and renewables to subsea drilling and robotic systems. AIChE's program subcommittee has contributed exciting content to this year's event, including a session in the keynote speaker series, two panel discussions, and several technical sessions spread across all four days of the conference. Session topics highlight important areas and opportunities where chemical engineers can contribute to the advancement of offshore technology and oil production.
AIChE's programming starts on Monday morning with a session on offshore innovative design in subsea processing, topside design, and floating liquefied natural gas (LNG). The afternoon program includes a panel on the bridge to offshore renewables and alternative markets.
Tuesday features a full day of programming from AIChE, including a session in the keynote speaker series, two technical sessions, and a panel. Topics covered include enhanced oil recovery (EOR), carbon capture utilization and storage (CCUS), and offshore energy transition technologies. In the keynote speaker series, Tim Duncan, President and CEO of Talos Energy, will discuss how energy companies can fit CCUS into their operations, providing examples of Talos' successful projects.
On the third day of the conference, AIChE will host two sessions: one on the opportunities and challenges in hydrogen as a route toward decarbonization and another on the characterization and analysis techniques for carbon reservoirs.
AIChE's programming will wrap-up on Thursday with three sessions focusing on digital transformation in production operations and flow assurance, novel ways to improve reservoir performance, and advances in fluid technologies for offshore drilling.
In addition to these engaging discussions from AIChE's program subcommittee, the 2022 OTC will feature technical sessions sponsored by all 13 of OTC's sponsoring organizations, a robust exhibition featuring the new Energy Transition Pavilion, a free Energy4me Teacher STEM workshop, poster sessions, and networking events. Industry leaders will be honored at the Spotlight on New Technology Awards ceremony, as well as the OTC Distinguished Achievement Awards reception.
AIChE members are eligible for reduced rates on OTC registration and proceedings. Register online before May 2nd for special early-bird rates. Be sure to indicate your AIChE affiliation on your registration form.
We would love to meet you during your visit to OTC 2022. Please stop by AIChE Booth #S4, located in Sponsors' Row outside of the Exhibit Hall. To view the full program and events, check out the OTC website at 2022.otcnet.org.
Expo Preview
The Offshore Technology Conference (OTC) is an annual event where energy professionals meet to advance their scientific and technical knowledge related to offshore resources in the fields of drilling, exploration, production, and environmental protection.
Valve Skids Simplify Maintenance Activities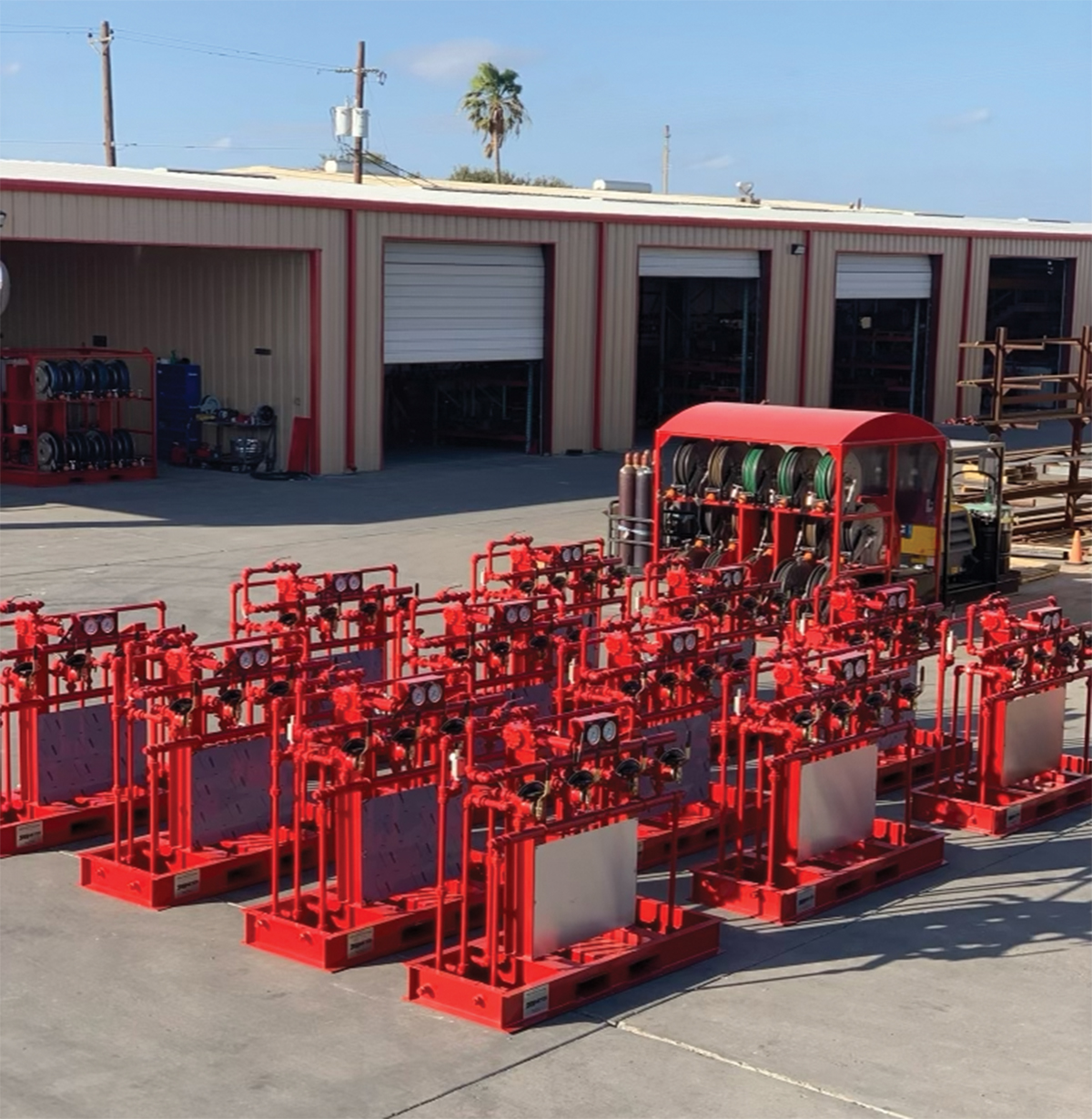 These modular valve skids allow multi-well pads to be run from power units outside the high-risk red zone areas, enabling safe and hassle-free routine maintenance. They are available in multiple configurations with three to eight valves. Programmable logic controller (PLC)-automated units are also available, which allow multiple units to be controlled from a single control screen and remotely monitored via internet-enabled devices. These valve skids have alarms for low accumulator, low manifold, low air pressure, and alternating current (AC) power failure.
MEYER
Booth #2367
Transit Build Software Manages Cable and Pipe Installation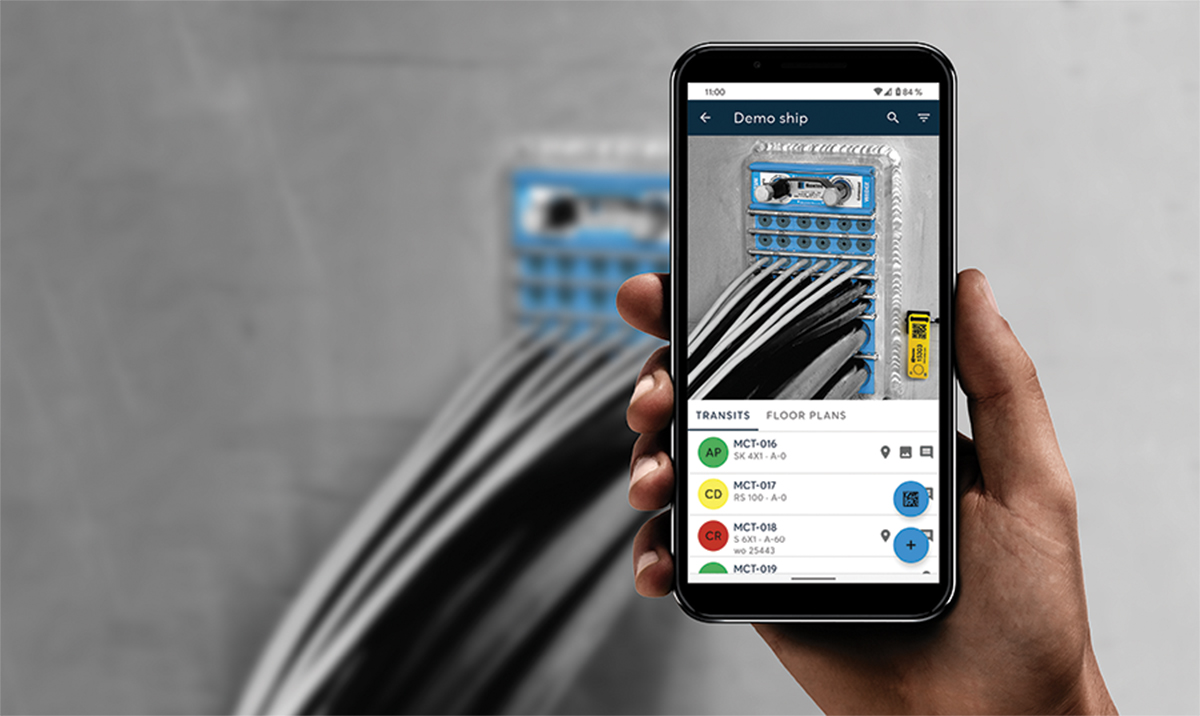 The Roxtec Transit Build platform digitalizes the process of installing, quality securing, and registering cable transits in shipbuilding or construction processes. The platform enables systemized quality assurance of each cable and pipe seal, providing instant tracking and status reporting for every transit installation. It works offline and online to ensure all transit documents for owners and class approvals are up-to-date. The platform is web-based and runs securely online without the need for information technology (IT) support.
Roxtec, Inc.
Booth #2929
Modular Plug Connectors Provide Quick Connection
The miniCON modular plug connectors enable quick connection of explosion-protected electrical equipment. The connectors are suitable for in-line connection of portable control systems, electrical systems, camera systems, human machine interface (HMI) systems, and various equipment. The eight-pole plugs and couplings are designed for cable cross-sections from 0.25 mm2 to 2.5 mm2. Electrical assemblies can be delivered fully prefabricated, wired, and checked, enabling them to be commissioned at the operating location with minimum installation effort. The plug-and-play connection with patented snap lock can be connected and disconnected by a single person, without needing any hot work permits, even under load. This hot-swap capability significantly reduces downtime during maintenance work and simplifies handling.
R. STAHL
Booth #1652
Industrial Engine Is Suitable for High-Performance Applications
The JD18 engine offers a power range of 522 kW to 676 kW (700 hp to 907 hp). The engine features a rear gear train, which produces excellent direct power and offers up to two rear auxiliary drives for a total of 902 N-m (665 lb-ft) max torque. The engine's combustion technology offers a simplified air system with fixed and wastegate turbos, allowing the engine to meet emissions requirements without the need for aftertreatment or diesel exhaust fluid (DEF). The engine features hydraulic lash adjusters, which offer a maintenance-free valve train and eliminate the need to reset the lash. The high-pressure common-rail fuel system allows the engine to deliver optimized fluid consumption. In addition, the engine components have a diamond-like coating that improves biodiesel compatibility.
John Deere Power Systems
Booth #743
Smart Camera Platform Improves Video Analytics
The Azena platform for smart cameras provides artificial intelligence (AI)-powered video analytics for the oil and gas sector. The platform runs directly on a smart camera, enabling real-time situational awareness of your facilities to improve response times for environmental, safety, and compliance measures. More than 100 apps are available in the Azena application store, including applications for automating the detection of flares and liquid leakage, as well as water level monitoring. A single smart camera can simultaneously run a variety of apps based on customer needs. This enables oil and gas facilities to remotely monitor entire sites with just one camera.
Azena
Booth #3610
Smart Transmitters Operate in Hazardous Environments
The WinSMART family of pressure, differential, and temperature transmitters are explosionproof and certified for use in hazardous locations. The LY16 pressure transmitter measures pressures up to 14,500 psi. The LY36 differential pressure transmitter measures pressure differentials less than 1 psi up to 1,450 psi. The TY52 temperature transmitter measures temperatures from –50°C to 400°C. All configurations support analog and digital communications, including HART and MODBUS communication options, allowing you to connect to any PLC or programmable automation controller (PAC) device.
Winters Instruments
Booth #3507
Wastewater Evaporation System Handles High Throughput
The Varimax 60 is a wastewater evaporation system for medium-sized wastewater projects ranging from 60 gpm to 120 gpm. Users can adjust the droplet size by varying speed without changing the water throughput. In addition, the system has a 360-deg. rotational atomizing arm for ease of maintenance.
e3 Solutions
Booth #3927
Reset Relief Valve Is Fully Automatic
The X1200 AUTOMATED reset relief valve protects mud pumps against high pressure spikes from 1,500 psi to 10,000 psi. The valve is fully automated so the actuator automatically sets the valve to a full-open position when the set pressure is reached, reducing operating cost and downtime. The bonnet, top-loaded piston, and seals can be removed while the body remains in-line. The electrical components have a modular design and can be easily removed for maintenance. Retrofit kits are available, as well as a wireless key fob remote and lockout function.
RR Valve, Inc.
Booth #906
All-In-One Device Consolidates Chemical Injection Process
The SF3 is an all-in-one chemical injection device that combines chemical injection, actuation, and flow measurement into one compact unit. The device significantly reduces the size and weight of chemical injection skids and improves measurement and chemical injection accuracy. It eliminates the need for separate flowmeters and actuators, as well as the associated extra hardware, tubing, and fittings, significantly reducing the space and maintenance costs required for chemical injection systems.
SkoFlo Industries, Inc.
Booth #602
Pumps Operate in Extreme Conditions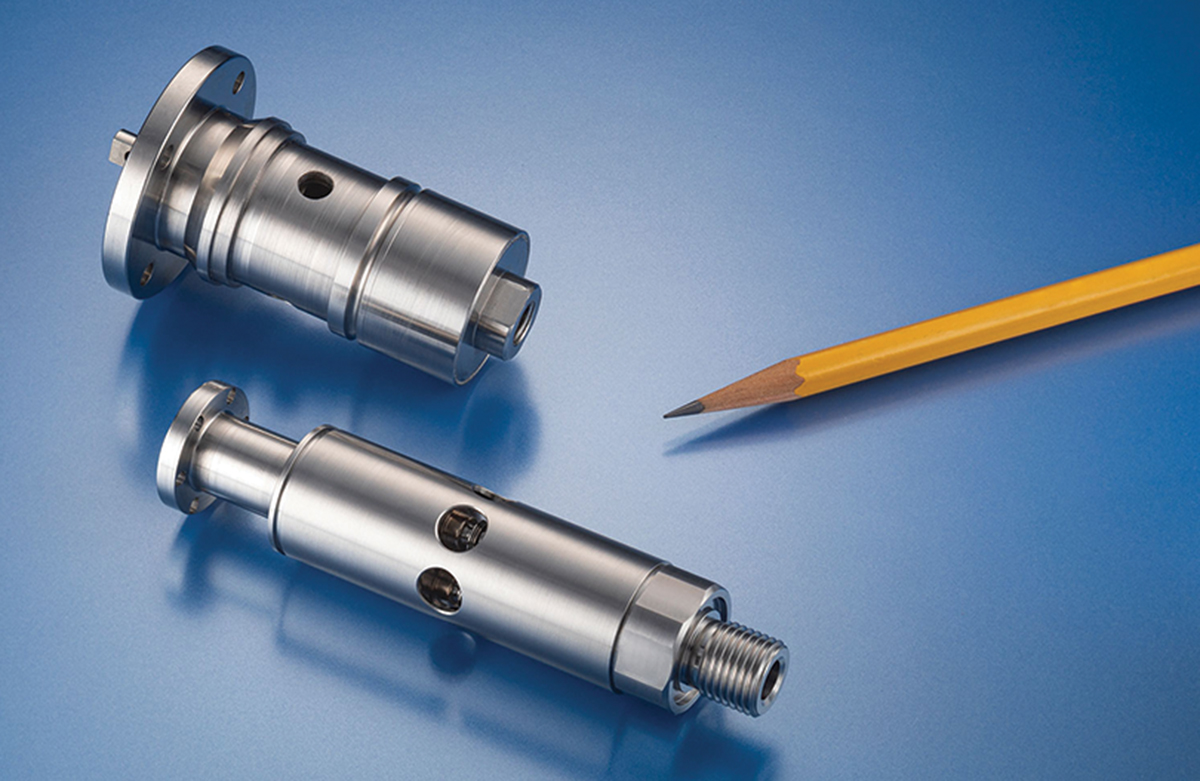 These high-pressure, high-temperature (HPHT) pumps are suitable for the extreme conditions found in downhole oil tool applications. The pumps feature an innovative axial piston design that eliminates the use of elastomers, increases resistance to contamination, and dramatically improves reliability. The pumps can generate up to 10,000 psi and are rated for operating temperatures up to 400°F. They have been cycle-tested for over 1,000 hours and are designed to withstand high levels of shock and vibration. They have compact designs that accommodate extreme environments and small spaces found downhole. The pumps are available with 22-mm and 30-mm diameter envelopes for packaging flexibility.
Lee Co.
Booth #1735
Pump Containment Shells Resist Corrosion
The FRIALIT FZM ceramic shells have high chemical resistance, making them particularly suitable for use in corrosive media. The ceramic shells offer high mechanical stability and significantly longer service life than conventional materials. Depending on the size of the inner diameter, containment shells can handle pressure conditions exceeding 60 bar at temperatures of 450°C. In addition, the ceramic material is non-magnetic, eliminating performance-impairing eddy currents that can reduce electrical drive power by 10–15%.
Kyocera International, Inc.
Booth #2276
Copyright Permissions
Would you like to reuse content from CEP Magazine? It's easy to request permission to reuse content. Simply click here to connect instantly to licensing services, where you can choose from a list of options regarding how you would like to reuse the desired content and complete the transaction.