Environmental, Health, and Safety
All-in-One Face Shield Resists Fogging
The Vader Combo combines splash goggles with a face shield for reliable eye and face protection. The covering features N-FOG antifog coating and an antiscratch treatment. A built-in venting system reduces the potential for moisture buildup to help users maintain clear vision. Wearers benefit from unimpeded, 180-deg. peripheral vision and 99.9% ultraviolet (UV) protection, as well as the ability to fit the covering over most eyeglasses. In addition, the protective eye and face covering is D3-rated for droplet and splash protection by the American National Standards Institute (ANSI).
Brass Knuckle Safety Products

www.brassknuckleprotection.com
Instrumentation
Ultrasonic Flowmeter Automatically Compensates for Disturbances
The Proline Prosonic Flow P 500 ultrasonic flowmeter features the FlowDC function, which allows it to detect and automatically compensate for the effects of flow disturbances on the measured signal. The ultrasonic technology is nonintrusive, enabling safe measurement of corrosive, abrasive, and toxic fluids regardless of their properties (e.g., conductivity and pressure). The flowmeter can be mounted on a wide variety of pipeline types and materials, such as metal, plastic, glass-reinforced plastic, and composite pipes.
Endress+Hauser

www.endress.com
Flowmeter Monitors Gas Leaks in Compressor Lines
T
he ST75 thermal mass flowmeter provides precision measurement in small natural gas compressor lines to detect hazardous, noncompliant, and costly gas leaks. The continuous monitoring of gas compressor equipment for seal leaks is essential for safety, predictive maintenance, and operational efficiency, as well as to meet various federal and state environmental regulations. The flowmeter can measure air or gases from 0.01 scfm to 559 scfm. Built-in temperature compensation enables repeatable performance in harsh industrial process environments. It is factory calibrated and provides a flow turndown range up to 100:1.
Fluid Components International

www.fluidcomponents.com
Pirani Gauge Delivers Accurate Vacuum Measurements
The THERMOVAC TTR-RN is a compact filament Pirani gauge for monitoring small and large vacuum systems at pressures as low as 1×10–4 mbar. The gauge features a standard tungsten filament that increases the sensitivity and the accuracy of measurements. A corrosion-resistant platinum filament is available for harsh process applications. The gauge delivers reliable and reproducible measurements to reduce process deadtime and increase throughput.
Leybold GmbH

www.leybold.com
Fluids and Solids Handling
Vibratory Feeders Are Suitable for Heavy-Duty Applications
These vibratory feeders smoothly convey products in heavy-duty applications. Electric and air-operated models are available with drives that can be mounted above, below, or on the side of the feeder. The drives can be arranged for base mounting or overhead suspension. Several basic models are available, including air-operated light- and heavy-duty, twin-motor vibrating pan, and electromagnetic feeders. An optional inertial isolation system can help to eliminate transfer of vibratory energy to support structures and buildings.
Best Process Solutions, Inc.

www.bpsvibes.com
Diaphragm Valves Feature Compact Actuators
The Unique DV-ST UltraPure diaphragm valves are suitable for hygienic applications, such as high-performance aseptic processing. Their small stainless-steel actuators are 42% lighter, 25% more compact, and 17% shorter in height than most actuators, reducing the overall footprint of the valve. The diaphragm valves can be pneumatically or manually operated. For pneumatic operation, actuators control the valves at product pressures of up to 10 bar, depending on the valve size, diaphragm, and actuator selected. For manual control, operators can turn the handle attached to the stem. The handle features standard over-closure protection to help prolong diaphragm life. The customizable valves are available in multiple configurations to accommodate different process applications. Options include a stroke limiter, valve position indication, and automated valve sensing and control.
Alfa Laval

www.alfalaval.com
Butterfly Valves Have a Compact, Modular Design
The Wafer-Sphere soft-seated and Neldisc metal-seated butterfly valves are easy to configure in a wide range of applications. The soft-seated valves are suitable for applications with mild conditions while the metal-seated valves are suitable for applications with extreme flashing, hydraulic shock, abrasive process fluid, and high temperatures. The compact and modular valves deliver consistent performance with long-lasting seals and minimal wear, extending maintenance intervals and minimizing shutdowns. High flow coefficients and low torque requirements improve energy efficiency.
Neles Corp.

www.neles.com
Hygienic Pump Easily Integrates into Existing Systems
The vipura-PUMP 10T hygienic dosing and filling pump is lighter and smaller than other pumps of the same dosing capacity. The compact pump is suitable for dosing and filling various liquids and pastes in most applications, including food and pharmaceuticals. The special dosing geometry provides precision dosing in volumes that can be flexibly adjusted from 20 mL to 200 mL. The pump transfers material nondestructively, even materials that contain solids up to 20 mm in diameter. A clean-in-place (CIP) connection enables quick cleaning.
ViscoTec

www.viscotec-america.com
Materials and Chemicals
Dipropylheptyl Phthalate Plasticizer Contains Renewable Materials
Emoltene 100 Pro general-purpose plasticizer is made of 14% renewable materials sourced from biogas. The durable dipropylheptyl phthalate (DPHP) plasticizer offers the same performance as the Emoltene 100 plasticizer but has a lower carbon footprint. It is drop-in ready for existing flexible polyvinyl chloride (PVC) formulations. The plasticizer is certified by the International Sustainability and Carbon Certification (ISCC) PLUS system, which uses a traceable mass balance concept to account for renewable content. It will soon be available in another grade that has a 71% renewable content.
Perstorp

www.perstorp.com
Operations and Maintenance
Clean-in-Place Systems Simplify Hygienic Equipment Cleaning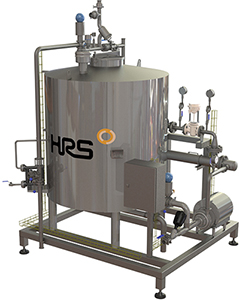 These clean-in-place (CIP) and sterilization-in-place (SIP) systems are suitable for cleaning and disinfecting in hygienic industries, including the food and pharmaceutical industries. The control system enables automated cleaning cycles using programmable logic controllers (PLCs) and human-machine interfaces (HMIs), which can be standalone or integrated into a facility's main controls. The single- and multi-tank CIP/SIP arrangements are fully skid-mounted and modular to simplify installation. The single-tank design is suitable for simple cleaning applications that do not require recovery of the cleaning fluid, while the multi-tank model is suitable for more complex applications. Single-tank systems are available in capacities from 132 gal to 660 gal, and higher capacities are available for multi-tank models.
HRS Heat Exchangers

www.hrs-heatexchangers.com
Segment Cleaning System Is Suitable for Die Table Cleaning
This segment cleaning system is an ultrasonic cleaner for die tables. A fixture safely and securely holds segments within the tank without obstructing the bores to ensure effective cleaning. The cleaning system pivots to ease the drying and drainage process, and a basket coating prevents scratching and damage of the tablet punches. The system removes contaminants, such as granule residue and grease, from every surface and geometry of the tooling equipment, including small spaces and crevices. The automated repeatable process can clean 220 punches and 5 segments in one hour.
I Holland

www.iholland.co.uk
Inverter Streamlines Pallet Movement
The PalletPal inverter is a faster, safer, and easier alternative to manually restacking pallets — quickly inverting fully loaded pallets in less than 20 sec. During operation, a full pallet with a second pallet on top of the load is placed into the inverter. Two double-acting hydraulic cylinders securely clamp the load, while an adjustable pressure control ensures lighter loads are not crushed. The push of a button engages the clamp, enabling rotation either clockwise or counterclockwise. A 3.2-hp motor smoothly rotates the load on a heavy-duty turret bearing. Three standard models are available for loads up to 4,400 lb.
Southworth Products Corp.

www.southworthproducts.com
Floor-Level Lift Tables Simplify Loading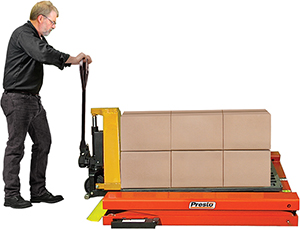 The XZ lift tables feature platforms that sit just 3/8 in. above the floor. At this low level, loads can be rolled on or off of the platform with a hand pallet jack, eliminating the need for a forklift. Users can control lifting and lowering via a hand pendant or foot switch. The lifts are equipped with a 1-hp external power unit. Six standard models are available in 2,000-lb, 4,000-lb, or 6,000-lb capacities with either a 44 in. by 48 in. or 50 in. by 48 in. platform.
Presto ECOA Lifts

www.prestolifts.com
Software
Digital Assistant Optimizes Crude Column Operation
The NAPCON Advisor is an artificial intelligence (AI) platform that predicts the future behavior of crude column processes in real-time and generates operational proposals. The platform optimizes the intersection points of the crude column and thereby the fractions of different yields to streamline downstream processing. The digital assistant informs personnel whether it is necessary to reduce CO2 emissions, optimize utilities, or maximize yields on a case-by-case basis.
Neste Corp.

www.napconsuite.com
Software Update Supports Additional Communication Standards
The Platform for Advanced Control and Estimation R5.03 combines advanced process control (APC) and real-time control technologies to help users increase product yield and reduce energy consumption. This version supports Open Platform Communications Unified Architecture (OPC UA) — the latest version of a communication standard that improves plant systems interoperability and security. The update provides the basis for digital transformation to help users increase automation. The software suite provides multivariable model predictive control (i.e., control of multiple variables based on predictions made using models of the dynamic characteristics of plant responses), soft sensing to estimate quality in real-time, and customizable calculations.
Yokogawa

www.yokogawa.com
Bioprocessing
All-in-One System Inspects Vaccine Vials
VialChecker is an automatic inspection system that uses industrial-grade optics to perform dimension and surface inspections of vaccine vials. The surface inspection feature uses artificial intelligence (AI) to classify defects. Additional sensors can be incorporated to evaluate properties such as glass thickness. The system can measure at speeds up to 120 vials/min with accuracies of up to 0.01 mm for dimensional checks and 0.1 mm2 for cosmetic checks. The system is available as a retrofit and upgrade for existing vial production lines.
Isotronic GmbH

www.isotronic.com
Laboratory Equipment
Mass Spectrometer Simplifies Small-Molecule Analysis
The Orbitrap IQ-X Tribrid mass spectrometer analyzes complex, small-molecule chemical structures. It enables structural elucidation, identification, and characterization. The mass spectrometer uses the intuitive AcquireX workflow to simplify operation and increase sample throughput. It features the Auto-Ready ion source that enables automated, remote, and walkaway calibration. The mass spectrometer offers flexible fragmentation choices for structural determination of lipids, metabolites, and other small molecules. An ultraviolet photodissociation (UVPD) option provides insights on lipid double-bond localization, site specific glucuronidation, and complementary fragmentation for structure assignment. A high-resolution option is also available to improve unknown analysis and fine isotope detection.
ThermoFisher Scientific

www.thermofisher.com
Copyright Permissions
Would you like to reuse content from CEP Magazine? It's easy to request permission to reuse content. Simply click here to connect instantly to licensing services, where you can choose from a list of options regarding how you would like to reuse the desired content and complete the transaction.