Fluids and Solids Handling
Modular Conveyors Integrate with Existing Machinery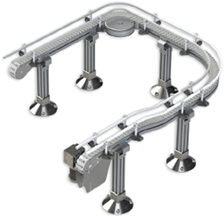 The Flextrac series modular plastic chain conveyors are designed as space-saving modules that fit into confined areas and integrate easily with existing machinery. The conveying modules consist of different building blocks, including straight sections, horizontal curves, and vertical bends to accommodate various factory applications. The conveyors can transfer up to 850-lb loads at speeds up to 160 ft/min. The easy-to-assemble modules are available with stainless steel or aluminum frames.
QC Conveyors
Liquid Diaphragm Pump Delivers Low Pulsation
The FP 150 liquid diaphragm pump is self-priming and long lasting, and can be safely run dry. The pump provides gentle, low-shear conveyance of sensitive media at flowrates from 0.2 L/min to 1.5 L/min with backpressures up to 29 psig (2 barg). The low-pulsation pump achieves linear flow control between 10% and 100% of the nominal flowrate. The pump is fully stable with fluid viscosities between 1 centistoke (cSt) and 150 cSt, but can also handle viscosities up to 500 cSt at lower flowrates.
KNF
Drum Dumper Transfers Hazardous Bulk Materials
The TIP-TITE hazardous drum dumper transfers bulk materials from drums into other process equipment or storage vessels. The unit accommodates drums up to 55 gal (208 L) and holds up to 750 lb (340 kg). The dumper mounts on an elevated base frame to match the elevation of the plant roller conveyors. It features dual hydraulic cylinders that work in tandem to raise and seat the container rim against the discharge cone, and then tip the container to an angle of 45 deg., 60 deg., or 90 deg. At full rotation, the discharge cone seals against the inlet of the receiving vessel to create a dust-tight connection through a pneumatically actuated slide gate valve. An optional pneumatically actuated slide vibrator on the discharge cone promotes complete evacuation of non-free-flowing materials. The galvanized steel framework and stainless steel surface protect the unit against corrosion.
Flexicon
Pulsating Conveying System Protects Delicate Materials
The Pulse-Line PTA PL pneumatic conveying system is designed to transfer pressure-sensitive granulates, noncompressible powders, and other fragile materials in batch or continuous processes. The pulsating conveyor automatically forms dry bulk materials into separate slugs and gently transfers them at low gas velocities. The conveyor can transfer materials up to 1,500 ft while maintaining proper pulse length between the slugs and protecting the particle size and shape. It also injects additional air (or nitrogen) at key points along the conveying pipeline to ensure material transfer and prevent buildup. The conveying system consists of a feeding hopper, pressure vessel, pipeline, activators, conveying and secondary air supplies, and a touch-screen control system.
Gericke
Tubular Chain Conveyor Encloses Process Materials
The tubular chain conveyor encloses process materials to protect against sparks, dust, contamination, humidity, temperature, and other factors that can affect the product quality. The enclosed conveyor can help keep workers safe while also protecting the conveyed material from external contamination. The conveyor's resistance to internal pressure buildup and ability to contain propagating flames make it suitable for handling flammable and explosive materials. The tubular chain conveyor consists of a fixed drive and tension assembly that automatically tensions the chain during the process and regulates it according to friction, product flow, and variation in atmospheric or product temperature. It also features a low-horsepower motor that is more energy efficient than traditional pneumatic conveyors. The conveyor is built with chemical-grade stainless steel and is U.S. Dept. of Agriculture (USDA)-certified.
Luxme International
Screening Machine Allows for Quick Screen Replacement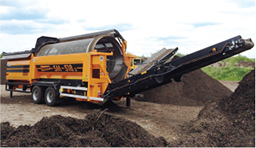 The SM 518.2 mid-power screening machine separates bulk solids into two fractions with the standard two-fraction drum screen, but can separate up to five different fractions with the optional units for coarse-grain bulk separation, rear-belt air separation, and magnetic rollers. Screen inserts can be easily and quickly replaced in less than an hour for the standard two-fraction machine. A washing drum conversion kit is also available for applications that require a clean product.
Doppstadt
Environmental, Health, and Safety
Alarm Beacon Is Suitable for Hazardous Locations
The D2xB1LD3 fire alarm beacon uses an array of high-output LEDs to optimize brightness and visibility in multiple directions. The high-intensity beacon generates a light output similar to that of a strobe. The alarm light features a supervisory diode and duplicate pluggable terminals to simplify installation and enable four-wire connection. It automatically synchronizes with other units when powered from the same source, which avoids the need for additional synchronization modules. It can be deployed in hazardous locations and features a marine-grade aluminum enclosure that offers an Ingress Protection (IP)-66 rating. The beacon meets the requirements of National Fire Protection Association (NFPA)-72.
E2S Warning Signals
Virtual Reality Training Improves Worker Safety
Mimic Field 3D is an immersive training program that uses virtual reality (VR) technology to accelerate workforce training while reducing risk. VR training provides personnel with hands-on simulations to prepare for plant events before they enter hazardous areas. It can help workers understand how changes in the field can impact industrial plant processes. The VR training program reduces the need for field operators to train on physical equipment — which adds risks and cost — and promotes a deep understanding of the process that allows for safe decision-making.
Emerson
Laboratory Equipment
Hermetically Sealed Vacuum Pump Operates Quietly
The HiScroll is an oil-free, hermetically sealed vacuum pump with a compact design and a nominal pumping speed range of 6–20 m3/hr. The pump produces less than 47 dBA of sound in normal operation and less than 42 dBA in standby mode. It uses active temperature control to ensure optimal cooling and it has a two-stage gas ballast, which helps it avoid condensation and also gives it a high tolerance to water vapor. In addition, the pump features an easy-to-use interface so the operator can define specific pressure ranges and set the rotation speed for different applications.
Pfeiffer Vacuum
Ion Chromatograph Contains a Built-In Electrodialytic Suppressor
The HIC-ESP ion chromatograph (IC) quantitatively measures anions with an anion suppressor that minimizes band spreading and achieves high sensitivity. The built-in electrodialytic suppressor provides stable functionality over long operating periods, improves the sensitivity for components with low retention (i.e., fluoride), and increases separation from the water dip. It uses effluent from the detector as a regenerant to eliminate the need for offline regeneration, which often requires harsh solvents such as sulfuric acid. The IC uses the intuitive LabSolutions platform to manage settings for analysis parameters, data processing, and report creation. In addition, the IC requires minimal benchtop space, as its compact design measures only 16.5-in. wide.
Shimadzu
Laboratory Pumping Unit Features Boiling Point Detection
The PC 3001 VARIO select pumping unit is capable of performing fully automatic distillation by continuously optimizing its vacuum level. The pump detects solvent boiling, automatically adjusts the pump's motor speed, and purges any condensate to maintain distillation control. It features an inlet separator that prevents particles and liquid droplets from damaging the pump. The pumping unit uses an exhaust vapor condenser that connects to a cold water line or recirculating chiller for efficient solvent recovery.
Vacuubrand
Instrumentation
Wireless Monitoring Sensor Features Rugged Enclosure
The ADS-260 is a wireless sensor end node that transmits data from remote monitoring applications, such as tank level reporting and wastewater monitoring, via an Internet of Things (IoT) network. It features one analog or digital input along with support for up to eight serial digital interface (SDI)-12 channels and eight Modbus recommended standard (RS)-485 channels from single or multiple sensors. The sensor features a rugged Ingress Protection (IP)-66 rated enclosure and a durable lithium battery that lasts up to 10 years before requiring replacement. The sensor is available with internal or external antenna options.
CAS Data Loggers
Portable Water Sampler Speeds Up Collections
The AQUA-MULTIX portable water sampler uses an air pump vacuum system to deliver accurate and repeatable sampling in portable collection vessels. Sample extraction is programmable based on time or it can be triggered by an external source (e.g., flowmeters, level sensors, etc.) to streamline workflow. The portable sampler supports sample extraction from both non-pressurized and pressurized effluent pipe sources, but an optional pressurized pipeline interface accessory can simplify sampling even further for applications that deal mainly with pressurized pipe sources. The portable sampler is suitable for temperatures from 14°F to 122°F and is available with a temperature-monitoring module for temperature-sensitive applications. It features a rugged Ingress Protection (IP)-55 rating.
Electro-Chemical Devices
Copyright Permissions
Would you like to reuse content from CEP Magazine? It's easy to request permission to reuse content. Simply click here to connect instantly to licensing services, where you can choose from a list of options regarding how you would like to reuse the desired content and complete the transaction.