Heat Transfer
High-Throughput Evaporators Are User-Friendly
The HT Series 3i evaporators meet precise evaporation and lyophilization targets during solvent-removal applications. Dri-Pure anti-bumping technology prevents foaming and bumping (i.e., when a solvent boils and bubbles rapidly, causing the product to splash), which eliminates cross-contamination and sample loss. This is particularly important when handling problematic samples during synthesis and purification operations. The latest designs feature a dry vacuum pump and a fluorinated greenhouse gas (F-gas)-compliant, auto-defrost, and auto-draining condenser that uses R449A and R170 refrigerants. These ensure fast, controlled evaporation of all sample types, with a smaller environmental impact than earlier models. The system is compatible with corrosive acids, explosive solvents, and common organic solvents, even those with relatively high boiling points. An intuitive, user-friendly touchscreen and advanced controls streamline monitoring and review of the whole evaporation process.
SP Scientific
Environmental, Health, and Safety
Emergency Stop Control Device Allows Immediate Positive Shutoff
The Model RS pull cord is a safety stop control that provides a quick positive shutoff for equipment such as conveyors and other moving machinery in emergency situations. Personnel who are in danger can pull a cable to actuate the shutoff. Depending on the model selected, the outputs can control up to two separate circuits: one for machine shutdown and one for alarm. The standard housing is constructed of corrosion-resistant cast aluminum, with an optional polyester or epoxy-powder coating available. The operating handle must be manually reset after actuation.
Conveyor Components Co.
Ductless Fume Hoods Protect Personnel from Harmful Vapors
The Purair Basic and Advanced Series of ductless fume hoods do not require venting to the outside. The fume hoods filter hazardous vapors and safely return the filtered air back to the room without any additional ductwork or construction. The compact, self-contained fume hoods are ideal for laboratory environments where space is limited and small volumes of harmful substances are handled. Both the Basic and Advanced models are available with customizable filtration systems and configurations to meet the needs of the specific laboratory and application.
Air Science
Compact Leak Sensor Detects Hydrogen Fires in Seconds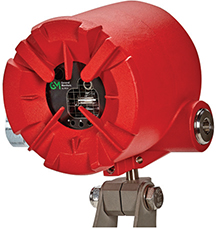 The FL500-H2 flame detector offers protection during the use, production, and transport of hydrogen gas, all of which are common practices at petroleum refineries, fueling stations, and other industrial sites. Failure to properly monitor hydrogen systems and detect leaks immediately can be extremely dangerous because hydrogen-oxygen mixtures are highly combustible. This ultraviolet/infrared (UV/IR) flame detector is designed specifically to detect hydrogen fires. The FL500-H2 sensors monitor optical radiation emitted by a hydrogen flame in both the UV and IR spectral ranges, while rejecting nuisance false alarm sources that are common within industrial job sites. The UV sensor provides a quick response (under 3 sec) and the IR detector monitors radiation emitted by a flame over a wide 130-deg. field of view. To ensure system integrity and reliability, the detector performs an automated self-check of its optical path and electronic circuitry every two minutes.
MSA
Software
Software Simplifies Analysis for Electron Microscopy Images
The Avizo2D software uses artificial intelligence (AI) to extract data from electron microscopy (EM) images. The AI-powered imaging and analysis software allows researchers to acquire fast, accurate statistics from their electron microscopy images without extensive image-processing experience. This allows material scientists, biomedical researchers, and others to build customized recipes or use automated, predetermined workflow scripts that speed image analyses. The software combines machine-learning models, advanced image-processing technology, and modules that use Python scripts and scientific tools to help researchers seamlessly analyze their EM images. Users can also combine Avizo2D with the company's MAPS software, allowing them to optimize instrument usage time and obtain instant feedback during data collection.
Thermo Fisher Scientific
Firmware Update Adds Visualization Features for Workplace Displays
Version 1.5.0 of the firmware for the groov Epic platform increases the product's visualization capabilities and storage options to meet the demands of a broader array of industrial automation, process control, building automation, remote-monitoring, and data-acquisition applications. The embedded groov View server has been updated to Version 4.2, with functions to create even more dynamic web and mobile human-machine interfaces (HMIs), dashboards, and Andon boards. New shape gadgets allow users to create images or animations directly in groov View and customize their color and size based on process variables. This version introduces tag-driven conditional formatting for other gadgets, allowing users to make elements visible or invisible and to change text color and formatting.
Opto 22
Calculation Tools Ease Vacuum Pump Selection and System Design
Pump Finder and LEYCALC are two online tools that assist users during pump selection. The web-based software tools allow users to create detailed engineering layouts of complete vacuum systems, calculate the behavior and performance of vacuum systems, and evaluate suitable products. Using the step-by-step Pump Finder selection tool, users can refine their search by entering values for chamber size, target pressure, and pipe dimensions. The LEYCALC tool allows users to model process gas flow (assuming constant pressure is conveyed) or vacuum chamber pump down (where the chamber is pumped or evacuated to a specific target pressure).
Atlas Copco
Materials and Chemicals
Resin Grades Improve Performance for Electric Vehicle Applications
The Technyl Blue line of resins has been expanded to include new grades that are specifically designed for electric vehicles, which rely on complex cooling systems for their batteries and electric motors. The Technyl Blue additions, based on PA6.6/PA6.10 polymer technology, offer a better cost-to-performance ratio than metals (such as aluminum) and alternative polymers (including long-chain polyamides, notably PA12). The materials can be used for injection-molded parts in cooling circuits and air-conditioning systems in electric-vehicle batteries and motors. The Technyl Blue D 218CR V50 grade for injection molding is less expensive than other specialty polymers such as polyphthalamide (PPA) and polyphenylene sulfide (PPS). The resin offers high mechanical strength, design flexibility, improved surface aspect ratio, and easy processing for applications including thermostat housings and water pumps.
Solvay Performance Polyamides
Ceramifying Technology Yields a Resistant Outdoor Coating Material
The HybridRED coating product, designed for composite applications, combines fire resistance, mechanical strength, weatherability, and visual appeal. These features make it a particularly useful coating for infrastructure applications, such as bridges and facades. The coating is applied like a paint, but forms a ceramic shield when it is exposed to fire. Ceramification prolongs the ignition times, minimizes heat release rates, and slows the spread of flames. The HybridRED coating also protects against corrosion, ultraviolet (UV) rays, and vandalism.
Finnester Coatings
INTERPHEX is an annual event dedicated to showcasing pharmaceutical and biopharmaceutical innovation, technology, and knowledge. It brings together more than 10,000 global pharmaceutical and biotechnology professionals for exhibitions, education, workshops, partnering opportunities, and networking events.
July 15-17, 2020 • Jacob Javits Convention Center • New York, NY • www.interphex.com
Aseptic Separator Filters and Dries Pharmaceutical Solids
The PH22 PharmASep aseptic separator is designed to consistently filter and dry batches of pharmaceutical solids. The entire filtration and drying process takes place within a sealed, crevice-free, and fully drainable chamber, which eliminates the need for any intermediate transfer, handling, or exposure to the external environment. The aseptic separator combines gentle, patented Vibro-Energy motion with a nitrogen purge to discharge solids as cluster-free fluidized powders with consistent dryness. The separator is available in lab- and production-scale sizes.
Sweco
Booth #3432
Stability Chamber Provides Uniform Temperature and Humidity
The GS/LGS stability chamber offers uniform temperature and humidity distribution that can be set with a touchscreen controller. The chamber is available in capacities ranging from 800 L to 3,000 L. The dual-door design includes a glass door on the interior to allow for visual inspection of samples without destabilizing chamber conditions. The GS/LGS is equipped with safety features that protect against compressor overheat and overpressure, water scarcity (for humidity), and chamber overheating. In addition, an alarm system indicates any power failure or deviation in temperature and humidity.
Labonce
Booth #1562
Disposable Shoe Covers Eliminate Contamination Hazards
The Flatfoot disposable shoe covers protect against contamination from shoes in controlled areas. They eliminate hazards that can contaminate an entire process, such as bacteria, viruses, and parasites. The shoe covers are convenient for temporary personnel and visitors who enter controlled areas infrequently. They are powder-free, seamless, and waterproof to accommodate many different applications, and are available in five different sizes and colors.
ISA Corp.
Booth #1540
Thermometer Readout Features Expandable Data Collection and Multimeter
The ADT286 multifunction reference thermometer readout combines a high-end reference thermometer with an 8.5-digit multimeter. The device is capable of scanning and recording up to 82 channels at 10 channels per second. In addition to its use as a precision thermometer and multimeter, the ADT286 can be easily configured to perform field calibrations. It can measure and calibrate standard platinum resistance thermometers (SPRTs), resistance temperature detectors (RTDs), thermistors, and thermocouples. The ADT286 features embedded automatic temperature control, data collection, and coefficient generation. The readout is displayed on a 10.1-in. color touchscreen and can be connected through Bluetooth, USB, WiFi, and Ethernet (RJ-45).
Additel
Booth #1960
Dispenser Continuously Mixes and Doses Viscous Materials
The ViscoDUO-DHM HD is a hygienic dispenser that continuously mixes and doses two materials with similar or different viscosities. The hygienic dispenser can convert existing stirred-batch operations to a streamlined continuous process. The easy-to-clean dosing system offers precise and repeatable mixing. The dispenser is U.S. Food and Drug Administration (FDA)-compliant and meets good manufacturing practice (GMP) requirements. Both dispensing sides are available in four different sizes to allow flowrates that range between 0.5 mL/min and 1,000 mL/min with mixing ratios that are adjustable between 1:1 and 100:1.
ViscoTec
Booth #3742
Vacuum Safely Handles Combustible Dusts
The Model CWR-10 EX CV containment vacuum can safely handle combustible dusts. The cleanroom-compatible vacuum incorporates a four-stage filtration system that uses dual ultralow particulate air (ULPA) filters. The vacuum safely collects potent compounds in a safe containment canister to limit operator and personnel exposure to breathing hazards. The canisters are available in capacities of 12 L, 20 L, or 40 L. A disposable, static-dissipating suction hose and accessory kit are also included.
Tiger-Vac
Booth #2759
Steam-Sterilized Connector Safely Transfers Fluids
AseptiLink SV is a steam-sterilized connector that is designed for safe, secure, and validated connection with single-use systems. The connector allows for transfer of sterile fluids, extractables, and particles from reusable stainless steel vessels or piping to single-use systems. It can also be used to reduce endotoxin levels and promote biosafety. The connector is completely closed to avoid any extraneous contamination and prevent steam from entering the environment. The AseptiLink SV connector is reliable, easy-to-clean, and features a simple on/off valve. The connector complies with all regulatory requirements for biopharmaceutical single-use systems.
Advanced Microdevices
Booth #3747
Modular Foams Insulate Piping in Cleanrooms
T-FIT piping insulation is designed for use in highly controlled production environments, such as pharmaceutical cleanrooms. The insulation is constructed of closed-cell polyvinylidene fluoride (PVDF) foam that offers excellent insulating properties, while satisfying all relevant global standards for cleanroom insulation. It is fully compliant with current good manufacturing practices (cGMPs). The maintenance-free piping insulation has a wide operating temperature range with excellent flammability credentials. The T-FIT insulation line also includes T-FIT Hygiene for aseptic areas and T-FIT Process for more demanding, high-temperature process areas.
Zotefoams
Booth #3822
Software Addition Enables Engineering in the Cloud
TwinCAT Cloud Engineering software allows for existing TwinCAT Engineering and Runtime products to be used directly in the cloud. The cloud feature allows for machines, plants, and production lines to be remotely connected over a secure transport channel. TwinCAT Cloud Engineering requires no additional software and can be easily accessed from any web browser. Registered users can also work from other device platforms, such as tablets, which were previously not supported. The software addition streamlines team collaboration with a multi-user functionality that enables seamless access to a source repository.
Beckhoff Automation
Booth #3327
Lubricant Feeder Offers Precise Control for Tablet Presses
The tablet press lubricant feeder is a compact, low-rate external spray device for pharmaceutical tableting applications. The lubricant is precisely weighed with advanced electronics that use linearization, temperature compensation, and a digital low-pass filter to reduce the effect of plant vibration. The patented SFT weighing technology is completely digital and does not require any calibration. After weighing, the lubricant is delivered to the tablet press tool via a venturi spray nozzle at a flowrate between 0.2 kg/hr and 2 kg/hr. The external spray lubrication has low dissolution rates and improves tablet quality. The lubricant feeder is available in either volumetric or gravimetric (loss-in-weight) models and is offered on a portable cart.
Coperion K-Tron
Booth #2042
Magnet Lowering Device Allows for Safe Inspection of Mixers
The Sterimixer line of mixers is now available with a magnet lowering device. The device simplifies inspection of bearings and impellers by allowing service personnel to safely lower the magnet rotor and detach the magnetic coupling with the impeller. The lowering feature eliminates the need to remove the entire drive unit from the tank, which typically requires confined-space entry. The magnet lowering device is equipped with a safety lock to ensure that the magnet rotor remains in position during inspection. The device can be installed on Sterimixers at the factory or easily retrofitted in the field. Retrofit kits are available for all Sterimixers that were made after 2008.
Steridose
Booth #3841
Gas Analyzer Reduces Maintenance Time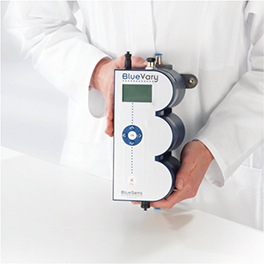 The BlueVary gas analyzer has three plug-in cartridge positions and can measure two different gases at once. Two of the plug-in positions hold gas sensor cartridges, which are available for analyzing CO2, O2, CH4, and H2, and the third plug-in position holds a pressure/humidity sensor. The gas sensor cartridges can be easily changed to accommodate a wide range of lab or industrial gas measurements. The maintenance-free BlueVary eliminates the need for offsite annual maintenance, thus reducing maintenance time significantly. In addition, the BlueVary features an integrated status display that shows all sensor information and measurement data.
BlueSens
Booth #1971
Ring Light Illuminates Process Sight Glasses
MetaClamp LED ring light Series SGL combines the functions of a sight glass and process light for enhanced views into equipment. The sight windows are made of stainless steel and borosilicate glass that are fused together to accommodate extreme pressures and temperatures. The sight glass is rated to the National Electrical Manufacturers Association (NEMA) 4X code and IP68 standards. The ultrabright LEDs provide up to 399 lumens, equivalent to that of a typical 80-W halogen light, and do not pass any heat radiation into the process. The LEDs are resistant to vibration and impact to ensure durability and long service life.
L.J. Star
Booth #2852
1
Copyright Permissions
Would you like to reuse content from CEP Magazine? It's easy to request permission to reuse content. Simply click here to connect instantly to licensing services, where you can choose from a list of options regarding how you would like to reuse the desired content and complete the transaction.