Engineering Services
Cloud-Based SCADA Service Delivers Scalable Support and Upgrades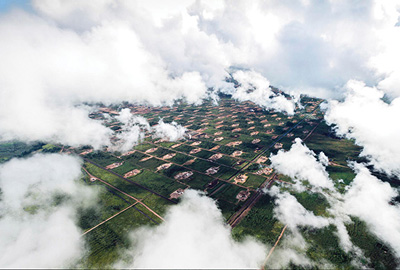 Experion Elevate, a cloud-based real-time process super-visory control and data acquisition (SCADA) system, is a scalable subscription service that enables secure upgrades, maintains predictable costs, and provides continual support. The software is designed for small and mid-size companies that may have limited capital but need long-term use of SCADA architecture as well as flexibility in deployment, service, support, and upgrades that otherwise are not affordable. It delivers SCADA options — on-premises or off-premises software or a combination of the two — that are suitable for various operations. The software uses distributed system architecture (DSA) that allows multiple SCADA servers to operate as one within a single asset or across the enterprise and that enables global access to points, alarms, interactive operator control messages, and history.
Honeywell
Separations
Modular Membrane Cassettes Perform Large-Scale Chromatography of Large Proteins
Sartobind cassettes expand the range of single-use chromatography tools for large-scale membrane volumes. They are available with the same flow path lengths, bed heights (4 mm and 8 mm), and void volume ratios as the capsule format membranes, and are compatible with Q, S, STIC PA, and phenyl ligands. They go beyond the 5-L size limitation of capsule formats, expanding the boundaries of membrane chromatography. Multiple cassettes, each with a 0.8-L or 1.6-L membrane volume, can be set up in three different stainless-steel holders. This provides maximum membrane volumes of 20 L, 50 L, and 100 L. Data demonstrate direct scalability from the 3-mL nano capsule to 20.8 L (13 cassettes) in the pilot filter holder. Pressure-flow performance and the shape of breakthrough curves are identical to those of the smaller capsule sizes, independent of the number of cassettes used. Setup can be accomplished within minutes, even at manufacturing scale, whether for capture applications or for flow-through removal of process contaminants.
Sartorius Stedim Biotech
Filter Elements Enable Safer Change-Outs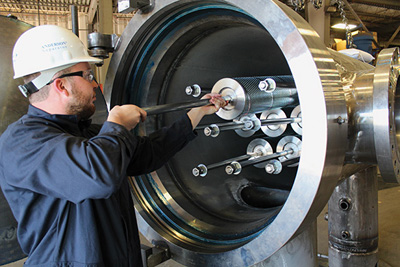 VertexCore coalescing filter elements for gas processing applications eliminate the need for maintenance personnel to employ unsafe filter element change-out practices. A fixed extension welded to the element end-cap helps form a barrier to prevent operator entry — allowing workers to easily remove and replace elements without climbing or reaching into filtration pressure vessels and without exposing their head, shoulders, torso, or legs to a confined space. The elements have multilayer construction that meet American National Standards Institute/Compressed Air and Gas Institute (ANSI/CAGI) 400 Test Standards. Removal efficiencies at 0.3 μm are up to 99.98% with maximum carry-over of 0.1 ppm by weight. The elements can be retrofitted to existing pressure vessels to eliminate carryover created by inadequate element spacing of standard elements.
Clark-Reliance
Flow-Optimized Dutch Weave Mesh Resists Clogging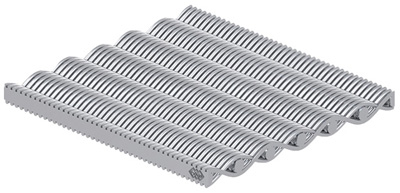 This optimized dutch weave mesh delivers higher throughput rates, better retention, and longer media filter life to water and wastewater filtration facilities. The mesh boasts a throughput rate triple that of competing products. The weave creates a slot-shaped pore geometry on the mesh surface in which the openings are smaller than the pores inside the mesh. This retains particles that are larger than the specified separation limit on the mesh surface, while smaller particles pass through the mesh interior without clogging. The mesh offers lower resistance than conventional meshes and requires less filter area. It requires less pumping power, reducing energy consumption and carbon footprint. And its construction uses more stainless steel, which brings greater stability to individual pores and higher mechanical strength.
GKD-USA
Software
Software Improves Asset Performance
Version 10 of the aspenOne asset performance management, engineering, and manufacturing and supply chain software suite includes upgrades designed to improve asset uptime, reliability, and equipment life. Fidelis reliability software uses reliability modeling and simulation to identify asset availability and utilization risks. Asset analytics software assesses the root causes of process disruptions, predicts future occurrences, and prescribes actions to avoid them. ProMV software uses multivariate process analytics to provide continuous and batch monitoring. Mtell software provides machine performance analytics that predict when failures will occur and indicates why they occur, and it prescribes what to do to avoid future failures. In addition, as part of the engineering software suite, Plus software extends modeling from continuous to batch and semi-batch processes to accelerate new product development and optimize production.
Aspen Technology
Industrial Internet of Things-Based Software Monitors Process Operations
The Co-Pilot Program is cloud-based Industrial Internet of Things (IIoT) data-as-a-service software that supports plant operations. It works with Production Core software, which automates all aspects of production operations, helping to ensure users that their simulation and planning tools are up-to-date and that actions taken by operators result in the best possible process performance and safe operation of equipment. The initial release is for remote performance monitoring of oil refinery facilities such as crude distillation units, fluid catalytic crackers, and catalytic reformers. Key features include: real-time data connection to the plant using Web Technician data-as-a-service; automatic recalibration of the Petro-SIM simulation model against actual plant data; automatic linear programming (LP) vector updates from the recalibrated model; regular checks of unit performance; assistance to implement recommended changes; and readjustment of the baseline operating plan due to changes in economic factors, demand, and asset capabilities. Future releases will focus on supply chain optimization, energy management, and production optimization.
KBC Advanced Technologies
Application Finder Now Includes Standards and Methods for Regulatory Compliance
Regulatory compliance ensures that products meet quality and safety standards, so information about whether a specific analytical method meets current requirements is crucial for setting up quality control procedures. The company has added a search filter to its website that gives access to a library of more than 2,000 documents applicable to a range of industries and presents real-world instrument data to prove the feasibility of a particular measurement. With the additional filter, users can search by the analytical method (in addition to existing search terms of standard parameter, sample matrix, industry, and full text) to find the relevant application documents. The application finder can be accessed at www.metrohm.com/en-us/applications/#.
Metrohm
Environmental, Health, and Safety
Work Glove Grips Tightly on Slippery Surfaces
Powerform S8+ is a single-use nitrile work glove with a high-density grip pattern that allows wearers to get a firm grip on wet and oily surfaces. An embossed micro-pyramid grip pattern maximizes points of contact without sacrificing durability and maintains multi-directional flow channels to expel liquids. The pattern covers the entire glove from the wrist to fingertips. A long cuff provides added protection. The glove is designed with two layers of polymer in contrasting exterior and interior colors and meets American National Standards Institute (ANSI) Level 2 puncture resistance. It is manufactured using minimal chemicals and contaminants that can irritate skin or adversely affect materials being handled.
SW Safety Solutions
Protective Apparel Guards Against Chemical and Fire Hazards
Tychem 2000 SFR chemical and secondary flame protection garments provide dual protection for workers in refineries, petrochemical plants, and laboratories. The apparel shields against inorganic acids and bases, industrial cleaning chemicals, and particles. In the event of a flash fire, the garment will not ignite and will not contribute to additional burn injury. If a fire hazard exists, the outfit must be worn over an appropriate fire-resistant (FR) garment along with other personal protective equipment (PPE) that protects the face, hands, and feet. Special features include a respirator fit hood with SFR fabric lining; chin flap with double-sided adhesive tape for secure placement; elastic at the waist and tunneled elastic at the hood, wrist, and ankle for improved fit; and a single-flap closure over the zipper, with double-sided adhesive tape for additional chemical protection.
DuPont
Emergency Tank Shower Protects Workers on Jobsites without Adequate Water
The Gravityflo emergency tank shower is equipped with a 528-gal tank to help project managers comply with worker safety standards. The unit provides emergency showers on remote job sites without running water, in environments where water may be shut off temporarily, or in older facilities where piping cannot produce the 20-gpm flow requirement. An integral heater maintains water temperature between 60°F and 100°F. The shower has an integrated emergency eyewash, plastic bowl, push-handle activator, and stainless-steel showerhead. It meets the American National Standards Institute/International Safety Equipment Association (ANSI/ISEA) Standard Z358.1 for emergency eyewash and shower equipment.
Speakman
Mass Spectrometer Determines Flare Gas Heating Values
U.S. Environmental Protection Agency (EPA) rules for flare stack combustion set to take effect in early 2019 include monitoring and analysis requirements that make it necessary for refinery operators to determine the heat values of flare stack gases. The Dycor FlarePro quadrupole process mass spectrometer provides fast and accurate heat content measurement, even for widely changing streams. Field testing has shown that the unit offers more detailed and relevant data faster than gas chromatography, and that it provides Btu values that are equivalent to those provided by a calori-meter but with greater specificity. The device enables users to determine the smoke index of a gas stream by identifying such components as paraffin, olefins, diolefins, and aromatics — a measurement capability that calorimeters lack. The system can monitor and quantify 16 components in flare gas streams, including H2, N2, methane, ethane, propane, n-butane, i-butane, and pentanes.
Ametek
LED Light for Hazardous Environments Provides Motion and Day/Night Sensing
The HAL-48-2L-LED-BMSW-DNMS light-emitting diode (LED) light meets U.S. and Canada Underwriters Laboratories (UL) Class 1 Div. 2 Groups A, B, C, and D rating criteria for hazardous work. It is also UL 1598 listed and carries a T4A temperature rating. It is suitable for applications in petrochemical plants, manufacturing facilities, chemical storage areas, and water treatment facilities, and on oil rigs and ships. The lamps are protected by a powder-coated aluminum frame and a shatter- and heat-resistant clear acrylic lens secured with 10 zinc-coated steel draw latches. Users can set a sensor inside the fixture to motion mode or day/night mode or a combination of the two. Users can also modify the light for motion sensor sensitivity, motion sensor time delay, and the intensity output level of the fixture.
Larson Electronics
Operations and Maintenance
System Guards Against Biofilm Growth
The ClearPoint biofilm detection and control system identifies and prevents biofilm growth in cooling water systems. The software, equipment, and service package improves heat-transfer performance, lowers water usage, and reduces corrosion and equipment damage. The program detects early-onset biofilm formation, distinguishes between soft organic fouling and hard-scale fouling, and doses a combination of microbiocides, biopenetrants, and dispersants to remove and prevent biofilm formation. The chemical dose is based on an analysis of the user's cooling system chemistry and operational requirements. The evaluation serves as the basis for establishing specific monitoring thresholds and treatment chemistries, which can provide real-time monitoring for regular condition reporting.
Solenis
Materials and Chemicals
Fluoroelastomer Stands Up to Alkalis, High pH, and Amino Compounds
The A1104 Aflas-based fluoroelastomer caulk resists alkalis, amino compounds, and other high-pH chemicals. The caulk resists strong bases as well as oil and fuel, and withstands a broad temperature range exceeding 400°F. It is suited for applications in industries where basic pH chemistries are commonly used, such as oil and gas, paper processing, food and beverage wash-down areas, and general chemical processing. It can seal joints and cracks in secondary-containment areas, pipes, and flanges in chemical processing areas and can be used to maintain and repair equipment where high-pH chemicals are present. Supplied in a standard 325-mL resealable caulk tube, it is applied as a liquid and dries to a solid, flexible material.
Pelseal Technologies
Laboratory Equipment
Small-Footprint Mass Spectrometer Performs Like a Large Instrument
Designed for quantitative analysis in food and environmental testing, the Ultivo triple-quadrupole liquid-chromatography mass spectrometer has a footprint 70% smaller than that of conventional instruments and yet delivers equivalent performance. High ion-transmission efficiency provides optimal sensitivity, and intelligent diagnostics use intuitive readouts that quickly identify issues to ensure maximum uptime. The unit's VacShield vacuum provides a ventless ion injector exchange that reduces wear and allows rapid front-end maintenance. The spectrometer integrates with the MassHunter software suite, which provides instrument monitoring, data acquisition, analysis, and reporting for currently regulated and emerging environmental contaminants in water supplies.
Agilent
Fluids and Solids Handling
Vacuum Pumps Offer High-Speed Pumping
The VS Series single-stage rotary vane pumps operate at high pumping capacity in a small footprint. The VS650A and VS750A pumps operate at speeds of 650 m3/hr and 750 m3/hr, respectively, and can be close-coupled with a mechanical booster pump that can reach pumping speeds of 3,100 m3/hr. The pumps are available with air or water cooling in an all-in-one design with a built-in oil cooling fan and easy-to-clean oil-mist trap. A large, 30-L oil tank extends the maintenance cycle. Typical applications include evaporation, ion plating, vacuum drying, gas exchange, and leak testing.
Ulvac Technologies
Planetary Mill Grinds to the Nano Range
The Pulverisette 6 planetary mill grinds hard, medium-hard, soft, and moist samples, and it alloys, mixes, and homogenizes larger samples down to the nano range. The unit includes two grinding stations and is capable of wet or dry grinding. It automatically clamps grinding bowls, which contain the material to be ground and the grinding balls, in place. Each bowl rotates on its own axis on a main disk that rotates in the opposite direction. A 2.2-kW drive provides acceleration up to 64 g and delivers up to 800 rpm to the main disk and 1,600 rpm to the bowl. The high-energy impact of the grinding balls and the friction between grinding balls and the grinding bowl wall reduce particle size. The machine automatically shuts off if an imbalance occurs.
Fritsch GmbH
1

Copyright Permissions
Would you like to reuse content from CEP Magazine? It's easy to request permission to reuse content. Simply click here to connect instantly to licensing services, where you can choose from a list of options regarding how you would like to reuse the desired content and complete the transaction.