The 2016 Spring Meeting & GCPS App is Now Available
Put away your pen and paper. Now everything you need to manage your time at the Meeting is available on your phone or mobile device with the AIChE Spring Meeting & GCPS app.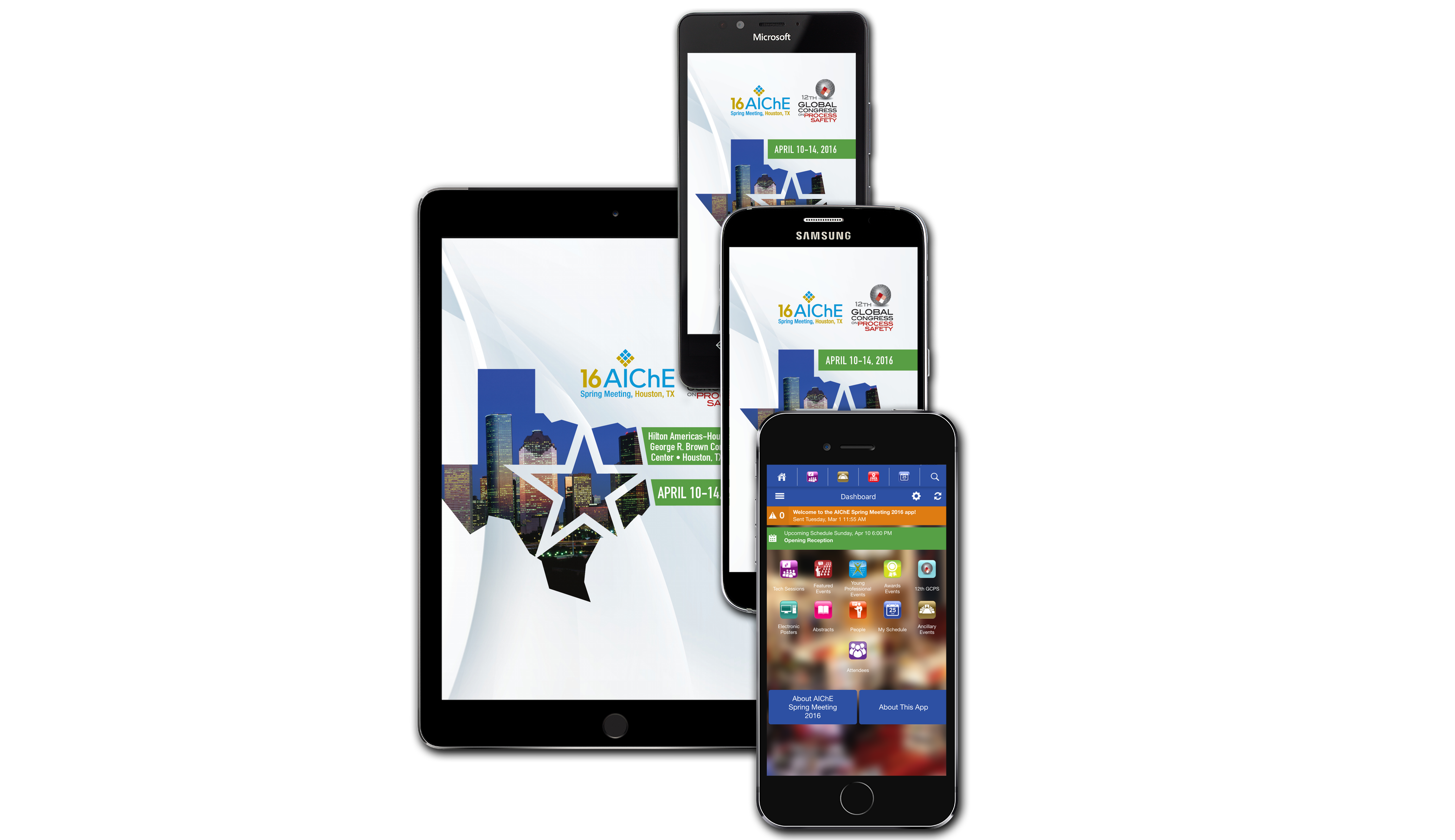 View the technical program down to the paper level. Rate sessions. Search the exhibitors. Plan your schedule. Find a room. Even share your Meeting experience. The app's full functionality allows you to do all this and more. And because it's online it's always up-to-date.*

Whether you carry an Android or iOS device, the 2016 AIChE Spring Meeting & 12th Global Congress on Process Safety app delivers the same native functionality.**
Download the app today on your mobile device.
Features:
Browse the Technical Content

Take a look at the technical sessions, abstracts and speakers.
Dive into the featured events and electronic posters.
View sessions created for young professionals and the featured events.

Find your way around the Meeting

Find ancillary events with one click.
Build your onsite schedule with one touch. Tap the star on the session or paper's page. Removing the event is just as easy; just tap the star again. Or add an event manually.
Have the schedule available across all of your devices with the Multi Device Sync feature.
Use the Floor Plans to find rooms, or check what's coming up next in your room by clicking on the room in the floor plan.

Connect with Colleagues

Click on the Attendees icon and instantly see a list of all other attendees who have created a profile within the app.
Connect with friends, share your schedule, and send private messages through the Message Center.
Share sessions, presentations, and other events with your colleagues.

Share your Meeting Experience

Access your favorite AIChE social media channels, including Twitter, Flickr, LinkedIn, Facebook, and YouTube.

Celebrate the Award Winners

The Awards icon allows you to view all the award winners at this year's meeting. See their photos, read which award they've won, and find out where and when they'll speak or receive their award.

Rate Sessions & Presentations

Give your feedback on the sessions and presentations you've attended. Find the session/presentation you've attended and click on the Clipboard icon on the green menu and select the "Rate Event" button. You'll help guide AIChE and CCPS in making next year's Meeting even better.
* Changes can happen until the last minute. We want to make sure that you have the latest info available at your fingertips. Make sure you stay up-to-date by updating the app when you see the refresh button turn red. For best results, updates and your initial download should be done when over reliable Wi-Fi.
** Blackberry users can use the web version of the app over a regular cellular connection.

View the web version