Tour of Scott Bioengineering Building at Colorado State University (CSU)
Tuesday, October 27, 2015, 6:15pm-8:30pm MDT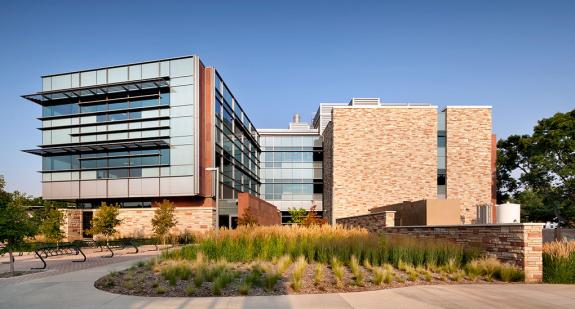 Please join us at CSU in Fort Collins for a tour, dinner, poster session, and presentation hosted by the CSU student chapter of AIChE. CSU Students will receive a free dinner and should RSVP through Briana Chamberlain. All other students and AIChE members may RSVP to the Rocky Mountain chapter of AIChE via email at rockyaiche@yahoo.com.
Date: Tuesday, October 27, 2015
Time: 6:15pm check-in, 6:30pm Tour of Scott Bioengineering Building; 7:00pm Dinner and informal poster session; 7:30pm Presentation
Location: Scott Bioengineering Building, CSU campus in Fort Collins
Parking: Parking map. Please park in the Lory Student Center Parking Lot. The Scott building is located just North West of the LSC parking lot. You will be turning South at the intersection of Laurel St. and Meldrum St. into Lot 310. All of those spots will be free parking.
Presentation: Metabolic Engineering of Cyanobacteria for Fuels and Chemicals
Speakers: Dr. Peebles and the International Genetically Engineered Machine (iGEM) Team
iGEM is a group of undergraduates leading their own research project. They will be presenting about iGEM in general, about their project, and their recent experience competing in the global competition in Boston. The team's adviser, Dr. Peebles, is a Chemical and Biological Engineering faculty member and she will be highlighting some of her research as well.
RSVP REQUIRED by FRIDAY, October 23 (early RSVPs are greatly appreciated!) CSU Students should RSVP to Briana Chamberlain. All other students and AIChE members, may RSVP via email at rockyaiche@yahoo.com indicating your name, phone number, and number of attendees and pay at the meeting. Or you may RSVP and pay online by selecting your membership level in the Paypal drop down box and clicking on the "BuyNow" button to pay by credit card. For Paypal, you may use the the comment area to indicate any dietary needs.
Menu: Chipotle catering. If you have special dietary needs, please communicate those to AIChE when you RSVP.
Cost: Members $20; Non-members $25, Students/Unemployed $10; CSU Students FREE; Add $5 for attending meeting without RSVP