Film Viewing - An Inconvenient Sequel – Truth to Power
Wednesday, April 18, 2018, 5:00pm-9:30pm MDT
We are co-sponsoring a screening of the movie "An Inconvenient Sequel: Truth to Power" followed by a panel discussion, with the Colorado Environmental Management Society (CEMS). Come and meet the engineering, scientific, legal, and regulatory professionals of CEMS and learn about the current technological and political state of clean energy.
Presentation: Partnering with Colorado Environmental Management Society (CEMS) Spring Film Viewing - "An Inconvenient Sequel: Truth to Power"
Date: Wednesday, April 18
Times:
5:00 Registration Opens
5:00-6:45 Networking, Hors d'oeuvres & Cash Bar in the Henderson Lounge
7:00 pm Movie (Complimentary film viewing brought to you by CEMS)
8:40 Panel Discussion
Location: Denver Sie FilmCenter, 2510 East Colfax, Denver, CO 80206
Cost: $25/person which includes hors d' oeuvres and a ticket for a $5 drink or popcorn (complimentary parking is available in the attached parking garage) Student pricing $15/person.
Please RSVP and pay online by close of business Thursday, April 11 through the CEMS Registration page
About An Inconvenient Sequel: Truth to Power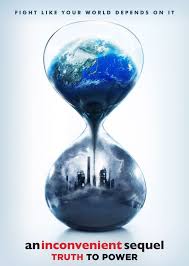 A decade after AN INCONVENIENT TRUTH brought climate change into the heart of popular culture, comes the riveting and rousing follow-up that shows just how close we are to a real energy revolution. Vice President Al Gore continues his tireless fight traveling around the world training an army of climate champions and influencing international climate policy.
Cameras follow him behind the scenes — in moments both private and public, funny and poignant — as he pursues the inspirational idea that while the stakes have never been higher, the perils of climate change can be overcome with human ingenuity and passion.