Combined Heat and Power (CHP) to Chemical Facilities in the Rocky Mountain Region
Tuesday, October 23, 2018, 6:00pm-8:30pm MDT
6575 South Greenwood Plaza Blvd
United States
TOPIC: Combined Heat and Power (CHP) to Chemical Facilities in the Rocky Mountain Region
SPEAKER: Dr. Fanxu Meng, Research Associate in Energy Production and Clean Energy Technology programs at Houston Advanced Research Center (HARC)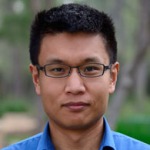 DATE: Tuesday, October 23 (NOTE: 4th Tuesday)
TIME: 6:00 Networking & Dinner

7:00 Presentation
LOCATION: C. B. & Potts, 6575 South Greenwood Plaza Blvd, Englewood, CO 80111
MENU: Southwestern Buffet including beef and chicken fajitas, beef enchiladas, served with sour cream, cheese, guacamole, flour tortillas, lettuce, tomatoes, jalapeños, seasonal rice and black beans. Chips and salsa. Soda, coffee, and tea.
PLEASE RSVP by THURSDAY, October 18 (early RSVPs are greatly appreciated!) You may RSVP via email at rockyaiche@yahoo.com indicating your name, phone number, and number of attendees and pay at the meeting. Or you may RSVP and pay online by selecting your membership level in the Paypal drop down box and clicking on the "BuyNow" button to pay by credit card. For Paypal, please indicate any food allergies.
COST: Rocky Mountain AIChE Members $20; Non-members $25, Students/Unemployed $10; Add $5 for attending meeting without RSVP
ABSTRACT:
Chemicals facilities are the best good fit for CHP due to their high coincident power and thermal loads. They are the largest consumers of energy in the industrial market. Those facilities usually use natural gas-fired combined cycles or combustion turbines as prime movers. Waste heat captured from power production can be used for manufacturing processes, process heat and steam generation. High-quality waste heat from chemical facilities can be recovered for power production in a bottoming-cycle CHP system. Chemical manufacturing, refining and oil/gas extraction are all great examples that can produce a significant amount of waste heat having the potential to be converted to power.
The Department of Energy's Upper-West CHP Technical Assistance Partnership (DOE UW CHP TAP) will discuss CHP technologies and applications. We will analyze the CHP installation and potential data and will present the CHP project profiles of chemical facilities in Rocky Mountain region. We will also discuss the factors that can affect the payback and efficiency of CHP. Further, the presentation will discuss the basics of working through the CHP project development process from early screenings to final commissioning of the facility, as well as the resources that are available from the DOE UW CHP TAP to assist with implementing a CHP project.
SPEAKER BIO:
Dr. Fanxu Meng is a Research Associate in Energy Production and Clean Energy Technology programs at Houston Advanced Research Center (HARC). He holds a Ph.D. from Texas A&M University and obtained his B.S. and M.S. from Tianjin University in China, all in Chemical Engineering. Dr. Meng performs basic and applied research and development in support of projects pertaining to energy production, clean energy, environmental monitoring and emission control. He also works on life cycle assessment/analysis (LCA) of O&G and energy efficiency, techno-economic feasibility analysis for Combined Heat and Power (CHP) installations. Dr. Meng has published 14 peer-reviewed papers and given 10 presentations in international conferences in the fields of energy and environment. He is a Professional Engineer (PE) licensed in the State of Texas and a certified Project Management Professional (PMP).