Feel the Power of the Dork Side
Chemical Engineering comedy in San Francisco, August 8-10, 2014
Friday, August 8-10, 2014, 8:00pm PDT
"Feel the Power of the Dork Side" is coming to the Bay Area August 8-10, 2014. A one-man show written and performed by Dr. Pete, the World's only engineering professor by day and stand-up comedian by night, it is a hilarious & educational look at science & technology and their practitioners that will convince you that nerds can be funny and not just funny-looking.
Georgia Tech alumni are gathering before the Saturday performance at a nearby eating establishment with a large draft beer selection:
Happy Hour and Comedy with GT Professor, Dr. Pete Ludovice
Saturday, August 9, 2014

6 p.m.
http://gtalumni.org/pages/sanfrancisconorthernca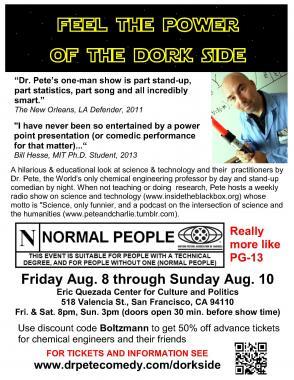 For purchasing tickets go to http://dorkside-sanfrancisco.brownpapertickets.com/.  The discount code "Boltzmann" gets you 50% off the $20 ticket price. The GT alumni get the same discount as well (the code is gpburdell).
STUDENT TICKETS ARE ONLY $5; appropriate for teens and above
A more legible version of the above poster can be found at: aichesf2014poster.pdf