Having a Professional Engineer's License (or PE) tells others that you are a competent engineer of high integrity and have high ethical standards. It is important for many chemical engineers right now and could be even more critical in the future as regulations and laws governing the practice of engineering change and as the culture of chemical engineering changes.
Get perspectives on the PE Exam
Professional Engineering FAQ
What is a PE?

A Professional Engineer (PE) is an engineer that has been licensed by a state. The license symbolizes that the engineer has completed certain training and has demonstrated minimum competency in a field of engineering. The specific training required depends on the specific state where one seeks a licensure. In most cases this currently requires a BS from an ABET accredited engineering program, successful passing of the Fundamentals of Engineering Exam (FE), 4 years of practical experience, and passing the Principles and Practice of Engineering (PE) Exam.
Why should I get a PE?

There are many reasons to obtain a PE. These include:

Your engineering career can extend over 40-50 years and it is almost impossible to predict what you will need many decades in the future. Having a PE gives you maximum flexibility.
It is generally much easier to obtain your PE early in your career while technical content is fresh in one's mind, so why not do it? Plan for your future.
In some cases only a PE may attest to certain work products.
You may want to be a Private Practitioner (whether now or 20 years in the future). If so, a PE will be required to advertise or offer services to the public.
All things considered, having a PE may well make you stand out from those who do not. Obtaining your PE will give you a feeling of real accomplishment.
What is the process to become a PE?

The four general requirements for becoming a PE are:

Graduation from an accredited engineering curriculum
Successful completion of the Fundamentals of Engineering exam (FE)
Four years of engineering experience
Successful completion of the Principles and Practice of Engineering exam (PE)
What is the exam format?

The PE Chemical exam became a computer-based format (CBT) exam in January 2018. The new computer-based PE Chemical exam allows year-round testing at approved Pearson VUE test centers. The only reference material allowed in the new CBT format is the online PE Chemical Reference Handbook. Please see more details at https://ncees.org/engineering/pe/chemical/.
Chemical Reference Handbook and NCEES Access

The PE Chemical Reference Handbook is available for download. It contains charts, formulas, tables, and other information that may help you answer questions on the PE Chemical exam. However, it does not contain all information required to answer every question; theories, conversions, formulas, and definitions that examinees are expected to know have not been included. Log into MyNCEES to download your free copy.

To report errata in the PE Chemical Reference Handbook, send your corrections or comments using the chat feature on the NCEES website.
How do I prepare for the PE exam?

Take AIChE's Chemical PE Exam Review Course, designed to prep you for the actual exam with online lectures, sample problems with solutions, timed quizzes, and a final exam.

Also, The National Council of Examiners for Engineering and Surveying (the organization that administers the exam) offers study materials.
Do all states have the same requirements?

Most do—in order to aid reciprocity. However, several vary from the general pattern for local reasons. State-by-state variations are possible, because licensure laws are exclusively under the control of the individual state legislatures.

What if I want to be licensed in several states?

Most states allow an engineer licensed in one state to become licensed, without further examination, as long as the requirements of the state that originally granted licensure at least equal their minimum standards. The actual process, documentation, requirements, etc. can vary from state to state.

How do I find out what my state's requirements for licensure are?

To learn more about professional registration and Continuing Professional Competency (CPC) requirements in your state, contact your state's board of licensure. The following web sites have links to each state's board as well as other information on professional licensure.
Do I have to take courses in order to renew my license?

Currently, 42 states have CPC rules in effect for relicensure. Each state maintains their own requirements but they all follow the same general pattern—again for reciprocity. The general requirement is 15 professional development hours (PDHs) per year. PDHs can be acquired for several activities, including coursework and attending technical meetings. The NCEES offers a convenient method for logging your hours and comparing with state requirements at https://ncees.org/cpc/.
Did you

know?
Liability Insurance
AIChE offers liability insurance for chemical engineering professionals. Reduce your risks, protect your income and assets with a solid E&O Plan. Affordable liability policies are offered to chemical engineers, chemical engineering educators, chemists, and professionals who are AIChE members.
Discuss PE Licensure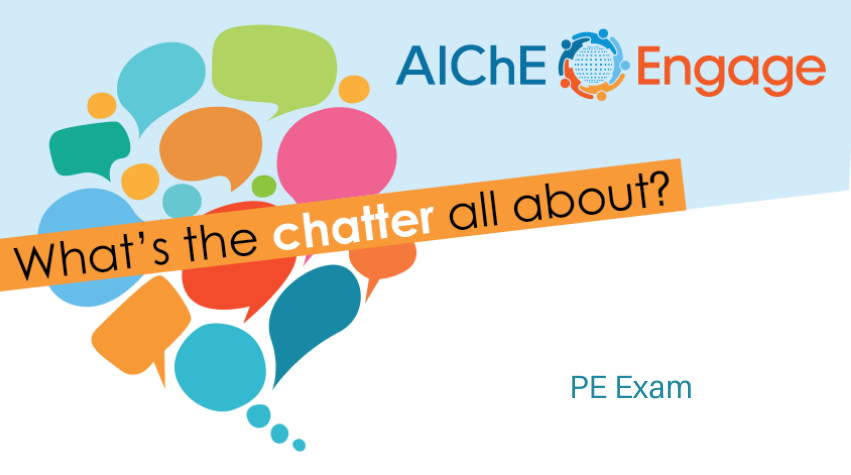 Head over to AIChE Engage to ask chemical engineering professionals about their experience with the PE exam prep course and why getting certified is important.
The National Council of Examiners for Engineering and Surveying (NCEES) is a nonprofit organization dedicated to advancing professional licensure for engineers and surveyors. AIChE works closely with NCEES so our members can become certified and stay certified.