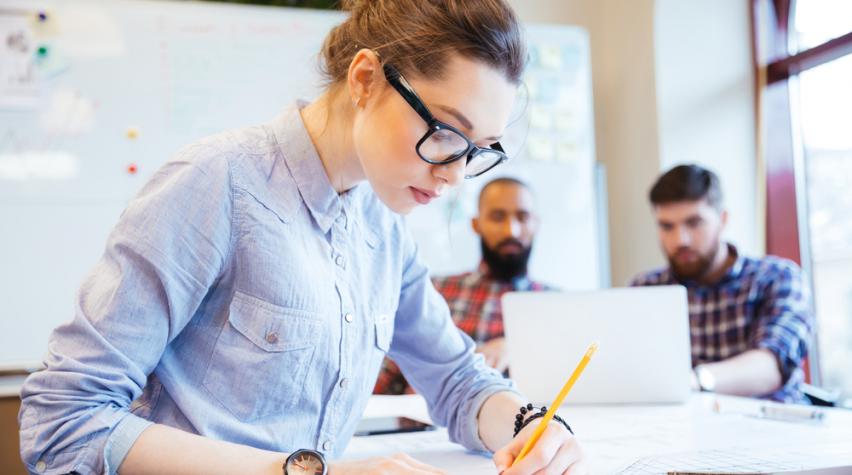 Becoming licensed as a Professional Engineer (PE) takes dedication. Having a PE after your name signals to employers and clients that you have competence in your field and helps set you apart from your competition.
What are the requirements?
Although the requirements to become a PE vary from state to state, the basic steps remain the same throughout the U.S. First, you must earn a four-year degree in engineering from an accredited college or university, and then you must pass the Fundamentals of Engineering (FE) exam. You must complete four years of engineering experience under a licensed PE before you can take the Principles and Practice of Engineering (PE) exam. If you pass the PE exam, you can then obtain a license from your state's licensing board. To retain that license, PEs must maintain and improve their skills by fulfilling continuing education requirements.
Do others find a PE license valuable?
"I have been a PE for 14 years, and I believe that the PE license is a very important credential to be aware of and pursue," says Jean Andino, an associate professor of chemical engineering at Arizona State Univ. (ASU). "Licensing provides that 'stamp of approval.' I doubt that anyone would consider going to a doctor that was not board certified or a lawyer that had not passed the bar exam," she says. "Thus,
it follows that the engineering profession, a profession that impacts lives, would also have a licensing option."
The National Council of Examiners for Engineering and Surveying (NCEES) administers the exams and keeps records of those engineers who are licensed. You can purchase and download exam prep materials — such as practice exams and the supplied-reference handbook — directly from the
NCEES website
. Reviewing the handbook before you take the FE or PE exam can help you become familiar with the charts, formulas, tables, and other reference information provided.
Why become a PE?
A PE license may be required for some engineers, but for others, obtaining PE licensure is a personal goal. Only a licensed engineer may prepare, seal, and submit engineering plans and drawings to a public authority for approval. For this reason, many chemical engineers believe that having a PE license is only valuable for those in the design or consulting fields.
However, there are many ChEs who believe holding a PE license sets you apart from other engineers. Many employers view having a PE on staff as a benefit. Going through the rigorous testing process shows that you have put time and effort into understanding the responsibilities and implications of your role as an engineer.
You never know when having a PE license could be beneficial, so many engineers recommend starting the process by taking the FE exam as early as possible. This was the approach taken by Mikel Goldblatt, Senior Engineering Consultant at Solenis. "While I was in school, the prevailing thought was that ChEs don't need to be licensed — that was for civil engineers," he says. "One professor encouraged seniors to take the FE exam, just in case. I took that advice. That turned out to be very fortunate for me, as twenty years into my career, I found myself starting my own consulting business," he says. "The PE, while not used to stamp engineering drawings, provided a sign of credibility to clients."
Take the FE exam early
The first step toward obtaining your PE is to take the FE exam. It is best to do this while you are still in school or soon after — but even if you graduated more than a decade ago, it's never too late.
Adam Crosswhite, a process engineer for Applied Chemical Technology, Inc., believes that all chemical engineers should take the FE exam after graduating. "Taking the FE exam immediately upon graduating, while most of the information is still fresh in your mind, is much easier than waiting until years later to do so," he says. "I did not take the FE exam upon graduation, and a few years later I decided to obtain my PE license. If I could do that over, I would have taken the FE exam immediately after graduating to save myself some trouble," Crosswhite says.
It's important for all graduating seniors to take the FE exam, because it's impossible to know the future — you may be required to attain a PE for a job down the road.
Andino is a volunteer for the NCEES and is on the committee that writes the environmental FE exam. She feels so strongly about licensing that she incorporates a small module on engineering licensing in the freshmen engineering orientation class she teaches at ASU. "I try to remind young engineers that licensure is helpful to distinguish them from other candidates," she states.
"I recommend that seniors take the FE exam as the first step towards being licensed," says Andino. "I absolutely do not hold review or study sessions for the exams, but I
do encourage my students to download the free electronic FE reference manual from the NCEES website and learn to work with a simple scientific calculator. This helps prepare students for the FE, given the strict calculator rules," she says. To protect the integrity of its exams, NCEES limits the types of calculators you may bring to the exam; only certain types of scientific calculators are allowed.
If you are a recent graduate, or you are approaching graduation, you should think about taking the FE exam. You may not ever need to become a PE, but it's good to have the first step out of the way, just in case.