Laboratory Equipment
Electron Microscope Produces High-Quality Images
The Glacios 2 cryo-transmission electron microscope (cryo-TEM) improves cryo-electron microscopy (cryo-EM) research in structure-based drug discovery. Automation features include a variety of cryo-EM techniques such as single particle analysis, cryo-electron tomography, and microcrystal electron diffraction. The microscope can generate <2-Å 3D reconstructions and produce high-resolution images. The system includes Smart EPU Software, which enables automated data acquisition, including microscope alignment and readiness assistance.
Thermo Fisher Scientific
Reagent Dispenser Increases Walk-Away Times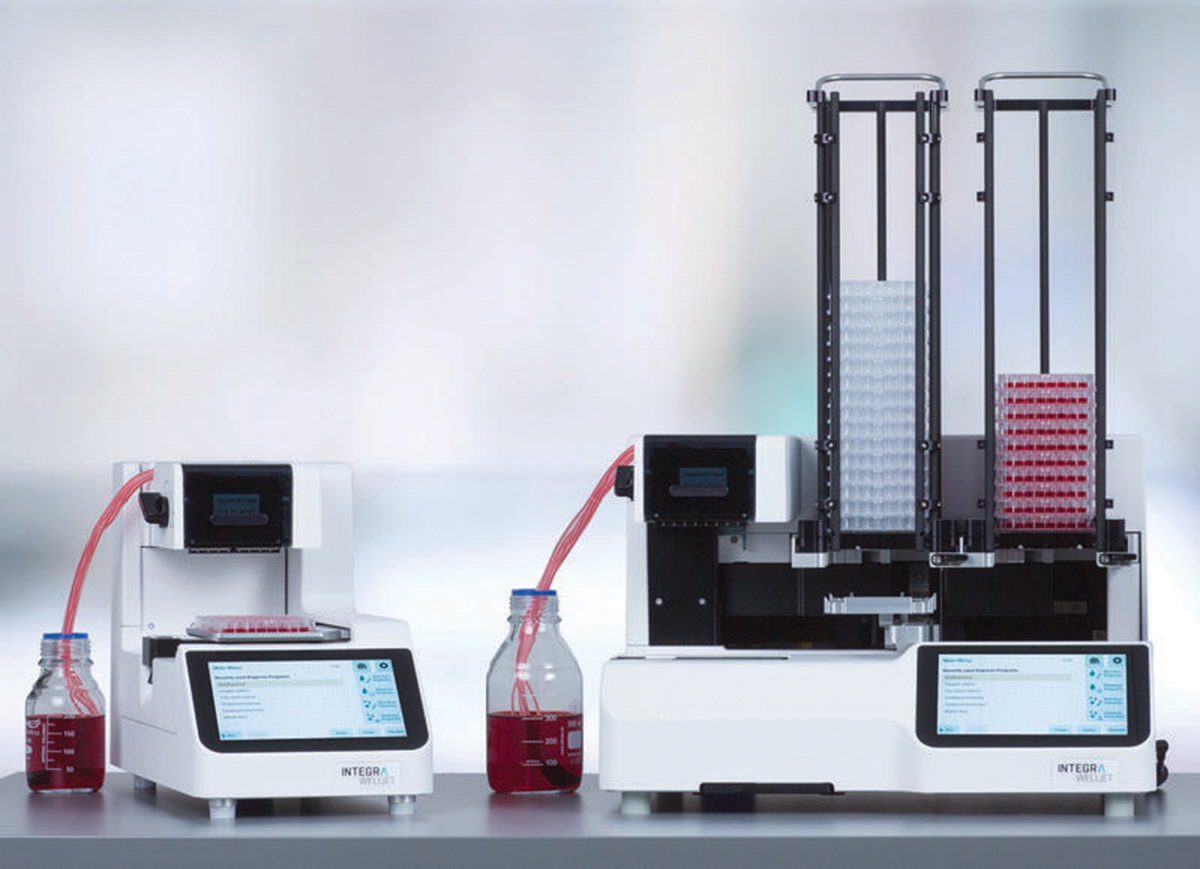 The WELLJET dispenser and dispenser stacker enable hands-free reagent dispensing for six to 1,536 well plates in any plate format, including deep well plates and tube racks. The dispenser stacker model includes front-loading towers that can hold 25 or 50 plates, enabling hands-free processing of the plates as well. The dispenser's compact design saves bench space and can even fit inside a laminar flow cabinet. Both the dispenser and dispenser stacker models offer an optional source tube holder for 15-mL and 50-mL tubes.
INTEGRA Biosciences
Materials and Chemicals
Versatile Silicone Withstands Extreme Temperatures
The MasterSil 323AO-LO is a two-component silicone elastomer with a paste-like consistency, suitable for bonding, sealing, and gap-filling applications. It is electrically insulating and thermally conductive with a conductivity of 1.15–1.30 W/(m-K). The elastomer can withstand aggressive thermal cycling and mechanical shock, as it is flexible with a low tensile modulus of 500–700 psi, elongation of 50–60%, and hardness of 70–75 Shore A. The silicone can bond to a variety of materials, including metals, composites, glass, ceramics, plastics, and other silicones.
Master Bond
Ultramarine Blue Pigments Are Suitable for Diverse Applications
The Ultrazur line of ultramarine blue pigments offers durable weather-ability for demanding applications. The pigments are heat resistant up to 350°C and highly resistant to light. Because they are non-warping and non-shrinking, each shade of the Ultrazur pigment line is stable when used in polyolefins, and their dispersibility makes them particularly suitable for coloring fibers and thin films. The pigments are nontoxic and meet the regulations for use in textiles and other sensitive applications. The color line includes four distinct ultramarine blue shades from greenish to reddish. This color line is an addition to several other high-performing pigments from the company.
Heubach GmbH
Emulsifier Boosts Paint and Adhesive Performance
The Reactsurf 2490 is an emulsifier that improves the durability of acrylic, vinyl-acrylic, and styrene-acrylic latex paints, keeping each coat looking new and protecting the surface beneath. This polymerizable emulsifier avoids the dirt pick-up and watermarks that other common industry surfactants are prone to. The emulsifier also reduces surfactant leaching and water whitening when used in pressure-sensitive adhesives. The high reactivity of the material increases the ease of emulsification and eliminates the need for secondary emulsifiers. Additional applications of the emulsifier include paint binders, adhesives and sealants, textile and nonwoven binders, paper coatings, and building and construction applications.
Solvay
Fluids and Solids Handling
Mobile Pump Unit Provides Flexible Usage
The ALLWEILER AEB-1F-ME is a mobile progressing cavity pump unit that is suitable for the food and beverage industry and metering applications. The stator design provides efficient dry run protection. The pump is offered in a variety of sizes and now features a drain connection. With its provided trolley, the pump maneuvers easily and can be used at different installations.
CIRCOR
High-Volume Bulk Material Dumper Handles Multiple Containers
The high-volume open-chute dumper can simultaneously empty multiple drums or boxes of non-dusty, free-flowing, and/or agglomerated bulk materials. Powered by two twin hydraulic cylinder pivots, the dumper accommodates four standard 55-gal barrels at a time. The unit's housing accommodates containers with heights from 37 in. to 44 in. and footprints up to 6 ft by 8 ft, allowing operators to safely empty containers of different sizes and shapes. Vessels are forklift loaded and have a maximum weight of 5,000 lbs.
Flexicon Corp.
Container Features Desiccant in the Lid
The Integrated Desiccant Closure (IDC) is a redesign of the standard desiccant system. Standard pharmaceutical bottles contain a separate pouch of dessicant inside, but this desiccant system integrates the desiccant (e.g., silica gel, molecular sieve, EQius) into the lid itself. This reduces the number of plastic components required inside the container. The design features a push-and-turn cap that is child-resistant and tamperproof. It is also air-tight to ensure a long shelf-life for sensitive medications.
Airnov Healthcare Packaging
Automatic Bag Dump Station Minimizes Loading Time
The Mini Rip and Tip (RNT) bag dump station streamlines the unloading of small volumes of dry ingredients into a process. It reduces the time required for operators to manually handle heavy bags and barrels, improving the safety and efficiency of the loading process. The bag dumping unit is suitable for most small volumes of bulk materials, including powders, pellets, and granules. It can handle up to 40 L of material.
Volkmann USA
Instrumentation
Compact Transmitters Can Handle Corrosive Environments
The ZT12 and ZX12 transmitters are suitable for high-purity gas delivery systems, gas sticks, and process gas analyzers. The compact size enables high-density mounting with 316L stainless steel wetted parts that offer protection against corrosion. Both transmitters are available in 20-μin. or 7-μin. roughness average (RA) surface finish options with gauge, compound, or absolute ranges. The ZX12 model has atmosphere explosive (ATEX) and International Electrotechnical Commission (IEC) safety approvals for hazardous locations.
Ashcroft
3D Cameras Increase Accuracy of Robotics Operations
Ensenso N series cameras deliver high-quality 3D data for diverse industrial robotics applications. By projecting a high-contrast pattern mask, the camera can distinguish weakly visible surface structures, making it suitable for capturing moving or static objects. The cameras include the Sony IMX392 sensor, which increases the resolution from 1.3 MP to 2.3 MP. In addition, the cameras are pre-calibrated and feature a compact aluminum or plastic case to streamline installation.
IDS Imaging Development Systems
Pressure Relief Valves Improve Performance
The Crosby J-Series pressure relief valves (PRVs) eliminate many of the inefficiencies associated with standard PRVs. Users can choose between two models to mitigate failures related to bellows. The first features a balanced diaphragm, which eliminates the need for bellows. Bellows have a high rate of failure (between 2% and 6%), often caused by constant backpressure and rapid cycling. These ruptured bellows increase emissions and lower efficiency. The second features the Bellows Leak Detection technology that remotely detects bellow ruptures and calculates the volumetric flowrate of emissions. This allows engineers to respond to ruptures in real-time and provides insight into their severity.
Emerson
Process Analyzer Monitors Volatile Organic Compounds
The Model 204 PermaStream process analyzer measures the concentration of volatile organic compounds (VOCs) in clean or dirty water. By operating continuously and avoiding ultraviolet (UV) fluorescence methods, this process analyzer reduces the likelihood of false high readings and is more efficient and cost-effective than lab analysis. The process analyzer does not require a filter or liquid sample conditioning. Instead, the analyzer strips VOCs from a water stream. The sample then passes through a membrane, removing impurities and extending the analyzer's lifetime. The analyzer has an operating concentration range between ppb and saturation levels, making it suitable for diverse applications.
Analytical Systems KECO, LLC
Solenoid Valve Reduces Energy Usage
The SLP13 two-way, two-position poppet-type solenoid valve is a low-power and low-pressure valve for compact equipment. The valve reduces power consumption while increasing flow rating, helping original equipment manufacturers meet efficiency goals. It can reduce power usage from 29 W to less than 10 W, extending runtime. The solenoid valve is available in Size 10 with a nominal flowrate of 79 L/min and a pressure rating of up to 350 bar. It is suitable for material handling and hydraulic applications.
Danfoss
Environmental, Health, and Safety
Gas Detector Offers Long Device Life
The G6 personal gas detector is a wearable device that provides single-gas detection of toxic gases, including hydrogen sulfide, carbon monoxide, oxygen, and sulfur dioxide. The gas detector features a rechargeable battery with up to one year of battery life and an overall four-year lifespan. The devices can receive over-the-air updates and be located via GPS and cloud connectivity to know where each worker is. Device alerts can be received through the Blackline Live software, initiating emergency response if necessary.
Blackline Safety
Spill Containment Vessels Reduce the Risk of Spills
The updated DENIOS spill containment pallets and carts improve process safety by reducing the likelihood of leaks and spills of hazardous and polluting chemicals. The steel pallets and carts are tested and guaranteed to be 100% leak-free. They include a galvanized steel grate cover that is easily removed for efficient sanitization, helping to ensure a clean and safe workplace. The square or inline designs can hold between one and eight drums. Single- and double-drum versions are also available.
DENIOS, Inc.
Operations and Maintenance
Wireless Headsets Enable Hands-Free Communication
The EVADE headsets enable wireless team communication by linking up to nine users within a 400-yard range. The headsets link automatically by having one headset serve as the "MAIN" with a self-contained transceiver, eliminating the need for a base station and simplifying setup and operation. The headsets are available in three models: single-speaker, dual-speaker, and Xtreme — a dual-ear, hard hat compatible model. The headsets use frequency hopping technology by monitoring the surrounding environment and automatically switching to clear channels to eliminate interferences.
Eartec
Handheld Thermal Camera Detects Leaks
The IRTC400 is a handheld thermal imaging camera for detecting leaks and hot spots in various applications. It has a thermal detector with ≤60 mK thermal sensitivity (NETD) that displays the center spot and high/low temperature tracking on its 2.4-in. color display. The camera has a temperature range of –4°F to 752°F (–20°C to 400°C). It can be programmed with audible and visual high/low temperature alarms. Users can view images on the device in .bmp format or transfer them to a computer via USB.
Triplett
Automated Dolly Mover Does Not Require Host Computer
The omnidirectional dolly mover (ODM) is a compact, autonomous load carrier that uses proprietary X-Swarm technology. This logistics management feature eliminates the need for a host computer. The mover can carry a maximum of 300 kg (661 lb) and lift its load capacity to a maximum of 250 mm (10 in.). It can navigate the production floor independently and maneuver and turn in narrow spaces. Its lithium iron phosphate (LiFePO4) accumulator requires short charge times and provides long operating cycles. The small load carrier is suitable for many different industries, including the pharmaceutical industries.
AGILOX Services GmbH

Copyright Permissions
Would you like to reuse content from CEP Magazine? It's easy to request permission to reuse content. Simply click here to connect instantly to licensing services, where you can choose from a list of options regarding how you would like to reuse the desired content and complete the transaction.