Fluids and Solids Handling
Screw Conveyor Promotes Fast Turnover Times
The SPIRALFEEDER Push Unit solid screw conveyor's design allows for easy emptying of materials without the need for additional tools. The conveyor system — consisting of the mechanism, hopper, and screw conveyor — is built on a mobile, open steel frame. The conveyor system design provides easy access to the bottom of the hopper and tube inlet to streamline emptying. To empty the system, users remove a tri-clover fitting, place a collection bin under the conveying tube, and set the screw conveyor in reverse. The system is suitable for transferring powders, granules, pellets, and other dry bulk materials.
Automated Flexible Conveyor
Dual-Shaft Mixer Ensures Heat Transfer
The FDA-3500 dual-shaft mixer has a working capacity of 3,500 gal, with a two-zone stainless steel jacket for heating and cooling. It has a 4-in. pneumatic discharge valve and an explosionproof load cell system rated up to 20,000 lbs. The high-speed disperser runs at 5,000 ft/min, which induces high shear forces. The 60-hp, three-wing helical anchor agitator feeds product toward the disperser blade to ensure that the mixture is continuously in motion. In addition, Teflon scrapers wipe materials from the vessel wall to improve heat transfer.
Charles Ross & Sons
Inline Mixer Emulsifies Dry Products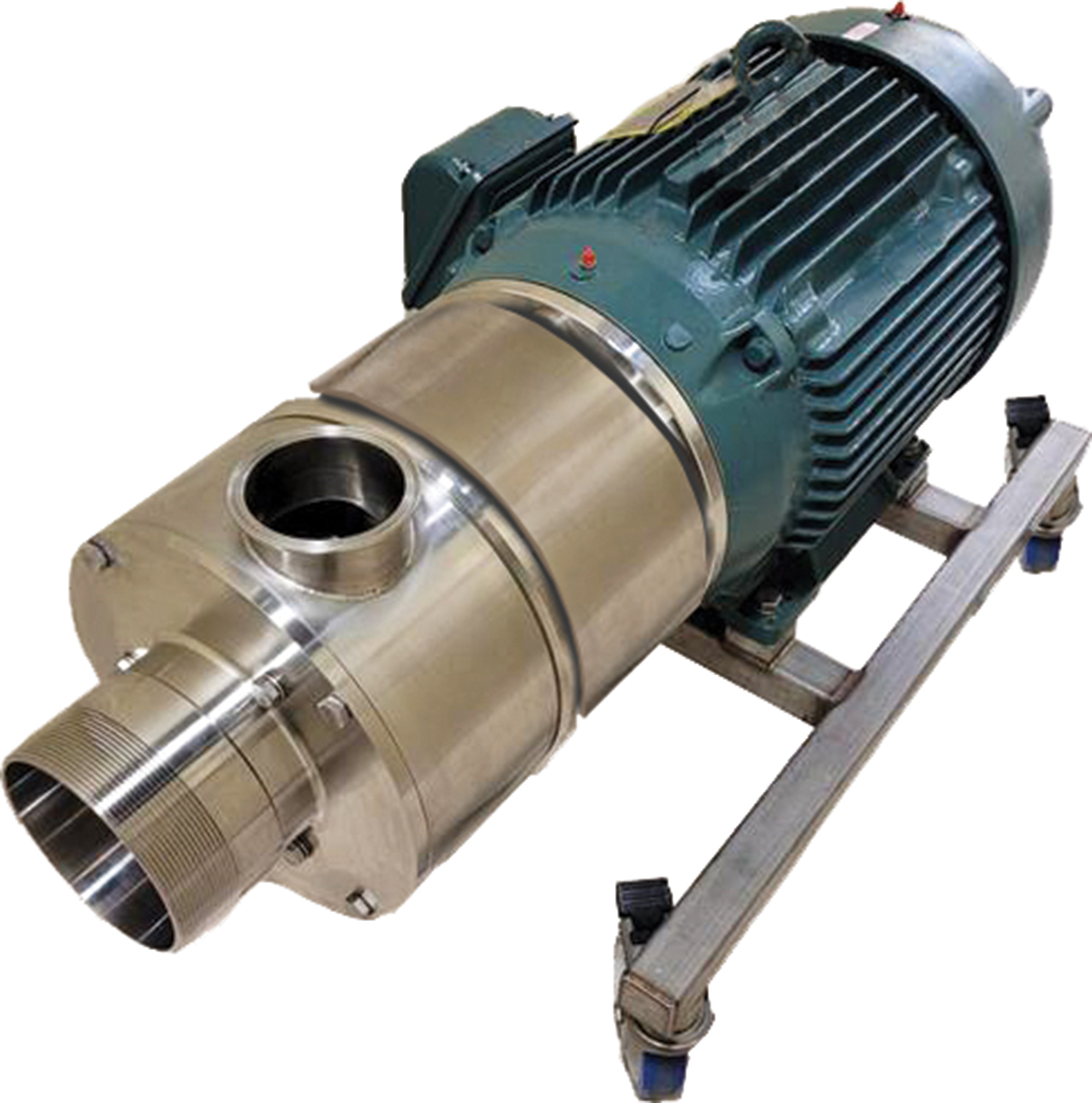 The Dynashear 850 high-shear inline mixer and emulsifier is the newest model in its series that can process up to 350 gpm (1,324.9 L/min), double the amount of the previous model. It is constructed entirely of 316 stainless steel for the internals, housing, shafting, and base, with a dual-stage design. It can effectively wet powders into liquids, making it suitable for processors that need to blend, dissolve, deagglomerate, disperse, and emulsify fluids and semi-fluids.
Admix
Vent Filter Removes Dust from Bin and Feeding Applications
The Mini Vent Filter filtration system separates dust from displaced air when a bin is filled with bulk solids. The filtration unit can be mounted to a bin's vent outlet in low-airflow applications. It also mitigates dust sock plugging, lowering maintenance costs, and features automated pulse-jet cleaning of the filter media for gravimetric feeder applications. The filter is constructed of 304 stainless steel with either 4-in. or 10-in. process connections. The filter also has a hygienic version for pneumatic conveyors and the O-rings are U.S. Food and Drug Administration (FDA)-compliant materials.
Schenck Process
Dispenser Features Modular Components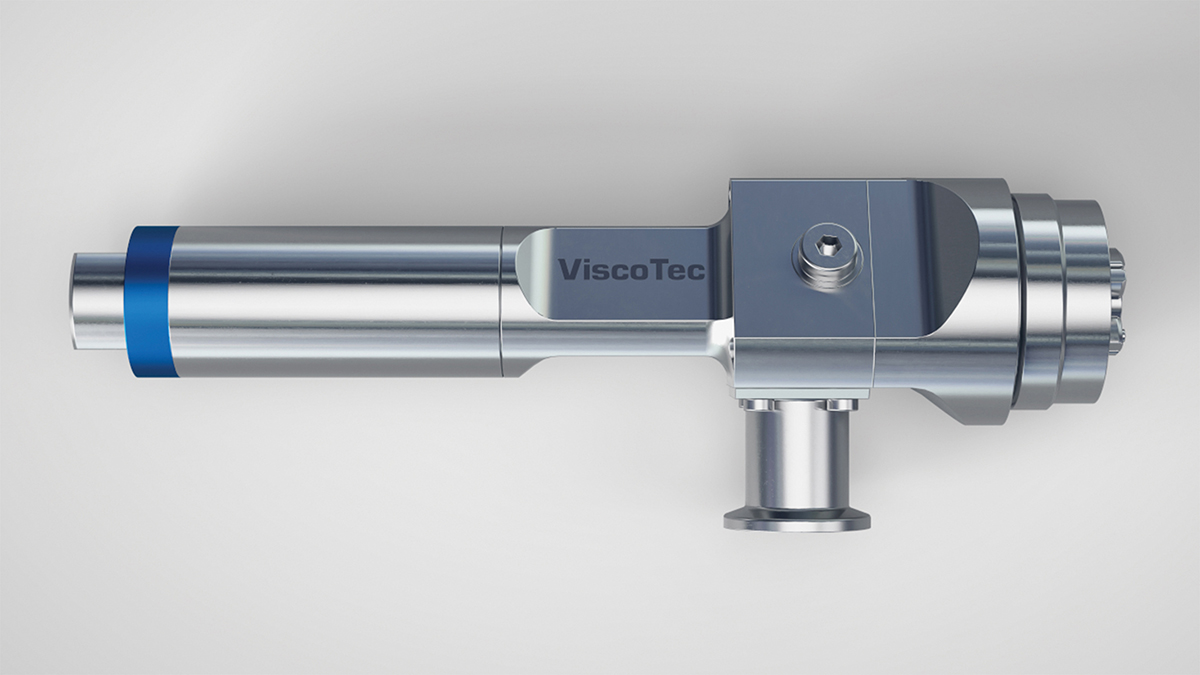 The vipro-PUMP series of dispensers feature a modular design with a separable rotor. The modular design enables fast installation and removal of components, speeds up maintenance, and reduces downtime. The variable stator and rotor material allow for optimum dispenser performance depending on the application. The enlarged pump inlet minimizes pressure, improving material flow and allowing for easy attachment and detachment of the hose supply. The dispenser is available in five different sizes, from dosing volumes of approximately 0.14 mL/revolution to 5.2 mL/revolution.
ViscoTec
Blender Achieves Dry Mixture Uniformity
The Vee Cone Blender VB-.25-SSXHDI provides uniform blends of dry bulk solids. The two cylinders rotate at speeds of 30 rpm, thoroughly blending all the material within 15–30 min. The smooth interior surface allows for unobstructed material flow. The model can blend materials with densities up to 100 lb/ft3 (1.6 g/cm3) in capacities up to 2 gal (7.65 L). The blender also consists of an intensifier bar and dispenser bar that help break up soft agglomerates and spray liquid additions onto the material, respectively. The blender is constructed of carbon steel with stainless steel contact surfaces and is housed in a polycarbonate enclosure. An all-stainless-steel option is available that meets various standards.
Munson Machinery
Heat Transfer
Water Chiller Offers Energy-Efficient Features
The TCA series features four new water chiller configurations for its TCA55-215 range. The plug-and-play industrial water chiller range offers cooling capacities from 55 kW to 228 kW. The four configurations include the A, AF, AD, and AP models. The A model is its standard robust industrial chiller, the AF and AP models include integrated free-cooling (which saves 40% energy), and the AD and AP models include adiabatic pre-cooling (which can increase cooling capacity by up to 17%). All chiller variants include the option of a built-in hydraulic circuit with integrated buffer tank and single or double pumps.
Atlas Copco
Instrumentation
Pressure Regulator Enhances Fuel Efficiency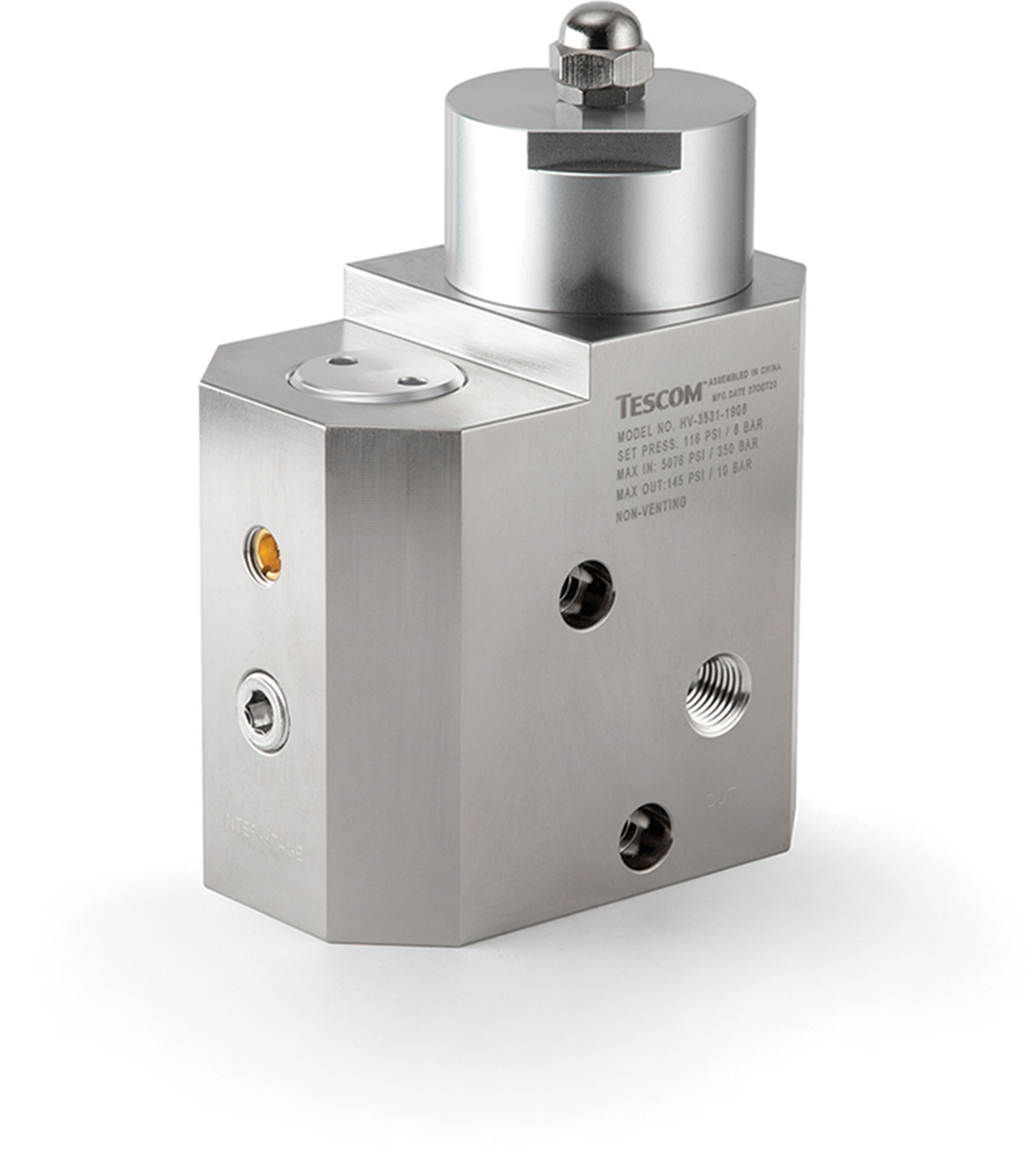 The TESCOM HV-3500 dual-stage hydrogen onboard pressure regulator provides consistent pressure and continuous hydrogen fuel supply to fuel cells, extending fuel cell life and maximizing usage. Its design complies with the European regulation EC79 requirements for pressure regulators in hydrogen vehicles. The regulator provides stable pressure to improve fuel cell efficiency and thereby reduce maintenance frequency. It is lightweight and has a square shape with mounting holes that allows it to be secured to existing panels and frames, lowering installation cost and reducing assembly time.
Emerson
Temperature Sensor Is Compatible with Plastic Pipes
The HANI clamp-on temperature sensor, previously only used for metal pipes, is now available for plastic pipe applications. The sensor is a non-invasive approach to quickly measuring the temperature of the media inside a pipe without breaching the pipe, as it clamps on the surface of the pipe and can easily be relocated. The temperature is accurate within 1.5°C and can handle process temperatures between 0°C and 100°C.
OMEGA Engineering
Operations and Maintenance
Mass Lifts Simplify Maintenance
The E18 series consists of two new vertical electric mass lift models. The E18MCL model is rated for indoor and outdoor use, making it suitable for construction and industrial applications. The E18MML model is for indoor applications, more aligned with maintenance work. Both models feature 450 lbs of capacity with the standard platform and weigh 1,900 lb. The E18MCL platform height is 18 ft indoors and 13 ft outdoors, while the E18MML platform height is 18 ft indoors. The lift's battery offers two times more duty cycles than other electric mass lifts.
JLG
Cable Endures Extreme Temperatures
The ÖLFLEX HEAT 260 SC heat-resistant single-core industrial cable now carries Underwriters Laboratories (UL) appliance wiring material (AWM) certification/cRU AWM I A/B. The cable can withstand potential cracking within a temperature range of –190°C to 260°C, and it has a UL/Canadian Standards Association (CSA) rating of up to 200°C. The cable is insulated with polytetrafluoroethylene (PTFE) and can provide resistance to acids, alkalis, solvents, oils, chemicals, and ultraviolet (UV) exposure. The cable also features various flame retardance ratings, including the UL horizontal flame test.
LAPP
Copyright Permissions
Would you like to reuse content from CEP Magazine? It's easy to request permission to reuse content. Simply click here to connect instantly to licensing services, where you can choose from a list of options regarding how you would like to reuse the desired content and complete the transaction.