Extended asset downtime can cause significant loss in revenue and disrupt supply chains within the chemical process industries (CPI). Addressing this issue has become increasingly important as the speed of business has changed over the past 50 years, says Tim Sykes, an account executive at Augury, an emerging technology solutions company based in New York City.
"Businesses have to be able to react in near real time to changing conditions," he says. "Look at our supply chain issues and you'll understand that machines that produce things are more important now than ever, and they can't be constrained or at the mercy of their health. They have to be operating all the time."
To better understand how chemical companies are using digital tools to improve safety, meet production targets, and eliminate unplanned downtime, CEP surveyed its reader base and the results are in. The survey, which reached more than 200 members, sought to examine the challenges and obstacles that many engineers and manufacturers face day-to-day within the CPI.
In studying the challenges that engineers grapple with at industrial plants and companies, the survey highlighted a plethora of issues. 32% of respondents reported workforce skills gaps as one of the top three challenges faced at their sites, followed by adopting new technologies (27%). Maintaining a safe work environment was another significant challenge, as well as contending with supply chain disruptions (Figure 1).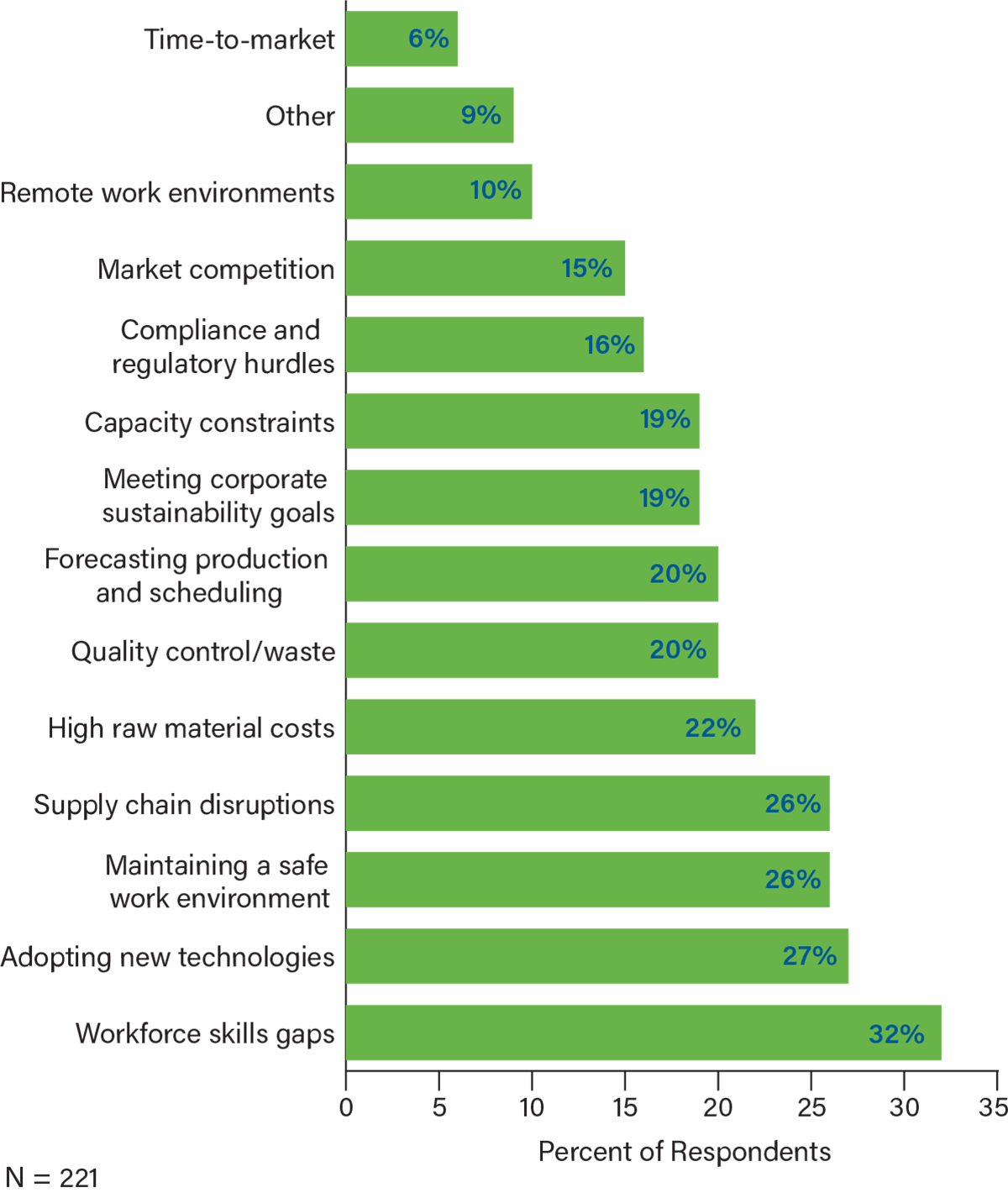 ---
*Respondents could select more than one option
Most significantly, almost 50% of readers reported that the biggest risk to meeting their production targets was unexpected equipment failures (Figure 2). This phenomenon often causes disruptive, extended downtime that impacts companies on a larger scale.
---
As demand increases and unplanned downtime remains a major challenge for industry, companies will inevitably need to explore new maintenance technologies to meet their production targets. At Augury, engineers and scientists are working to implement more efficient maintenance solutions.
Augury applies artificial intelligence (AI) and monitoring to identify problems in plants, predict when they will occur, and even propose solutions, says James Newman, an Augury marketing executive. The company's mission is to eliminate mechanical failures, particularly in rotating assets. "What we do is better than preventive maintenance, it's proactive maintenance."
Copyright Permissions
Would you like to reuse content from CEP Magazine? It's easy to request permission to reuse content. Simply click here to connect instantly to licensing services, where you can choose from a list of options regarding how you would like to reuse the desired content and complete the transaction.