Instrumentation
Bulk Packaging Technology Monitors Oxygen Levels
The modified atmosphere packaging (MAP) technology monitors and adjusts the oxygen levels inside bulk packaging. This enables the control of oxidation processes that affect the shelf life of materials. The MAP technology uses a fluorescence signal to measure the oxygen level inside packaging without opening or damaging the packaging and can adjust the oxygen levels within the packaging to the desired range. It can be used for natural fumigation by creating an ultralow oxygen environment. It can also monitor nitrogen and carbon dioxide content.
Masterpack Group
Limit Switch Indicates Tripper Position
The Model TPS is a tripper position switch that indicates when the belt tripper of a shuttle conveyor is located on discharge points that will activate the dumper. It has two single-pole, double-throw (SPDT) microswitches that are rated for 20 amps at 120 VAC, 240 VAC, or 480 VAC. The position switch is bidirectional and includes a roller that can be adjusted with a simple hex bolt. The roller is made of durable acetyl that can withstand pressure, wear, and chemical attack. The switch has a cast aluminum housing that is available with a black epoxy powder coating.
Conveyor Components Co.
Level Detector Enables Liquid Level Control
The CL-10GP level detector monitors and controls liquid levels in pilot plants and small vessels. It uses a proportional output signal to precisely control the liquid level within a specified range. The level detector is paired with the EC-103C(G) control unit that can activate electropneumatic transducers, valve positioners, indicators, and controllers. It can operate under variable-frequency power supplies and harsh process conditions, such as high temperatures and pressures.
Dynatrol USA
Turbidity Sensor Requires Minimal Maintenance
The Triton TR82 turbidity analyzer is an intelligent plug-and-play optical sensor that provides accurate, dependable water quality measurement. It has an advanced nephelometric sensor that uses a light beam and lens to detect suspended particles in water. The sensor features a self-cleaning design to minimize preventive maintenance requirements. An optional jet sprayer can periodically clean the lens. The analyzer is offered with a dual-channel controller, but is also available with a multichannel controller.
Electro-Chemical Devices
Software
Software Package Monitors Instrumentation Status
The SRP700 software package enables asset health monitoring for process instrumentation. It runs on traditional hardware or in a virtual machine environment. The packages includes a central monitor and gateway, a standard client for device configuration management, and a mobile client, as well as the Field Xpert SMT70 industrial tablet. The tablet can access and acquire data from a variety of field devices, primarily analyzers and instruments. An optional key performance indicator (KPI) dashboard presents diagnostics, history, statistics, and other information in a simplified format. Plant personnel can use the package to connect to devices for troubleshooting and configuration.
Endress+Hauser
Application Enables Smart Asset Management
The Sitrans SAM IQ application improves the accessibility of field device data. It enables the smart asset management (SAM) of field devices to increase system availability and improve process quality. The application provides a user-friendly overview of all integrated field devices on customizable, multiparameter dashboards. It has several evaluation and monitoring options that can be used to reduce device failures and prevent downtime. The application is cloud-based and is available for desktops and mobile devices.
Siemens
Asset Performance Platform Incorporates Augmented Reality
The Plantweb Optics asset performance platform is now available with augmented reality (AR) technology that transforms the way field technicians accomplish complex tasks. It leverages artificial intelligence, machine learning analytics, and data contextualization to provide real-time visibility into plant reliability and operational performance. As a technician walks through the facility with a mobile device, Plantweb Optics uses spatial computing technology to map assets and provide technicians with critical maintenance information that is relevant to their location. It overlays real-time analytics, equipment health status, and technical support documentation on the mobile device's field of view to streamline troubleshooting. In addition, it provides remote assistance that enables technicians and experts to collaborate.
Emerson
Materials and Chemicals
High-Performance Fiber Boasts Durability
The Trosar high-performance fiber is an ultrahigh-molecular-weight polyethylene (UHMWPE) material. It is available in various performance grades as a fiber and as a unidirectional laminate (UD). Its high strength and durability extend product lifecycles and improve mechanical performance, which can lower a product's overall environmental impact. The material features high tensile strength and excellent energy absorption properties that make it suitable for use in a variety of high-performance applications.
Royal DSM
Environmental, Health, and Safety
Coating Offers Antiviral and Antimicrobial Protection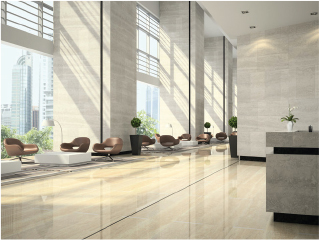 The BioX Pro coating incorporates a powerful antiviral, antimicrobial, and antifungal additive to keep surfaces free of pathogens. The additive is registered with the U.S. Environmental Protection Agency (EPA) and is currently used globally in a variety of industries, including healthcare, food, and textiles. The additive is paired with a blend of halogenated polymers that bonds to most interior and exterior surfaces. The coating can be easily sprayed onto most surfaces by a hand pump sprayer, pressurized spray bottle, or electrostatic sprayer. It dries as a nontoxic and nonstaining thin film and remains active for more than 90 days. The coating has been proven effective for protection against many viruses, bacteria, and mold. In particular, it is effective at protecting against SARS-CoV-2, the virus responsible for COVID-19. The coating can be applied to porous, semiporous, and nonporous surfaces such as fabric, wood, concrete, plastic, and glass.
BioX Group
Laboratory Equipment
Digital Piston Pump Simplifies Pumping Operation
The Ismatec Reglo digital piston pump is a cloud-enabled pump that offers precise digital control for accurate performance. It enables real-time control of all pump parameters, including speed, flowrate, and dispensing volume. The pump system uses a valveless piston pump head that simplifies small-scale pumping and offers ease of use, accuracy, and reliability. Operating modes include continuous run, volume dispense, and time dispense with batch control. The pump system features a user-friendly, 5-in. touchscreen interface for simple operation.
Cole-Parmer
Fluorine Analyzer Accurately Measures Solid Samples
The Profiler solids analyzer determines the total fluorine concentration in solid samples with high sensitivity and accuracy. Fluorine content analysis in solid samples is a requirement in a variety of industries for quality control, environmental monitoring, and remediation. In particular, the analyzer is useful for measuring the concentration of fluorine in polymer processing additives (PPA) — a critical parameter that plastic manufacturers measure to prepare polymer masterbatches and ensure final product quality.
Metrohm USA
Operations and Maintenance
Motor Improves Energy Efficiency
The IE5 synRM is significantly more energy efficient than commonly used IE2 induction motors and can reduce energy use by 25%. The motor design combines the performance advantages of permanent magnet technology with the simplicity of an induction platform. The motor operates at low bearing and winding temperatures to enhance reliability. It meets stringent energy efficiency standards and is classified in the ultra-premium energy efficiency class by the International Electrotechnical Commission (IEC). The motor can be specified as part of a high-efficiency motor and drive package with variable speed drives (VSDs). It is available with output powers from 5.5 kW to 315 kW in various frame sizes.
ABB Group
Skid-Mounted Reverse Osmosis System Purifies Water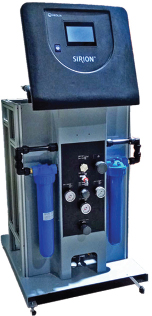 The SIRION Pro is a skid-mounted reverse osmosis (RO) system that can be integrated into standardized treatment lines to purify industrial water. It is capable of removing up to 98% of dissolved inorganics and over 99% of large dissolved organics, colloids, and particles. The RO system is suitable for water reuse applications in most industrial sectors. It is available in 11 models that can handle a range of permeate flowrates from 100 L/hr to 5,000 L/hr. The device features a 7-in. touchscreen human machine interface (HMI).
Veolia
www.veoliawatertechnologies.com
Continuous Processors Streamline Polymeric Foam Manufacturing
These continuous processors are designed to ensure that the fast-reacting materials used in plastics manufacturing are mixed, gelled, and fully reacted entirely within the sealed reactor barrel before they begin to cure. The processors eliminate the risk of premature curing inside the barrel along with the associated labor-intensive cleaning and safety concerns. They were developed for producing rigid polymeric foams such as polyurethane, polystyrene, polyethylene, and other materials that cure instantaneously. The systems produce a uniform, homogenous dispersion of materials within a tight residence time. They automatically feed, mix, and react multiple wet, dry, high-loading, and minor materials on either twin shafts or co-rotating screws within a closed reactor chamber.
Readco Kurimoto, LLC
Fluids and Solids Handling
Tablet Press Handles High-Volume Production
The XT 600 HD double-rotary tablet press is designed to create large tablets with depths of 40 mm and diameters up to 35 mm. The press features an exchangeable turret that is available with 65 stations (for tablet diameters up to 19 mm), 53 stations (for tablet diameters up to 25 mm), and 39 stations (for tablet diameters up to 35 mm) to accommodate a wide range of product sizes. The tablet press features a precompression column and a main compression column that both deliver 120 kN of compression force. The standard press force control system provides precise, automatic tablet weight control. A conversion kit is available for bilayer production to ensure precise layer weight control and layer separation. Users control the tablet press with a 19-in. touchscreen human machine interface (HMI).
KORSCH
Bioprocessing
High-Speed Centrifuges Streamline Vaccine Production
The AS26VBNF and AS26SPNF tubular bowl centrifuges improve separations for vaccine production. They have a hygienic stainless steel finish that is polished to high sanitary standards. The centrifuges feature a full-length jacketed barrel for cooling media circulation. They have a tilting barrel so the operator can slide the tubular bowl out horizontally instead of having to lift it out vertically. The centrifuges can be operated at a maximum bowl speed of 17,000 rpm, which corresponds to 20,000 relative centrifugal force (RCF). In addition, they can be sterilized in place using clean saturated steam at 121°C and 1.0 bar.
Pennwalt

Copyright Permissions
Would you like to reuse content from CEP Magazine? It's easy to request permission to reuse content. Simply click here to connect instantly to licensing services, where you can choose from a list of options regarding how you would like to reuse the desired content and complete the transaction.