Instrumentation
Glass-Free pH Sensors Withstand Rugged Process Conditions
The ISFET Memosens CPS47D, CPS77D, and CPS97D pH sensors are designed for applications where glass sensors may break under challenging process conditions. The ISFET sensors are constructed of shatter-resistant polyether-ether-ketone (PEEK) plastic that maximizes product safety and accuracy. They have a large chip surface and are easy to clean, making them suitable for use in hygienic applications in the food and life-sciences industries. The CPS77D sensor is resistant to bacteria, thanks to its microporous ceramic diaphragm. The CPS47D and CPS77D sensors can last at least 25 clean-in-place (CIP) cycles, which is a significant improvement over conventional ISFET sensors.
Endress+Hauser
Manifolds Improve Pressure Transmitter Reliability
Rosemount R305 integral manifolds and Rosemount R306 in-line manifolds provide advantages over earlier designs. The Rosemount R305 is designed for both differential and gauge pressure applications and mounts directly to any Rosemount coplanar transmitter. The Rosemount R306 is designed for in-line pressure transmitters for gauge or absolute pressure measurements. The manifolds feature a pressure-lock valve design that simplifies high-pressure operation, increases safety, and enhances reliability. The modular packing design of the manifolds ensures that only the stem and body are exposed to process fluid. Bonnet and stem threads are fully isolated from the process fluid to minimize potential corrosion. In addition, an adjustable packing nut simplifies valve maintenance.
Emerson
Materials and Chemicals
Additives Provide Energy Savings to Polypropylene Producers
The Hyperform HPN performance additives for polypropylene provide significant energy savings for injection-molding processes. The performance additives lower energy usage by reducing injection-molding cycle times, which also improves productivity. The UL Environmental and Sustainability group has certified four grades of Hyperform HPN that enable an average of 5–8% energy savings for processors that injection mold thin-wall container lids or similar polypropylene products.
Milliken & Co.
System Upgrade Produces Large PET Containers with Handles
InnoPET Biomax Series V stretch blow molders can now incorporate a system to reliably produce large polyethylene terephthalate (PET) container bottles with sturdy integral handles. The system has two pneumatically activated mold elements that form mounting points for a stable grip on the container during the stretch blow-molding process. Synchronization of the system's mold elements and precise valve control contribute to reliable throughput and low rejection rates. Handles make PET containers an attractive choice for bottling juice, oil, and milk, as well as home and personal-care products.
KHS
Advanced Resins Improve Properties in Many Applications
SARBIO liquid resins offer performance advantages in an array of applications, from coatings and adhesives to composites and 3D printing. All of the resins within the line are based on renewable raw materials. The N3xtDimension liquid resin for UV-curable 3D printing is engineered to improve impact resistance, flexibility, high-resolution prototyping, and castability in medical parts, automotive components, and consumer goods applications. High-performance aliphatic urethane acrylates for electronics provide an optimized balance of elongation with tensile strength, toughness, and hardness. They are non-yellowing and have a relatively low glass-transition temperature. Specialty acrylates for high-performance coatings improve stain resistance, hardness, chemical stability, toughness, and adhesion, and have a fast cure speed.
Sartomer
Fluids and Solids Handling
Turnkey System Mixes and Discharges Sanitary Materials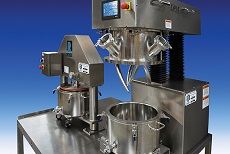 The DPM/DS-4S double planetary mixer is now available in a sanitary turnkey configuration. The 4-gal mixer and discharge system features electropolished interior and exterior stainless surfaces that are Type 316 stainless steel with a 150-grit finish. The jacketed mixing vessel and special high-viscosity blades are able to produce thick gels, pastes, putties, and other semi-solids with precise temperature control. The gearbox and stirrer shafts are sealed entirely to ensure sanitary conditions and eliminate cross-contamination between batches. This system is scalable through 1,000-gal production models.
Charles Ross & Son Co.
Conveyor Belt Cleaning Blade Can Be Cut to Length
The QC1+ belt cleaner is designed to hold a patented cleaning blade in place without the need to mill slots for holding pins. The blade can be cut to fit virtually any application, reducing the need to stock multiple blade sizes for different belt widths. Operators simply trim the blade to the desired size from the stock 9-ft (2.74-m) length to match the material path, slide in the blade holders, and lock them in position. The blade can be retrofitted to any of the company's main frames and most other competing designs without the need for additional machining. Five different urethane blade formulations are available to meet varying requirements related to chemical resistance, high-temperature operations, granular or tacky materials, and more.
Martin Engineering
Rotary Inline Mixer Handles High Volumes of Bulk Solids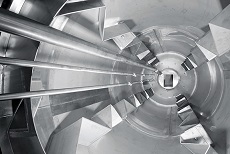 The sanitary inline Model RCM36X9SS rotary continuous mixer blends dry bulk solids with or without liquid additions. Unlike mixers that use agitators to blend stationary bulk solids (risking damage to the materials), this rotary continuous mixer has no internal moving parts. Rather, it features a stationary inlet and outlet, a rotating drum with smooth interior surfaces, and proprietary mixing flights that impart a gentle tumbling action. As the drum rotates to distribute the particles, no shear is imparted to the material. The mixer uses a 3-hp (2.24-kW) electric motor that rotates the drum at 8–10 rpm, which keeps power requirements relatively low. As an option to minimize time in particle coating applications, stainless-steel piping with nozzles is also available for uniform spraying of liquid additives.
Munson Machinery Co.
Sifters are Suitable for Sanitary and Corrosive Materials
The GS Series of centrifugal sifters is designed for challenging operations ranging from sanitary to corrosive environments. The sifters are able to condition granular and powdered product upstream of production lines to safely remove foreign matter and separate the product into discrete streams based on particle size. They have a rotating-paddle assembly that uses centrifugal force to pass fine particles through a mesh screen and divert oversized particles to the discharge, which is sealed within a dust-tight housing. The sifters allow visual inspection and easy access for cleaning or changeovers with minimal downtime. They are available in Type 304 or Type 316 stainless steel.
Gericke USA
Portable Sampling Pump Allows Fast Tubing Changes
The Masterflex L/S portable sampling pump features the Easy-Load pump head, which is designed for fast tubing changes to guarantee flow stability. The pump's variable-speed drive reaches 400 rpm and allows the operator to adjust the flowrate as needed. Its rechargeable battery allows a runtime of four hours before recharging, while connection to an AC or DC power supply allows indefinite operation. The pump is designed for rugged or remote pumping applications and is encased in a high-visibility yellow housing for easy recognition in the field.
Cole-Parmer
Operations and Maintenance
Triple-Display Switch Improves Workflow and Worker Productivity
The CS1964 is a four-port, USB 3.0 4K DisplayPort triple-display KVMP switch. The switch is designed for managing three displays from up to four different computers simultaneously. Audio and other USB connections can be independently switched between computers. The switch is equipped with patented Video DynaSync technology to eliminate boot-up display issues and optimize resolution. The device helps to reduce desktop clutter while enabling efficient multitask switching for mission-critical operations such as control room and call-center operations, especially emergency response and surveillance. It enables fast data transfer rates up to 5 Gbps, allowing users to perform multimedia operations with ease. Users can daisy chain multiple CS1964 units to create a more powerful operating station.
ATEN Technology, Inc.
Lightweight Mobile Transporter Has Good Maneuverability
The LiftStik PLS67-285 is a versatile four-wheel lifter-transporter that is compact, easily maneuverable, and rated for a lifting capacity of 285 lb. It is designed for lifting and transporting items in industrial, laboratory, pharmaceutical, food-processing, and office environments. The loading base has an adjustable width that can be set as narrow as 20 in. for use in tight quarters or as wide as 28 in. to provide extra stability for wider loads. The transporter's two rear casters can lock to keep the unit steady while lifting or unloading. The lift mechanism uses a steel-reinforced cam belt that is battery powered. The LiftStik can be equipped with a wide variety of options, including reel rotators, mandrels, V-cradles, forks, an articulating boom with lifting hook, and more. Lightweight aluminum construction is standard, but stainless steel construction is also available for sanitary, food processing, or washdown applications.
Presto ECOA Lifts
Portable Tool Produces Precise Beveled Pipe Ends
The Wart Millhog portable pipe beveler creates precise square and beveled pipe ends to within ±0.001-in. accuracy. The tool mounts securely onto the pipe's inner diameter using a self-centering draw-rod assembly and a mandrel with expandable clamps. It has a three-blade holder that can bevel, face, and bore any angle on the pipe end without the need for cutting fluids. Such precise beveling enables the production of high-integrity welded joints. The tool is suitable for use with highly alloyed materials and carbon steel, and for tube or pipe size ranging from 0.75-in. inner diameter to 4.5-in. outer diameter. It is available with either a pneumatic or electric motor.
Esco Tool
Advanced Rectifier Provides DC Power to Cathodic-Protection Systems
The use of cathodic protection is essential for preventing corrosion in aging pipelines, storage tanks, and other underground or submerged structures. The DCPro is an advanced rectifier that provides a durable, switch-mode DC power supply to cathodic-protection systems. The constant-current design allows simple current output control in 0.1-A increments. Once set, the DCPro will hold the desired current output. The system provides a reliable DC power supply without AC ripple issues, along with standard AC and DC surge protection.
Farwest Corrosion Control Co.
Bioprocessing
Membrane Improves Bioprocessing Filtration
Sephara is an in situ silicon-based filtration membrane that improves sampling and perfusion during bioprocessing operations. The membrane design overcomes key issues that can arise during conventional filtration-based sampling procedures, such as adsorption effects, fouling, clogging, and unwanted or unselective separation. The Sephara filter retains particles with sizes greater than the membrane's pore width, which is available in diameters from 0.2 μm to 2.2 μm. In microbial and high-density mammalian cultures, Sephara can be used as a prefiltration device to assure the early separation of cells from the supernatant stream for subsequent metabolite and product analysis.
Securecell
Environmental, Health, and Safety
Industrial Work Boots Ensure Safety and Comfort
The Tradeswoman boot is designed for women in construction, light manufacturing, and warehouse environments. The ASTM-compliant boot features a variety of safety features, including resistance to electrical hazards, nonmetallic toe, and waterproofing. Its VersaTrax rubber outsole provides outstanding traction and durability for any surface. The boots incorporate a dual-density footbed and extra toe space to ensure comfort. They are made of waterproof leather and are available in a variety of styles and colors.
Red Wing Shoe Co.
Copyright Permissions
Would you like to reuse content from CEP Magazine? It's easy to request permission to reuse content. Simply click here to connect instantly to licensing services, where you can choose from a list of options regarding how you would like to reuse the desired content and complete the transaction.