Materials and Chemicals
Filament Enables Implant Printing
This polyether ether ketone (PEEK) filament is based on VESTAKEEP i4 G, a highly viscous implant-grade material. It can be used in fused filament fabrication (FFF) technology and enables additive production of three-dimensional plastic parts for medical implants. The product, which exhibits biocompatibility, biostability, and X-ray transparency, is easy to process. A testing-grade material has the same processing and mechanical product properties as the implant-grade material — but does not require the documentation needed for medical device applications, enabling cost-effective process development. The filament has a diameter of 1.75 mm and is wound on 500-g spools suitable for direct use in standard FFF 3D printers for PEEK materials.
Evonik
Copolyester Improves Prototype 3D Printing
The Facilan HT copolyester polymer is easy to print and minimizes post-processing requirements for prototypes, models, and spare parts. Other polymers, such as polylactic acid (PLA) and polyethylene terephthalate (PET), are of limited use for such applications, as they have a relatively low temperature resistance, while acrylonitrile butadiene styrene (ABS) suffers from warping and relatively low strength. Fused deposition modeling (FDM) additive manufacturing requires more-durable and higher-strength materials to take full advantage of 3D printing. This copolyester has high temperature resistance, with a heat deflection temperature of 89°C. Its high stiffness enables faster printing of rigid parts, and it is easily printed on most conventional FDM printers with minimum warping.
ElogioAM B.V.
Polymer is Stable at Cryogenic Temperatures
VICTREX CT 200 is a PEEK polymer with a broad operating temperature range. It is suitable for sealing applications where gases such as liquefied natural gas (LNG) and nitrogen are stored and transported at cryogenic temperatures ranging from –150°C to –200°C (–238°F to –328°F). The polymer functions well at low temperatures because of its ductility, and at high temperatures due to its creep resistance. It is able to maintain better dimensional stability, with a lower coefficient of thermal expansion than polychlorotrifluoroethylene (PCTFE). The higher thermal conductivity of this polymer enables a fast response to temperature changes. Lower static and dynamic coefficients of friction reduce wear and can also reduce costs. It is able to withstand aggressive chemicals and is suitable for dynamic applications, such as seat inserts, which must remain leakproof when movement occurs. It is suitable for engineering, procurement, and construction (EPC) applications and oil and gas operations. The material has completed stringent type acceptance testing (TAT) as per the Shell Mesc 77/300.
Victrex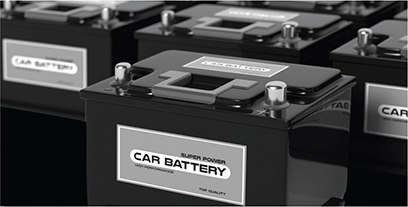 High-Purity Carbon Blacks Extend Battery Cycle Life
The PRINTEX kappa high-purity carbon blacks suppress water loss and improve advanced lead-acid battery (aLAB) performance. They function as conductive additives, increasing aLAB dynamic charge acceptance (DCA) by up to 60%. The carbon blacks have very low levels of metallic impurities, which extends the cycle life of the battery. They maintain their conductivity and surface area while suppressing the hydrogen evolution reaction on the carbon black surface to achieve higher DCA through higher loading. The carbons improve handling, process formulation operations, and performance, which allows aLABs to work in high-rate partial-state-of-charge (HRPSoC) conditions. The carbon blacks are suitable for use in stationary energy storage batteries and automotive batteries.
Orion Engineered Carbons
Polymer Additive Ensures Material Homogeneity
MB25-235 Masterbatch is a stable, long-lasting slip additive that reduces stress on low-density polyethylene (LDPE) film used in high-volume, high-speed form-fill-seal (FFS) packaging operations. It reduces the film's coefficient of friction to ensure homogeneity, boost productivity, and maintain consistent film quality and uninterrupted throughput. The material is unaffected by time or temperature and maintains its tensile strength and tear strength with no material migration between layers. The nonsticky pellets can be fed smoothly into an extruder, and the formulation also prevents die build-up and gel formation. The additive is designed for LDPE resins and blends used for blown film in FFS operations, linear low-density polyethylene (LLDPE) for FFS and lamination operations, and LDPE/LLDPE resins and blends used for agricultural films. The additive is food-contact-compliant under U.S. Food and Drug Administration (FDA), European Union (EU) 10-2011, and Chinese GB4806.1-2016 and GB9685-2016 regulations.
Dow Performance Silicones
Software
Updated Software Is Compatible with Web Browsers
PQView DE is both a controller and an interface designed to replace the Encore Series Software (ESS) in the company's power-monitoring systems. ESS relies heavily on Java Plug-in, which is no longer supported by most web browsers and has been discontinued by its developer. The updated platform no longer uses this plug-in and boasts a modern, multi-user, responsive web design that allows users to interact with their monitoring system from virtually any platform, including desktop computers, laptops, tablets, and smartphones. It is fully compatible with all of the company's products that were supported by ESS, including the 61000 family, ES meters, and legacy 55xx series DataNodes. Users can seamlessly upgrade to this more scalable software platform that allows coworkers to access, analyze, and share data and reports simultaneously.
Dranetz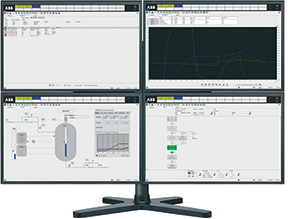 Updates to Distributed Control System Are User-Friendly
Freelance 2019 is the newest version of a distributed control system (DCS) for the process industries. It combines a DCS and a programmable logic controller (PLC) and is easy to use, scalable, flexible, and reliable. The latest updates increase efficiency and usability by adding navigation, filter, and sort functionality. A new controller, PM 904F, supports four communication interfaces, provides more application memory, and enables the reservation of specific memory. Four monitors can connect to a single operator workstation, and the display types, as well as the arrangements of the monitors, are easy to configure and fulfill the typical requirements for occupational safety and operator effectiveness. A new human-machine interface (HMI) improves the user experience. The intuitive operator interface enables easy operation and diagnosis of the entire system. The DCS is compatible with Windows 10 and Windows 7, allowing a step-wise upgrade to modern IT infrastructure to reduce maintenance costs. The software is available in a wide variety of languages and is easy to install on any standard computer; the entire system is only one file and fits on a small memory stick, so it is easy to back up.
ABB
Advanced Manager Platform Stores Data in the Cloud
The Memograph M RSG45 is an advanced data manager that transfers data to cloud-based servers in industrial internet of things (IIoT) applications. It communicates with programmable logic controllers (PLCs), supervisory control and data acquisition (SCADA) systems, distributed control systems (DCSs), historians, and cloud-based data structures. It also has an embedded web server that can be accessed by any internet browser. The manager is able to acquire data from up to 20 HART or universal analog input channels and 14 digital inputs, and it has two analog outputs and up to 12 relay outputs. Interfaces and protocols include 4–20-mA HART, Modbus RTU/Modbus TCP/IP, Profibus DP, Profinet, EtherNet/IP, Ethernet TCP/IP, USB, RS-232C/RS485, and OPC. It provides tamperproof data recording on 256 MB of internal memory compliant with various legal directives, a 32 GB SD card, and a 32 GB USB drive. Built-in software includes FDM Field Data Manager for visualization, analysis, backup, and reporting. The device mounts on a standard DIN rail, is powered by a standard 24-VDC or 230-VAC power supply, and has an Ingress Protection (IP)-20 rating against small objects.
Endress+Hauser
Environmental, Health, and Safety
Dust Removal Filter Is Portable
The DC Storm LPG is a high-performance, gas-powered extractor that removes hazardous dust on an industrial scale. The propane-powered machine has a 15-kW (21-hp) motor, can run for up to 8 hr, and does not require any cables, making it suitable for environments with limited access to electricity. This compact device has USB charging ports, as well as forklift pockets that make it easy to transport. It offers a high degree of filtration (Class H), with a filter leakage of less than 0.005%. Equipped with a HEPA H13 filter, it can be used to extract dust created by grinders, hammer drills, or cutting machines, and it can perform heavy-duty cleaning with a long suction hose.
Dustcontrol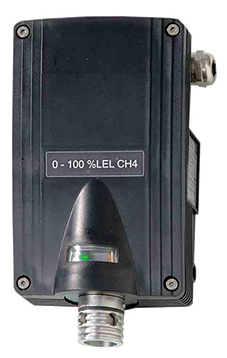 Explosives Sensor Is Suitable for Hazardous Environments
The ATEX-EXP-SNR-TG-CGV-CCS-LV combustible gas and vapor sensor is equipped with either a 0–100% or 0–50% lower explosive limit (LEL) detection range and has an expected lifespan of three to five years. This ATEX-rated catalytic combustion sensor has an Ingress Protection (IP)-64 rating, is compatible with 15–30-VDC power, and provides a 4–20-mA output signal. It measures 3.93 in. by 7.59 in. by 2.61 in. and weighs 1.78 lb. It operates between –20°C and 50°C and can provide an accurate reading in 12 sec. The instrument is suitable for inspection and combustible-gas detection in hazardous locations in oil and gas and chemical processing applications. Among the combustible gases and vapors that the unit can detect are acetone, acetylene, butane, hydrogen chloride, hydrogen cyanide, diethyl ether, ethanol, landfill gas, helium, methane, carbon monoxide, and xylene.
Larson Electronics
On-The-Go Eyewash Solution Minimizes Eye Damage
The Aero Emergency Eye Wash Solution combines sterile saline with a buffered pH-neutralizing agent. It not only rinses impurities and irritants from the eyes, but it also helps the eye return to a normal 7.4-pH level by quickly neutralizing corrosive chemicals. The eyewash solution can help minimize the likelihood of permanent damage and relieve irritation and discomfort from chemicals and foreign particles (i.e., dust and debris) that may enter the eye. The 16-oz and 32-oz bottles have an eye-opener that allows used fluids and contaminants to flow away from the eye. The 5-oz and 0.5-oz sizes can be easily included in workstations or carried in a pocket for high-risk situations. All of the bottles are easy to quickly twist open. A wall-mounted station containing two 16-oz bottles is also available. The eyewashes include a cover to keep the bottles clean from dust and impurities, as well as a carrying handle to make transport for fieldwork easy. They meet all U.S. Food and Drug Administration (FDA) requirements for eyewashes (21 CFR part 349), and also meet American National Standards Institute (ANSI) Z358.1-2009 standards as a personal eyewash. They are suitable for laboratory, classroom, worksite, and public facilities.
Bel-Art — SP Scienceware
Portable Formaldehyde Meter Provides Continuous Detection
The Formaldemeter htV-m is a small, lightweight, handheld, direct-reading, portable instrument that offers a convenient way to monitor levels of airborne formaldehyde. The electrochemical sensor can precisely measure formaldehyde concentrations in parts per million (ppm) and mg/m3 in many different temperature and humidity conditions. During operation under normal indoor air quality conditions, the internal pump takes a 10-mL sample of air every minute. The meter has a response time of 60 sec in high-accuracy mode and approximately 8 sec in low-accuracy mode. The instrument measures 150 mm by 80 mm by 34 mm, and the plastic padded accessory case measures 266 mm by 230 mm by 50 mm. The device is powered by a PP3 9-V alkaline battery or a 9–15-VDC supply. The built-in memory and real-time clock enable the instrument to log data for up to one month of continuous stand-alone monitoring. A PC can automate the sampling and log data at specific times by a direct or wireless connection. The device provides users with real-time results, enabling the identification of overexposures as they occur without the delay and expense associated with laboratory analysis. A custom-designed calibration standard has been tested against approved analytic calibration systems.
ENMET
Instrumentation
Turbidity Probe Improves Data Accuracy
This turbidity probe has a high optical throughput with over 25% transmission for low-noise spectroscopy in the ultraviolet (250–700 nm), visible (380–1,050 nm), and near infrared (600–2,100 nm) spectral ranges. The rugged, corrosion-resistant Type 316L stainless steel design features a collimated beam for accurate absorbance measurements and vibration resistance. The operating temperature and pressure ranges are determined by the choice of O-ring material, with maximums of 250°C and 500 psi. The probe is available in five standard lengths: 12-in., 18-in., 24-in., 30-in., and 36-in. The instrument can be supplied welded to an American National Standards Institute (ANSI) or Deutsches Institut für Normung (German Institute for Standardization) (DIN) process flange and is easily installed in a pipe or reactor through a single access port. Optional accessories allow the probe to be adapted to different kinds of process installations. The probe has three fiber-optic ports and is designed to work with the ClearView db process analyzer.
Guided Wave
Programming Computer Features Rugged Hardware
The Simatic Field PG M6 programming computer has a completely shielded magnesium housing with bumpers on its exposed parts to protect against shocks and vibrations. In addition to its rugged hardware, it has preinstalled engineering software and integrated automation interfaces for configuration, commissioning, service, and maintenance. The instrument is equipped with a high-speed DDR4 working memory of up to 32 GB and an impact-resistant SSD mass storage device of up to 2 TB. The basic model has an Intel Core i5 processor; the advanced version, which can be optionally configured with Simatic S5 interfaces, features the Intel Core i7 processor. All interfaces required for an efficient connection of industrial automation applications are installed onboard, such as RS 232, Profibus, Profinet, and Simatic Card, as well as the latest WLAN 802.11ac wireless and BT V5.0 Bluetooth technology. The computer uses Windows 10 Enterprise and the current version of the TIA Portal engineering software for controllers, safety, and HMI. Software such as STEP 7 Professional 2017, WinCC flexible 2008, and (in the advanced version) STEP 5 are preinstalled for older projects.
Siemens
1

Copyright Permissions
Would you like to reuse content from CEP Magazine? It's easy to request permission to reuse content. Simply click here to connect instantly to licensing services, where you can choose from a list of options regarding how you would like to reuse the desired content and complete the transaction.