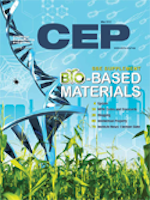 This month's issue of CEP focuses on bio-based materials, looking at both the opportunities and challenges. You'll also find in this issue a guide to intellectual property for ChEs, updates on the latest news, and much more.
Editorial
I was taught that the word hopefully means "in a hopeful manner" or "full of hope." Authors who start a sentence with the word hopefully usually mean "I (we) hope" or "it is hoped" — which is an incorrect usage of the word.
Copyright Permissions:
Would you like to reuse content from CEP Magazine? It's easy to request permission to reuse content. Simply click here to connect instantly to licensing services, where you can choose from a list of options regarding how you would like to reuse the desired content and complete the transaction.
Sponsored Links
Global education for local implementation
ABB Consulting is a leading international technical and management group focused on the process industries, including oil & gas, chemical, and pharmaceuticals.  Specialties: PSM, Hazard/Risk Assessments, PHA/HAZOP, SIL/LOPA, Safety Culture, Human Factors/Alarm Management, Asset Integrity Management, and Operations Improvement. We offer customized management solutions, training, coaching, and "true" global expertise to help you improve operations.
ABB Group
Order New Catalog on CD
The 50th Anniversary Edition catalog on CD covers our complete line of Dynatrol® on-stream process analyzers, measurement & control instruments, level detectors and line of new accessories. 
Automation Products, Inc.
ioMosaic
ioMosaic is an established, industry-recognized engineering consulting firm with a focus on process safety and risk management consulting services, software solutions and technical training. Our engineering pressure relief and flare system design services, quantitative risk assessments and software technology are used extensively worldwide and throughout all processing industry sectors. For more information, visit our website: www.iomosaic.com
XNX Universal Transmitter from Honeywell Analytics performs the way you want it to
It detects most industrial gases and links to virtually all industrial communications. XNX leverages your existing infrastructure and future proofs your operation. It saves you money and puts you more in control. XNX adds performance and value to your safety system through its advanced modularity and simplicity. XNX satisfies all requirements for open-path Infrared, point Infrared, catalytic bead and electrochemical protection.
Honeywell Analytics