2012 ASC Chem-E-Car Winner and Team Interviews
See statistics on Cornell's winning car, the official 2012 Chem-E-Car video, plus 2012 team interviews, sneak peek videos, and links to ChEnected's coverage.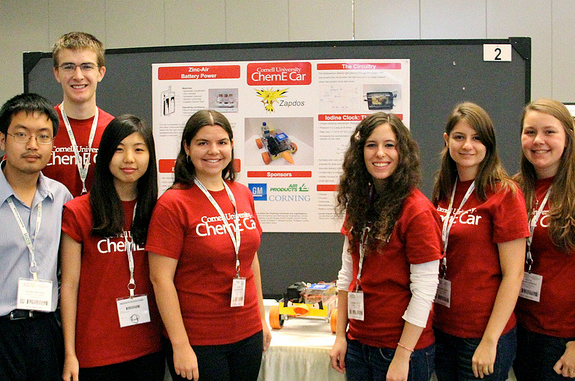 Cornell wins 2012 National Chem-E-Car Competition
This year's Chem-E-Car competitors were challenged with a running distance of 21m and a load of 300mg. Cornell's team and their car, Zapdos, took home the top prize in the 2012 Chem-E-Car Competition® with a perfect score of 0.0 m.
See Competitors, Coverage, and Stats
2012 Official Chem-E-Car Video
During the the 2012 Annual Student Conference, ChEnected had a chance to catch up with some of the 2012 National Chem-E-Car teams at the Poster Session.
Below are interviews we did with the host schools, and those schools that submitted sneak-peak clips (played before their car's demo) are displayed as well. We apologize to Carnegie Mellon, whose interview had sound issues.
| | |
| --- | --- |
| Sneak Peak Videos | 2012 Team Interviews |
| Cornell University Sneak Peek | Cornell University Interview |
| University of Puerto Rico Sneak Peek | University of Puerto Rico Interview |
| University of South Florida Sneak Peek | University of South Florida Interview |
| Carnegie Mellon Sneak Peek | University of Akron Interview |
| University of Nebraska, Lincoln Sneak Peek | Ohio University Sneak Peek |
| Oklahoma State Sneak Peek | University Sneak Peak |
| University of Maryland Sneak Peak | University of Houston Interview |
| University of Texas, Austin Sneak Peak | University of Pittsburgh Interview |
| University of Maine Sneak Peek | Bucknell University Interview |
| University of Tulsa Sneak Peak | |
| University of Washington Sneak Peek | |