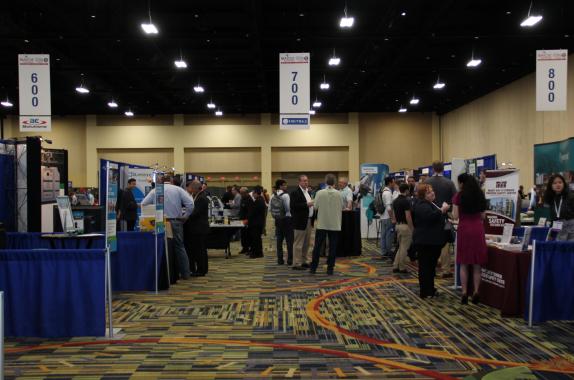 Download the Exhibitor Prospectus
Increase your presence at the meeting, stand out from other companies and drive traffic to your booth with an Exhibitor Upgrade, discounted advertising or meeting Sponsorship. Check out pages 4 and 5 of the Exhibitor Prospectus for more information.
Contact Your Sales Representative
Rates:
Early Registration

(expires January 22, 2020)

Regular Registration
10'x10'
$2,950
$3,150
20'x10'
$5,900
$6,300
30'x10'
$8,850
$9,450
20'x20' Island
$12,250
$13,050
Fee includes:
One full meeting registration
Two exhibit only registrations
One wireless lead retrieval system
One ID sign showing company name
AIChE Meetings Delivers Value to Exhibitors
Targeted Audience
The 2020 Spring Meeting is expected to draw 1,500 attendees focused on key technical issues in core process areas and emerging technologies. The 16th Global Congress on Process Safety remains the largest gathering of process safety professionals in the world, with an attendance close to 1,000. A joint exhibit area, will provide you with maximum exposure to conference attendees.
Opportune Timing
Meet with prospective buyers and influencers for your offerings and build momentum for your products and services early in the year.
Increase Your Presence at the Meeting and Stand Out from other Exhibitors
Exhibitor Upgrades: Drive traffic to your booth or get your message out to meeting attendees.
Discounted Advertising: Exhibitors are entitled to discounted advertising in CEP Magazine's Spring Meeting & GCPS preview, the meeting program book and on the AIChE website.
Sponsorship: Have a broad presence and high impact across the entire meeting with one of a variety of sponsorship options.
Hear from the Exhibitors