2012 Annual Meeting Area Map & Ground Transportation
Find transportation, parking, and maps for the 2012 AIChE Annual Meeting.
Yellow Cab Company
Ph: (412) 321-8100
One-way fare is approximately $40 to/from airport.
Upon arrival at the airport, proceed to the landside terminal, lower level, exit through the "commercial" doors, and proceed to the taxi stand area on the curb where cabs will be waiting.
Port Authority Transit 28X Airport Flyer
One-way fare to/from the airport is $3.25; exact change is required.
Passengers are responsible for handling their bags both on and off the vehicle.
Tipping operators is not permitted.
Supershuttle
One-way fare to/from the airport is $24.65 (including fuel surcharge).
Reservations can be made online or by phone at (800) 258-3826.
After claiming luggage, passengers should proceed to the SuperShuttle customer service counter located on the baggage claim level in the rental car area behind the elevators by Door 4.
Area Map
Locate current AIChE Annual Meeting hotels by number in the map below. Click on any of the address links for Google walking instructions and distances.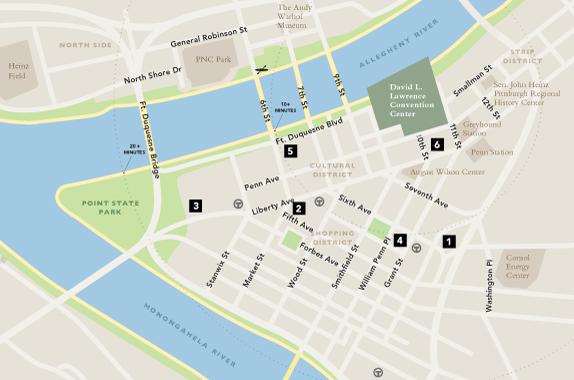 Make sure you book your hotel early to ensure accomodation and AIChE rate.