Saturday, March 26, 2022, EDT
14390 Air and Space Museum Pkwy
United States
The AIChE National Capital Section (NCS) is excited to hold an in-person event to tour Steven F. Udvar-Hazy Center from 9:45am – 11:30 am EST on March 26th (Saturday), 2022.
Steven F. Udvar-Hazy Center, a partner facility to the National Air and Space Museum, displays historic aviation and space artifacts as well as holds numerous exhibits, including the Space Shuttle Discovery, the Enola Gay, and the Gemini 7 space capsule. NCS will have a professional guide for the 90 minute Udvar-Hazy Center tour, with an interactive discussion regarding the role of chemical engineers in aerospace currently and in the future.
REGISTER: https://www.eventbrite.com/e/steven-f-udvar-hazy-center-tour-tickets-294901166327
This event is free to attend! Please register through the Eventbrite link provided. Upon registration, Eventbrite will email a ticket. Tour attendance is capped, please register early for the event to ensure a spot!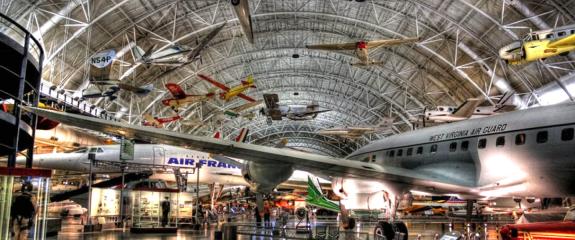 EVENT AGENDA (Time in EST):
9:45 am – Gathering at Steven F. Udvar-Hazy Center
10:00 am – Guided Tour Starts
11:30 am – Guided Tour Ends
DRIVING AND PARKING INFORMATION:
Event Location: Udvar-Hazy Center: 14390 Air and Space Museum Pkwy, Chantilly, VA 20151, USA
Parking: Daily parking for other vehicles is available for $15 (free after 4:00 pm).
Mask Policy: More information can be found at the website. As of 3/11, while the area is in a Low-Transmission, Smithsonian venues will no longer require visitors to wear a mask. NCS encourages masks for our group. If the area is under high transmission at the time of the meeting mask directions may change. Previously all visitors ages two and older were required to wear a face covering while visiting indoor spaces regardless of vaccination status.