Central Pennsylvania Local Section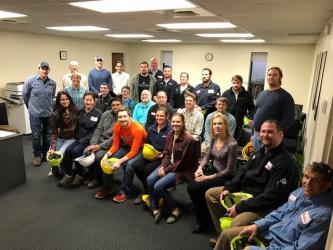 Welcome to the new Central Pennsylvania Local Section community site!
This page will primarily serve our Central PA members and provide information on past and updcoming tours, dinners, and meetings.
Our section typically has monthly meetings in September, October, November, Februay, March, and April with occasional meetings in other months and a yearly officers planning meeting in the summer.
We encourage all Chemical Engineers in the Central PA area to join both the National AIChE as well as pay dues to join our Local Section.
We hope to see you at our next meeting!
Recent Events
Thursday, September 24, 2020, 6:30pm-8:00pm EDT
September Virtual Meeting/Talk: Monty Alger, 2020 AIChE President, will speak on "Building New Global Learning and Innovation Models" on Thursday, September 24th at 6:30pm via Zoom. This meeting is hosted by our neighboring Susquehanna Local Section. Register in advance for this meeting: https://...
Read more
Wednesday, September 25, 2019, 5:30pm-7:30pm EDT
AIChE American Institute of Chemical Engineers https://www.aiche.org/community/sites/local-sections/central-pennsylvania Central Pennsylvania Section September Meeting Fero Vineyards & Winery Date & Time: 5:30 PM on Wednesday, Sept. 25 th , 2019 (Bucknell minivan leaves from in front of...
Read more