Particle Technology Forum (PTF)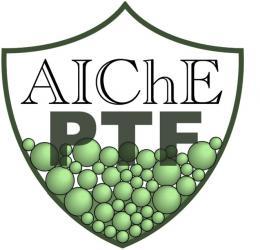 Welcome to the Particle Technology Forum (PTF) of AIChE. The purpose of the PTF is to serve as an international forum to promote information exchange, scholarship, research and education in the field of Particle Technology. In this website, you will find information about PTF, its regular Newsletters which talks about the activities within the PTF, details about the various awards within the PTF and the latest events related to Particle Technology.
We will be updating the website regularly with new information, so please check back to see what's new !
Checkout the latest PTF Newsletter for Fall 2019.
Upcoming Events
Sunday, November 15-20, 2020, 7:00am EST
The AIChE Annual Meeting is the premier educational forum for chemical engineers interested in innovation and professional growth. Academic and industry experts will cover wide range of topics relevant to cutting-edge research, new technologies, and emerging growth areas in chemical engineering.
Read more
Recent Events
Monday, August 17-19, 2020, 8:00am EDT
The 2020 Frontiers in Particle Science and Technology (FPST), hosted by the AIChE Particle Technology Forum (PTF) is proud to announce a conference focused on particle design in product engineering. The 2020 FPST will bring together practitioners and researchers in the field of particle science and...
Read more
Monday, August 10-13, 2020, 8:00am EDT
Material characterization is essential for determining raw material and product quality, controlling manufacturing processes, and making accurate model predictions of process and product performance. Significant progress has been made in recent years toward developing on-line, at-line, and off-line...
Read more