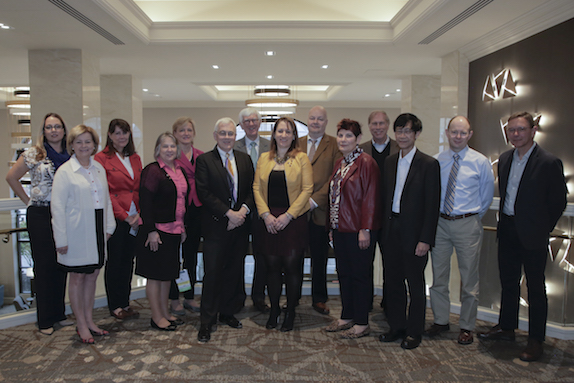 Menu
PAIC is tasked with:
broadening AIChE's activities and providing consistent information flow to and from federal government representatives on technical issues where chemical engineering expertise is needed
providing the various Institute groups (divisions, forums, and industry technology groups) and members with information on issues under consideration by public officials
guiding members and local sections in their interactions with state and local government and, when asked, providing leadership on local issues that can have a broader impact
developing internship and fellowship opportunities for AIChE members in public policy positions
providing information on issues at the international level, and
working more closely with sister organizations in the evolving global economy.
PAIC consists of at least 15 and up to 20 members, who serve five-year terms. Members may only be re-nominated once, and therefore, serve a maximum of ten years. Members are selected to represent the broad membership, with at least one-third being current or former members of the Board of Directors and one-third chosen from various Institute entities.
PAIC, chartered in 2012, is a successor organization to the former Government Relations Committee.
Latest News & Articles
Senate Testimony on Mission & Role of Chemical Safety Board (CSB)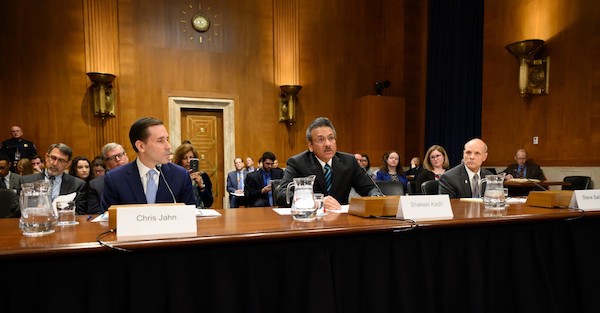 L to R: Chris Jahn, CEO, American Chemistry Council; Shakeel Kadri, CEO & Executive Director, CCPS; Steve Sallman, Assistant Director of USW Health, Safety, & Environment
On Wednesday, January 29, Shakeel H. Kadri, Executive Director & CEO of AIChE's Center for Chemical Process Safety (CCPS)® testified before the Senate Committee on Environment & Public Works on the mission and role of the Chemical Safety Board (CSB).
AIChE Supports Coalition to Support Open Science
The American Institute of Chemical Engineers (AIChE) has joined more than 125 scientific societies and journal publishers to urgently warn the Trump administration not to move forward with a rumored executive order that would make all papers produced by federally funded research immediately free to the public.
Fracking Attracting Increased Interest in Chemical Engineering at NCSU
Recently, AIChE 2014 Past President Phil Westmoreland and two students from NC State University's Department of Chemical and Biomolecular Engineering were interviewed by Time Warner Cable News about the University's chemical engineering program and its role in solving fracking's challenges and in helping the energy industry to continue to evolve.
AIChE Process Safety Policy
Safe chemical processes and process operations are essential to the well-being of the workers who operate them, the communities in which they operate, the environment, and the organizations which own them. Advancing methods and education for process safety is among AIChE's highest priorities.
AIChE Climate Change Policy Statement
Read statement published in November, 2019
Chemical Engineering Progress (CEP) ChE in Context Articles
Shale Gas Resource Page
To help AIChE members better understand and better communicate about shale gas, the Public Affairs & Information Committee has helped curate valuable shale gas resources. These resources offer technically sound information drawn from AIChE publications, web forums and webinars, conference proceedings and Congressional briefings.
Washington Internships for Students of Engineering (WISE)
Each year, outstanding engineering students are selected to spend nine weeks in a special summer program to learn how government officials make decisions on complex technological issues and how engineers can contribute to legislative and regulatory policy decisions. PAIC coordinates AIChE's participation in the WISE program, which is ranked one of the best internship opportunities in the U.S. by the Princeton Review. For more information please visit: www.wise-intern.org
2019 AIChE Wise Interns
This year's WISE interns are from Bucknell University and the University of South Carolina
AIChE White Papers