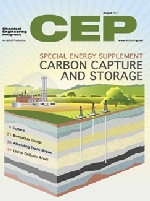 In August, CEP features a special supplement on carbon capture and storage, bioreactor designs for chemical engineers, challenges and perspectives on the chemical industry in Brazil, and the importance of trade shows.
Editorial
Planning for CEP's energy supplements begins up to a year in advance. By mid-July, the four articles in this year's supplement (pp. 33-56) on carbon capture and storage (CCS) had been written and edited, the layouts had been prepared...
Copyright Permissions:
Would you like to reuse content from CEP Magazine? It's easy to request permission to reuse content. Simply click here to connect instantly to licensing services, where you can choose from a list of options regarding how you would like to reuse the desired content and complete the transaction.