Updated: October 7, 2013
The Middle East Process Engineering Conference & Exhibition (MEPEC), created by the Saudi Arabian Section of American Institute of Chemical Engineers (SAS-AIChE) and co-sponsored by AIChE, is taking place from September 29 - October 2 in Bahrain. MEPEC Conference Keynote Speaker and 2013 AIChE President Phil Westmoreland attended the conference with AIChE Operations Director, Bette Lawler.
MEPEC attracted more than 1,700 delegates and 300 speakers from 30 countries.
They had a chance to take some photos during the conference with members of the Saudi Arabian Local Section and Kuwait Student Chapter, one of the first AIChE international student chapters.
AIChE's Phil Westmoreland, Bette Lawler, and CCPS's Lamese Bader with Saudi Local Section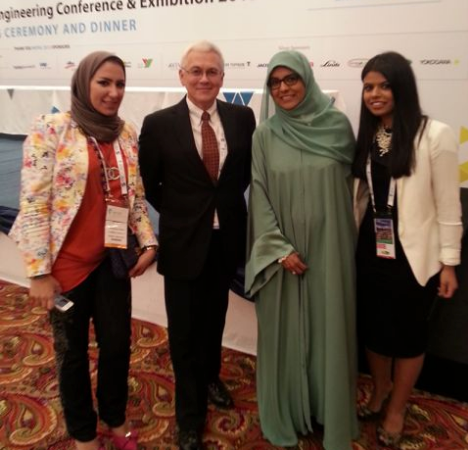 See more photos and a quote from AIChE Kuwait Student Chapter president, Ahmed Safar on ChEnected.