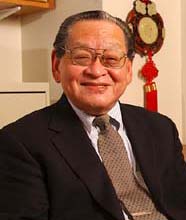 The Society for Biological Engineering is happy to announce the launch of the Daniel I. C. Wang Award for excellence in biochemical engineering. This award is to show great appreciation for Professor Wang's contributions in the classroom and beyond. He has helped to make vast progress in biochemical engineering as well as make technological innovations in bioprocessing.
This award will be presented to a distinguished biochemical engineer by the Biochemical Technology Division of the American Chemical Society and to an established biotechnologist by the Food, Pharmaceutical and Bioengineering Division of the American Institute of Chemical Engineers.
The very first two recipients of the Daniel I. C. Wang Award are Dr. Noubar Afeyan of Flagship Ventures and Professor James R. Swartz of Stanford University. 
Read more about the recipients and Professor Wang on ChEnected.