Monday, October 14, 2019, 9:00am +03
to
Wednesday, October 16, 2019, 6:00pm +03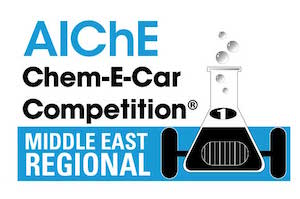 The third AIChE Middle East Regional Chem-E-Car Competition® challenges undergraduate students to develop and construct a car powered by a chemical or biochemical energy source, which will safely transport a specified weight over a given distance and then stop. This valuable team-oriented, educational experience provides undergraduate chemical engineering students with the opportunity to:
Build a Team
Get Creative
Compete at MEPEC
2017 Competition Video
Click Here to watch the 2017 Competition Video
2019 Chem-E-Car Competition Registration
Interested in participating? Please let us know by registering below:
Chem-E-Car Competition Safety Training & Quiz
All participants must take and pass the AIChE Chem-E-Car Safety Training Course with a minimum score of 80%.
Click here for the Safety Training & Quiz Information
Competition Rules and Forms
Chem-E-Car_Official_Rules_MEPEC2019
Chem-E-Car_Safety_Rules_MEPEC2019
Chem-E-Car_EDP_Document_MEPEC2019
Chem-E-Car_MOC_Form_MEPEC2019
Video Competition
Click Here to Upload your Video
Questions
Please visit the Chem-E-Car Questions form to submit your question!