Dive into the latest research and thinking emerging in critical growth areas. The Topical Conferences at the AIChE Annual Meeting place you at the forefront of the trending topics in chemical engineering. Whatever your role, if you're working in related areas you're sure to benefit from these focused sessions.
Featured Topical Conferences
Food Innovation and Engineering
The Food Innovation and Engineering topical conference will discuss emerging technologies for food production and processing, the food-energy-water nexus, analyze strategies to connect industry and cuisine, and navigate methods to fit the consumer market. Read more
Immunotherapy
This topical conference will host a series of sessions that focus on immunotherapy, which has revolutionized cancer treatment in the past 5 years. Immunotherapy developments, including both protein therapeutics such as monoclonal antibodies and cell-based therapies such as tumor-targeting T cells, have primarily been led by biologists, immunologists, and clinicians. thus far. This topical will provide a venue through which chemical engineers and leaders in immunotherapy can interact and identify areas of potential collaboration. Read more
Supported by the generous donors of the AIChE® Foundation



Microbes at Biomedical Interfaces
This topical conference provides a new platform for engineers, scientists, and physicians to discuss how chemical engineering principles can be employed to solve healthcare challenges and create novel materials and techniques for infection control. TWhile the conference will highlight the fundamental understanding of microbial interactions with functional biomedical interfaces, it will also and present the advances in material design that are yet considered as non-conventional for medical application. Read more
Congratulations to the winners of the Topical Conference Student Competition Awards:
Undergraduate Poster Competition Winners

1st Place: Ava Karanjia, Arizona State University

Advisor: Dr. Heather Bean

2nd place: Seth Kriz, Michigan Technological University

Advisor: Dr. Caryn Heldt



Graduate Student Oral Competition Winners

1st Place: Shawna Pratt, Montana State University

Advisor: Dr. Connie B. Chang

2nd place: Katie Ford, Texas A&M University

Advisor: Dr. Pushkar Lele
Supported by the generous donors of the AIChE® Foundation



Next-Gen Manufacturing
This topical conference will address the ways in which Chemical Engineers are creating next-gen ways of manufacturing, including new developments, challenges, and features of Industry 4.0, Industrial Internet of Things (IIoT), Smart Manufacturing, and Cybersecurity, through panel discussions by industrial, academic and government keynote speakers. Sessions from many Divisions and Forums are programmed on Process Intensification and modular manufacturing. Fundamental, applications, and novel developments in the Additive Manufacturing will be discussed in five sessions featuring academic, industry, and national labs presenting different aspects of the 3D printing technology. Read more
WIC 20th Anniversary: Celebrating Women in Chemical Engineering
Organized in honor of the Women's Initiatives Committee's 20th Anniversary, this all-day symposium – composed of 20 invited speakers – will highlight the achievements of women in chemical engineering from all career stages and fields. Read More
Supported by the generous donors of the AIChE® Foundation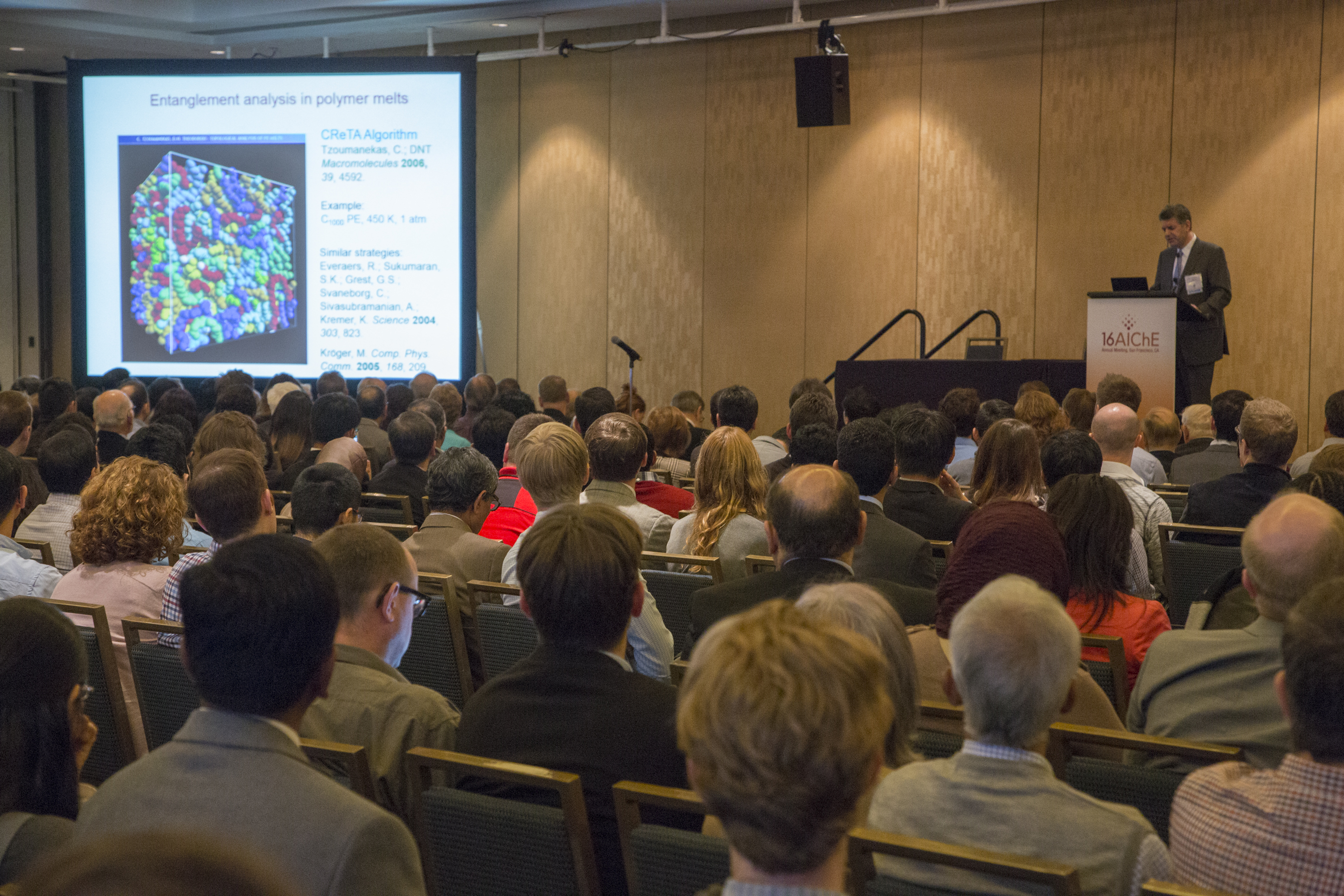 Courtesy of Margot Hartford
Returning Topical Conferences
2018 International Congress on Energy
Chemical engineers working in all areas of energy R&D will focus on ways to ensure a clean, sustainable energy supply, today and in the future. Get up-to-date on the latest energy-related research, best practices and technological advancements in alternative energy and enabling technology, including Solar Energy, Nuclear Energy, and Fuel Cells. Read more
Advances in Fossil Energy R&D
The Advances in Fossil Energy R&D topical will highlight the latest research and development efforts and draws on the talents and expertise of researchers who are addressing key issues related to fossil energy. Read more
Environmental Aspects, Applications, and Implications of Nanomaterials and Nanotechnology
This topical conference aims to further our understanding of environmental and human health applications, and the corresponding health and safety implications, of nanomaterials and nanotechnology. Read more
The Food-Energy-Water Nexus
This topical conference on this critical nexus provides a forum for exchanging research, case studies and ideas. Sustainable solutions will require a global perspective with transformative technical, social, and political change. Read more
Innovations of Green Process Engineering for Sustainable Energy and Environment
This topical conference will promote inter-disciplinary R&D activities towards reduction of energy intensity and environmental footprints, covering integrated process design and modeling, efficient chemical energy conversion and storage, and green process innovations. Read more
Nanomaterials for Applications in Energy and Biology
The Nanomaterials for Energy and Biology topical conference will focus on the design, synthesis and application of novel nanomaterials for different applications such as harvesting energy from the sun and in inexpensive, fast, and selective nanotherapeutics and diagnostics. Read more
NH3 Energy+
The symposium will present the impressive story of NH3 Energy+ to a wider audience and how it is perhaps the most affordable, efficient path to a hydrogen economy.
This versatile chemical also can be used as one of the most cost-effective means to store and transport excess and stranded renewable energy. Read more
The Sensors topical conference will explore micro- and nano-sensors with a focus on fabrication, development, and applications, and advances in the application of established biosensing technologies. Read more