An Update on Materials Selection of Nickel-containing Materials for Various Process Industries
Thursday, September 8, 2016, 4:45pm EDT
An Update on Materials Selection of Nickel-containing Materials for Various Process Industries
The presentation will focus on recent developments in stainless steel and nickel alloys that affect the process industries, but will cover also the basics. Stainless steels and nickel alloys are finding increasing use both in consumer use and in industry. Some of that increase in industry relates to changes in process conditions, other relates to the understanding of the need for life cycle costing, and still others relate to favoring the use of more sustainable and "green" materials. Topics will include: types of stainless steels, properties and specification, corrosion in different chemicals, welding and fabrication and post-fabrication treatments. Examples from the various industries that will be referenced include: power generation, pharmaceutical, biochemical, food and beverage, architectural, structural, and transportation.
This meeting qualifies for 1.5 hours Professional Development Hours - indicate in your RSVP (see PayPal button below) if you require a PDH certificate - it will be emailed following the meeting.
Gary Coates, P.E., Nickel Institute, Toronto, Canada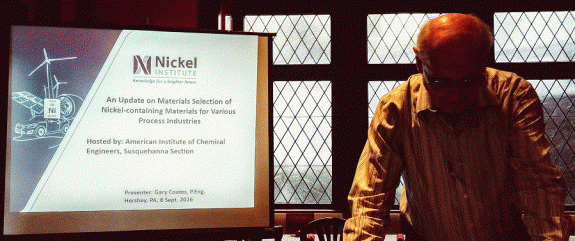 Gary Coates has worked 25 years in the stainless steel and nickel alloy business with a major producer, followed by 17 years with the Nickel Institute, where he manages the technical market promotion and supervises the North American consultant base. He also gives workshops, primarily in China, India and other locations in South East Asia, on materials for the chemical, petrochemical, food and beverage industries. He is a member of NACE, ASM, SME, AWS, TMS and represents the Nickel Institute at MTI (Materials Technology Institute).
Schedule:
4:45-5:45 Cash bar happy hour, meet & greet, sign in/register, introductions
5:45-6:30 Buffet dinner
6:30-8:00 Presentation
8:00-8:30 Q&A, and adjournment
A buffet meal, with the following items, is included in the meeting cost:
Vegetarian Scampi
Stuffed Chicken
House Salad
Mashed Potatoes
Fresh Fruit
Assorted beverages
Assorted cookies
A cash bar will also be available.
Please RSVP no later than September 1st. RSVPs can be made via PayPal (if you have a PayPal account) via the button below. If you do not have a PayPal account, you can still use the link below with a major credit card -- or email your RSVP to Lou Felice at lfelice@hersheys.com.
Information related to the Nickel Institure can be found at https://www.nickelinstitute.org/.

What is the Nickel Institute?
The Nickel Institute was formed March 1, 2004 and its members represent over 70% of current world production of nickel. The Nickel Institute's purpose is to generate and communicate knowledge required to support safe and sustainable production, use and reuse of nickel. For consumers, governments, regulators and other stakeholders, the Nickel Institute is committed to responding effectively to the growing requests for nickel-related information. For nickel producers and users, it offers research-based, cutting-edge science and technical information. The Institute provides a single membership and management structure for activities previously undertaken by the Nickel Development Institute (NiDI) and the Nickel Producers Environmental Research Association (NiPERA). NiPERA is an independently incorporated division of the Nickel Institute, continuing as a well-respected provider of peer-reviewed, published information on the human health and environmental science of nickel.
The Nickel Institute continues the use-related technical work of NiDI, but focuses more on nickel issues related to stewardship and sustainable development, especially the generation and use of knowledge about the full life cycle impacts of nickel. The Institute develops partnerships with organizations representing the interests of the nickel-producing industry's downstream customers and other parts of the nickel life-cycle. The Institute also collaborates with regional and local metals industry organizations.
Nickel plays an essential enabling role in many areas of rapidly changing technology, such as transport, energy, architecture, telecommunications, food processing, water treatment, environmental protection and health care. Knowledge generated and disseminated by the Nickel Institute will support safe and sustainable production, use and reuse of nickel for today and for a brighter future.
Membership of the Nickel Institute is open to all producers of nickel. Current members are: Anglo Platinum, BHP Billiton, Codemin/Anglo Base Metals, Empress Nickel, Eramet, Falconbridge Ltd., Inco Ltd., Inco TNC, Nippon Yakin Kogyo, OM Group, P.T. International Nickel, Sherritt International, Sumitomo Metal Mining, Umicore and WMC Resources.