GIW Industries Plant Tour
Plant Tour and Light Meal/Meeting
Friday, May 16, 2014, 3:00pm-5:30pm EDT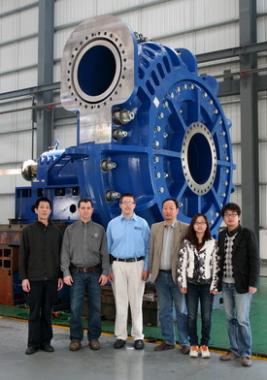 GIW Industries began as a small foundry and machine shop in Augusta, Ga., in 1891. In 1914, GIW began building slurry pumps. Today, the company comprises two manufacturing facilities, one in Grovetown, Ga., and the other in Thomson, Ga. These foundries and machine shops are used for manufacturing and assembling pumps and for casting a variety of abrasion-resistant alloys and urethane elastomers. As a subsidiary of KSB AG of Germany, a global pump and valve manufacturer, GIW has the infrastructure to supply pumps worldwide. KSB has presence in 100 countries with sales organizations, offices, and 30 manufacturing sites. An example of a GIW pump is shown to the right.
PPE is required for this plant tour. Please bring a hard hat, safety glasses, hearing protection, and wear long pants, a sleeved shirt, and safety shoes. Everyone bringing his or her own safety gear will help expedite the tour. Also, carpooling is encouraged as parking is limited.
After the tour, we will have a sandwich meal and a short business meeting.