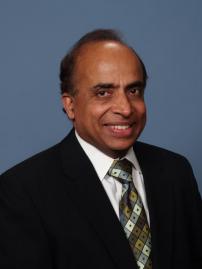 US Dept. of State Environmental Leadership Fulbright Fellow
Dr. Ram Ramanan is proficient in industrial environmental, health & safety, and sustainability with over thirty years of management experience in compliance, risk mitigation, sustainability, ethics, ESG metrics and CSR. His diverse background includes global management and advocacy roles in corporate (ExxonMobil), consulting (AECOM, ICF), and academic (Illinois Institute of Technology Stuart School of Business & Desert Research Institute) environments. He is the current chair of the AWMA Sustainability Technical Coordinating Committee and a member of the editorial review board of the International Journal of Risk and Contingency Management.
Ram holds a PhD (sponsored by AECOM/ENSR) from the University of Texas at Dallas, an executive MBA (sponsored by ExxonMobil) from the University of Texas in Austin, and a BS in chemical engineering from the Indian Institute of Technology. He is a professional engineer (Texas and India), a chartered engineer (UK), and a board-certified environmental engineer of American Academy of Environmental Engineers and Scientists. Ram has presented and published scientific, technical, and management papers as well as executive briefings globally. He has provided executive briefings to environmental ministry experts from former Soviet Union nations (US Department of Commerce invitees), industry and government leaders of the Nigerian oil and gas sector, Reserve Bank of India research wing (as US Department of State Fulbright Fellow), the Conference Board USA, Northern Trust, and so on.

His recent books on Sustainability Management include:
"Introduction to Sustainability Analytics", CRC Press (2018), is one of the first on the subject.
"Environmental Ethics and Sustainability", CRC Press (2013) which uses a case study approach to offer practical insights on ethical decision making, has also been translated and published in Chinese by China Machine Press (2017).