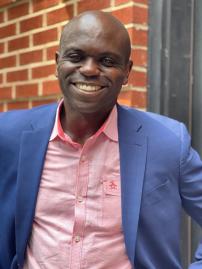 Vice President, Biotherapeutics Pharmaceutical Sciences
Paul is the Vice President of Biotherapeutics Pharmaceutical Sciences at Pfizer, a global organization with sites in Andover MA, Research Triangle Park, NC, St. Louis, MO, and Cambridge, UK.  Paul's organization consists of Bioprocess, Analytical, and Formulation development groups and is responsible for the development and manufacture of clinical supplies for all of Pfizer's biotherapeutic and vaccine portfolio. Among the products that Paul's team has helped to develop to approval are Comirnaty® (Covid-19 vaccine), Trumenba®, Ixifli®, Trazimera®, Besponsa®, Bavencio®, Zirabev®, Ruxience®, and Prevnar-20, to mention just a few.
Paul has spent his entire career at Pfizer starting first in the Purification Process Development group and then taking on increasing leadership roles in Purification, Cell Culture and Bioprocess R&D before his current role as head of Biotherapeutics Pharmaceutical Sciences.
Paul is trained as a Chemical Engineer with degrees from Cornell University (B.S) and the University of Virginia (MS and Ph.D.). He is a member of the American Institute of Chemical Engineers and is on the managing board of the Society of Biological Engineers. Paul currently serves on the advisory board of the Chemical Engineering Departments at the University of Virginia and at Cornell University. He is also a member of the External Advisory Committee for the CHOg2p project, an NSF funded project involving Clemson University, University of Delaware, Tulane University and Delaware State University. Paul is the recipient of the 2018 Distinguished Alumni Award from the School of Engineering and Applied Science at the University of Virginia.