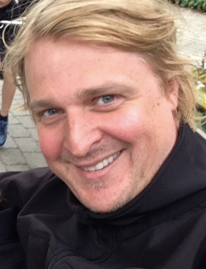 Dr. Kaern is an expert in quantitative and computational biology, yeast genomics, genetic engineering, and dynamical systems theory who focuses on complex gene regulatory processes. His independent research aims at understanding fundamental properties governing cellular signal processing to facilitate advances in biotechnology, biopharmaceutical and biomedicine. He is the founder and senior advisor of the University of Ottawa Genetically Engineered Machines technology incubator.



Dr. Kaern received his B.Sc. (1995) and M.Sc. (1997) from the University of Copenhagen. He was a doctoral stipendiary with the Danish Research Academy from 1997 to 2000, and completed his Ph.D. thesis research on chemical and biological morphogenesis at the University of Toronto in 2001. As a postdoctoral fellow of the Danish Research agency, he went to Boston University's Department of Biomedical Engineering where he was trained by McArthur "Genius" Award recipient Dr. James Collins and worked with National Academy of Science members Dr. Nancy Kopell and Dr. Charles Cantor.



Dr. Kaern was recruited to the University of Ottawa in 2004, and a Canada Research Chair in Systems Biology in the Department of Cellular and Molecular Medicine from 2005 to 2015. He was named among the "Top 50 People in the Capital" by Ottawa Life Magazine in 2005 and was awarded the Government of Ontario's Early Research Award in 2008. More recently, Dr. Kaern was appointed Associate Professor with tenure in University of Ottawa's Faculty of Medicine (2013); Affiliate Scientist in the Cancer Therapeutics Program at the Ottawa Hospital Research Institute (2015) and Associate Investigator in the Regional Genetics Program at the Children's Hospital of Eastern Ontario Research Institute (2017).



Dr. Kaern's research program has received funding from the Canadian Institutes of Health Research; the National Science and Engineering Research Council; the Canadian Foundation for Innovation; the Canadian Research Chair Program; Ontario's Ministry of Economic Development and Innovation; MITACS and the University of Ottawa.