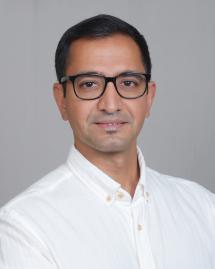 Shell Environmental Products
Dr. Santhosh Shankar is currently the strategy advisor to Shell Environmental Products. In this role he works on market-based mechanisms for sector-specific and economy-wide greenhouse gas emission reductions, carbon offsetting and carbon removal strategies using engineered and nature-based solutions, and technical, policy and regulatory levers that aid commercial deployment of various decarbonization technologies.
He previously spent 8 years in Shell innovative research and development organization leading efforts across carbon capture and utilization technology development with focus on direct air capture (DAC) technology and carbon utilization to manufacture synthetic "net-zero" emission fuels and chemicals. He was instrumental in building the internal experimental and computational R&D program. During his term as a lead scientist at Shell, he established many research collaborations with external universities and research partners, guiding PhD and post-doc research with industrial expertise. He also actively participated in workshops, panels and studies in public domain on carbon capture, utilization, and storage (CCUS).
Santhosh has authored many peer reviewed journal articles, reports and reviews in carbon capture and utilization, technology deployment, computational flow modeling, numerical simulations, and high-performance computing.
Santhosh is passionate about mentoring students and takes every opportunity to encourage young minds to pursue a career in energy. He strongly believes that the energy challenge is not only about needing to provide clean energy, but also more of it so those living in energy poverty today can enjoy a better quality of life tomorrow.
Santhosh has been affiliated with AIAA (American Institute of Aeronautics and Astronautics), APS (American Physical Society) and AIChE. At AIChE he has held posts including Programing Committee Chair- Flow Assurance, Director and 2nd co-chair- Transport & Energy Process division. He holds a B-Tech from Indian Institute of Technology-Madras, India, MS and PhD from Stanford University, CA.