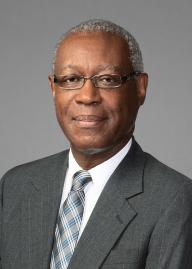 Senior Vice President of Health, Safety, and Environment
Chris Tagoe, Senior Vice President of Health, Safety, and Environment for LyondellBasell is an exceptional multi-disciplinary executive with extensive experience in manufacturing, reliability, HSE, security, and information technology. His background also includes a number of mergers and acquisitions, as well as divestitures.
His extensive career spans over 35 years in the chemical and energy industries, with increasing leadership roles in various capacities. Chris has a proven track record of leading organizational change, through his passion for excellence and empowering work groups to reach organizational goals. He brings a holistic approach to safety initiatives because of his previous diverse responsibilities in site management and multi-functional corporate leadership roles.
Chris holds a Bachelor's in Chemical Engineering from the University of Massachusetts at Lowell and a Master's in Chemical Engineering from Northeastern University. He has served on the boards of the Center For Offshore Safety and Sheltering Arms, a non-profit organization for senior citizens' services. He is a past chair of the South Texas Section of AIChE.
As a leader in the global chemical industry, LyondellBasell strives to be the safest, best-operated, and most valued company in our industry. Our materials and technologies are advancing solutions in food safety and access, clean water, cleaner air, fuel efficiency, quality healthcare, and sustainable and modern living. A key driver to achieving our business and sustainability ambitions is our commitment to fostering a diverse and inclusive global workforce.